Vicente Hernández wins bronze at the Karlovy Vary European Cup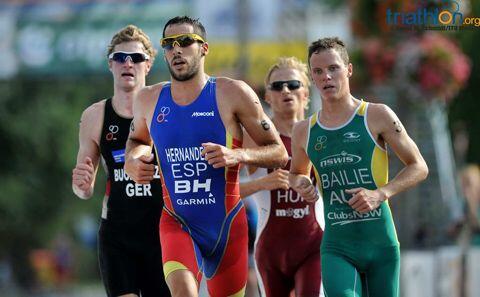 23 triathlete Vicente Hernández won the bronze medal in the men's elite category at the ITU Triathlon European Cup held in Karlovy Vary (Czech Republic) last August's 26. In this way, the santacrucero added his first international podium in elite category.
Hernandez completed the 1500 m swim with a disadvantage of more than 1 minute and 20 seconds with respect to the leading group. Subsequently, he faced the seven laps of the cyclist segment for a very technical and arduous route. However, the young triathlete offered a great demonstration in this sector and from then on he began to climb positions, obtaining the fourth best part of the stage.
Finally, the 9.8 km of running on foot ran through a very flat circuit. In this segment Vicente achieved the third best mark, completing the four laps of the course in 30 minutes and 57 seconds and achieved the bronze medal. While the victory went to the French Raoul Shaw, while the Irishman Bryan Keane rose with the money.
In the female elite category, the triumph went to Mateja Simic. The Slovak was accompanied on the podium by the Australian Ashlee Bailie and the Anne Tabarant gala; second and third respectively.
The next weekend, Vicente will go to the town of Águilas Murcia to participate in the European Championship 23 sub. The event will take place on Saturday 1 in September.
Elite male classification:
1 Raoul Shaw FRA 01: 53: 12
2 Bryan Keane IRL 01: 53: 24
3 Vicente Hernández ESP 01: 53: 50
4 Danylo Sapunov UKR 01: 54: 03
5 Przemyslaw Szymanowski POL 01: 54: 16
More results at: http://www.triathlon.org/results/results/2012_karlovy_vary_itu_triathlon_european_cup/7812/
Female elite classification:
1 Mateja Simic SLO 02: 05: 26
2 Ashlee Bailie AUS 02: 05: 49
3 Anne Tabarant FRA 02: 06: 31
4 Gaia Peron ITA 02: 07: 00
5 Charlotte Bonin ITA 02: 09: 20
More results at: http://www.triathlon.org/results/results/2012_karlovy_vary_itu_triathlon_european_cup/7811/
FETRI