CT A Corre-cuita (Valencia, Valencia)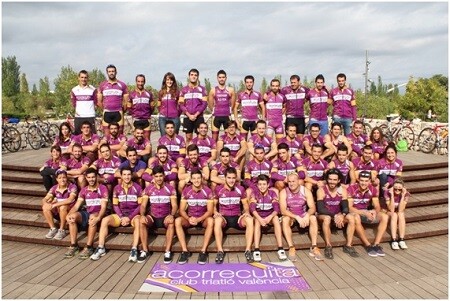 | | |
| --- | --- |
| Club name: | CT A Corre-cuita |
| Foundation Year: | 2011 |
| City: | Valencia |
| Province | Valencia |
| No. of partners: | 104 partners |
| Website | http://ctacorrecuita.blogspot.com |
| Child section: | Valencia Triathlon Municipal Schools (Escola Triatlo A Corre-cuita) 30 niñ @ s. |
| Annual quota: | 50€ |
| Monthly Fee: | 0 |
| Sponsors | Fartons Polo, Center Fisioteràpia Aboraia, Bar "Les Tendes", Fuenmayor Comercial, DrPuchol Dental Center, Coipavi, Licex and 365Rider |
| Partners | Nugesport.com, Leonia Sport, Nonna DesignProjects, Campanar Pool |
The club
CT A Corre-cuita is a non-profit triathlon club located in the city of Valencia, but above all it is a group of friends where camaraderie and a good atmosphere reign. We are a great family.
We have a great experience and proven reputation as a triathlon club, despite being an amateur club we have a professional management.
The first thing you need to join the club is to get to know us. Come to train one day with us without commitment so you can see the environment, our way of working and we can speak personally.
The club has an agreement with the Campanar Pool to be our sports center and a coach who protects us in all training sessions.
In addition, CT A Corre-cuita organizes the Pinedo Triathlon (Popular Triathlon of Valencia) and directs the Municipal Triathlon Schools (Escola Triatló A Corre-cuita).