Clubs
Santa Bárbara triathlon club (Melilla, Melilla)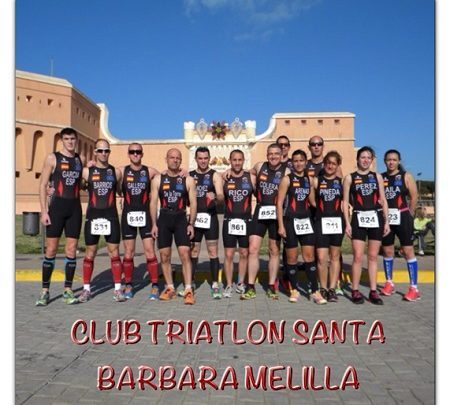 | | |
| --- | --- |
| Club name: | Santa Barbara Melilla triathlon club |
| Foundation Year: | 2011 |
| City: | Melilla |
| Province | Melilla |
| No. of partners: | 50 |
| Website | |
| Email Contact: | |
| Child section: | |
| Annual quota: | 120€ |
| Monthly Fee: | 10€ |
| Sponsors | |
| Workforce | |
The club
The Santa Barbara Triathlon Club emerged from a small group of friends when the triathlon in Melilla was hardly known, and despite being a young club every season the number of members is increasing more and more making a club quite competitive.
The members of Santa Barbara can boast of carrying several medium-distance triathlons, ultra-deep races such as the 101km of Ronda or the ultra trail of Sierra Nevada behind them and three of our members have premiered this year in long distance in the Iberman the light.
Very proud of this club that above all is a good group of friends that is growing more and more, and that every year they reach greater challenges and challenges.