5 basic tips for riding a bike in wet conditions
We must never forget that to avoid any scare the first thing is to check the weather.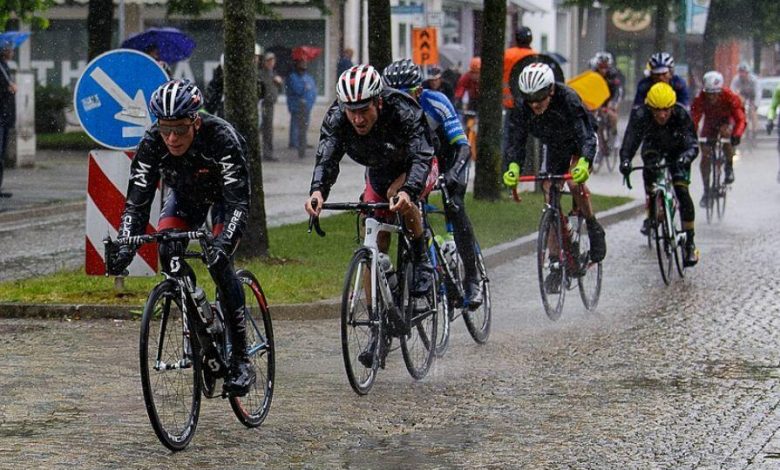 Many times the desire to ride a bike can more than common sense, but we must never forget that to avoid a scare the first thing to do is check the weather.
Yes, we finally left, also keep in mind these 5 basic tips that we share in this article.
In addition, to increase safety, we recommend a good cover for stability and lights to give visibility.
The first thing, prevention.
As we mentioned in the previous article in which we gave you some basic tips on what should we do if one catches us storm, and the first thing is prevention.
Check before the rain forecast, and if there is risk perhaps that day the best is a roller session at home.
If you go out after the storm has passed, but the ground is still wet, we give you some simple tips for your training:
Tips for riding a bike on wet ground
5 basic tips for riding on wet asphalt
Be aware of your grip on the ground
Wet wheels can spin, and even if it's common sense We must not forget that it is advisable to avoid road markings and pedestrian crossings, as well as sewers and areas where water can flow because we can easily skate in them.
Watch out for curves and slopes
Take them with moderate speed to avoid falls
Use your brakes properly
If the ground is wet, it is recommended brake with the front end first so you avoid skidding Since the weight is mainly concentrated in the front area, then you can do it with the rear wheel.
Make yourself visible:
With heavy rain or mist visibility is lost for this it is recommended choose well the lights to have visibility, even bracelets or anklets if you are going to circulate around the city.
It is also advisable to have in your kit (windbreaker and / this will guarantee that they can see you and avoid some scares
Choose your covers well:
If you usually go out and ride on wet asphalt since the area where you live has a lot of rain during the year, choose the tires adequate to avoid mishaps during your workouts or even competition.
Recommended tire for riding a bike on wet ground: michelín
A tire for the most demanding cyclists, with a exceptional gripl Thanks to its Grip Compound system, capable of operating at low temperatures, it reinforces safety on slippery, dirty and wet floors.
It has a much higher resistance to punctures than its predecessors, with better performance on asphalt.
Michelin Power All Season Folding Cover, Unisex Adult, Black, 700 x 23 mm
1 New From 38,42 €
free shipping
Buy

Amazon.com
As of August 1, 2022 20: 38
Features
Hoop: Folding
Measure: 700x23
Threads per inch: 60
Weight: 235 grams
Optimal grip in any weather
Recommended rear light for cycling on rainy days: sigma
This tail light features a brake light function, to use it both day and night; its integrated brightness sensor, which activates the headlight automatically in low light conditions such as days of heavy rain or fog, providing a plus in safety
The brightness sensor turns on and off automatically the rear light according to the ambient light conditions, a plus for better battery performance, with a spotlight that has excellent visibility up to 500 meters
Sigma Blaze Tail Light, Sports & Outdoors, Red, Unique
15 New From 18,86 €
8 Used From 16,55 €
free shipping
Buy

Amazon.com
As of August 1, 2022 20: 38
Features
POWER - The SIGMA bicycle headlight is very powerful and offers a brightness and visibility of 500 m. The rear light is small, works totally without dynamo and complies with German traffic regulations
LIGHTING LIFE - Removable bike light provides 7 hours of optimal illumination and added safety
TECHNIQUE - The bi-level battery indicator of the bike light is protected against splashing water according to IPX 4 standard. Thanks to the silicone holder, mounting can be done without problems without a bicycle tool
SAFETY - The battery-powered rear light complies with German traffic regulations and provides sufficient light. Cyclist safety in road traffic is further increased thanks to the brake light function and day mode
WHAT'S IN THE BOX - The Sigma BLAZE tail light is supplied with a micro USB cable and a silicone band for attachment. The bike light weighs 22g (including the bracket)