They stop the driver who ran over the cyclist Mikel Landa
The driver fled after the incident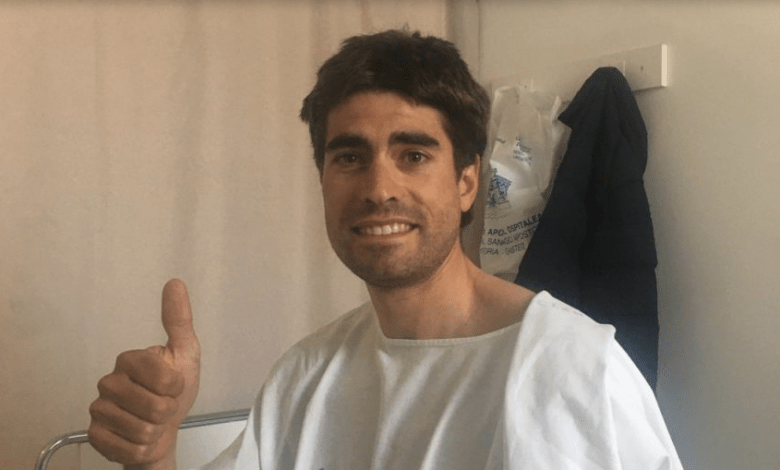 As reported spend today The Ertzaintza arrested the driver of a passenger car yesterday afternoon for running over two cyclists on the N-622 road as he passed through Zigoitia.
One of the cyclists hit was Mikel Landa.
The driver has fled after the incident, but has been stopped by a patrol at the AP-68 toll road in Altube.
The accident occurred at quarter past one yesterday. when the two cyclists were driving along the N-622 motorway as it passed through Zigoitia, towards Bilbao, specifically in the section between the exit of Gopegi and that of Letona.
The tourism, Renault Megane, has run over the two athletes and subsequently fled of the place at great speed. Several witnesses have alerted the Emergency Service to the accident, which has sent health personnel to attend to the two victims.
The cyclists were taken to the Santiago hospital
After being treated in the placer, the two cyclists, 30 and 42 years old, were transferred to the Hospital de Santiago by an ambulance. Mikel Landa assured on Twitter: "The first tests confirm that everything is fine. I hope in the next few days to return to training".
This morning while training with a friend, a car has rammed us from behind, running away. The first tests confirm that everything is fine. I hope to return to training in the next few days. pic.twitter.com/EfXWjfJEiT

- Landa Meana (@MikelLandaMeana) -
Meanwhile, resources of the Ertzaintza have begun the search for the escaped vehicle, located shortly after in the vicinity of the toll of the motorway in Altube.
The 42-year-old driver accused of a crime against road safety
The agents have identified the driver and his companion, arresting the driver, when verifying that the car had a damaged rear-view mirror, and that his remains coincided with others found at the scene of the accident.
El arrested, 42 years old, He has been charged with a crime against road safety.
The Ertzaintza investigates the possible implication of the arrested man in an accident that occurred hours earlier on the AP-1 highway in Burgos, where after hitting another vehicle he would have fled to Vitoria-Gasteiz