Cycling news
(Video) The nice gesture of the leader of the Tour de France Alaphilippe with a child: he put on his yellow jersey when it was freezing cold
Alaphilippe took off his most precious garment, the yellow jersey, to put on the little one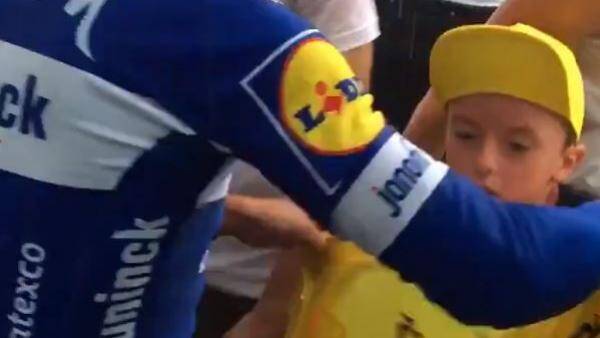 Belgian Cyclist Julien Alaphilippe You are living a dream on this Tour de France. Just two days after finishing the gala round He is a leader with a minute and a half advantage over Egan Bernal and Geraint Thomas, his great rivals, but while he holds victory or not, he is leaving signs of his personal character.
As reported by the newspaper 20 minutes, the last big gesture did it in Valloire's goal of the 18th stage. The Frenchman was attending to the press in an area sheltered from the great storm that had fallen moments before, when sHe noticed that next to him was a boy in short sleeves shaking with cold, waiting to ask for an autograph.
Without much thought, Alaphilippe he took off his most precious garment, the yellow jersey, to put it on the little one, you couldn't believe you were wearing the Tour leader jersey for a few moments.
Julian Alaphilippe has received a visit from proches in the mixed zone au moment où l'orage s'est abattu sur Valloire. Parmi eux, a petit garçon frigorifié. Personne n'avait de veste à lui prêter, alors… ?? #TDF2019 pic.twitter.com/O02v9knWc6

- Louis-Pierre Frileux (@LPFrileux) 25 de julio de 2019
The young fan and his mother thanked the gesture of a Alaphilippe that has become the great hope gala of this Tour almost without believing it.
He has two hard days ahead in which he will have to demonstrate his skills to climb hard mountain passes before Sunday's walk to the Champs-Elysées in Paris.