Cycling news
Froome loses the Tour after a serious fall in the Dauphiné
The British cyclist suffers an open fracture of the femur and will be "a long time without competition", according to Brailsford, manager of his team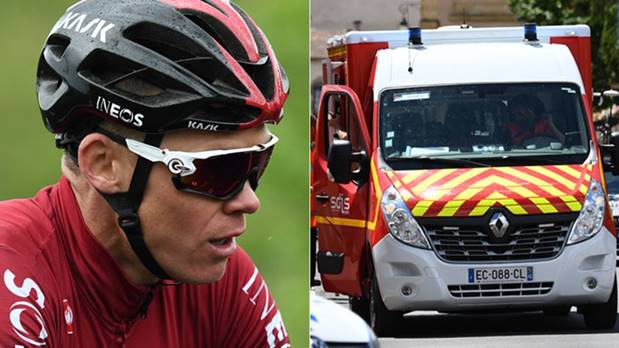 As reported by the newspaper.com Chris Froome The next edition of the Tour, which begins on July 6 in Brussels, will be lost after suffering a serious fall this Wednesday while he recognized the route of the Critérium Dauphiné time trial.
Dave Brailsford, manager of the Ineos (current name of the late Sky), has commented to several special envoys on the run that his chief of ranks will spend "a lot of time" without competing.
Froome hit a wall at high speed, in a drop zone, and suffered an open fracture of the femur. Likewise, France Presse also claims that the four-time Tour winner may have other major injuries, especially to one elbow.
The rider was evacuated by helicopter to a Saint Etienne hospital, where Froome's wife is transferred to be with her husband, according to the cyclist's official Twitter account. Brailsford was the first to confirm the safe loss of his boss for the Tour, where he was aiming for a fifth victory.
He has won the 2013, 2015, 2016 and 2017 editions. He was also second in 2012 and third last year, an edition won by his teammate Geraint Thomas, who will wear the number one bib of the race.
Chris is on his way to hospital after a high speed crash during the route recon earlier this afternoon, injuries are yet to be confirmed. I am awaiting information and transport to get to where he is and as soon as we have any information we will update you - MF

- Chris Froome (@chrisfroome) June 12, 2019
Apparently, Froome was at kilometer 11 of the time trial, just when the only ramp of the stage ended. He was riding the time trial bike and a very strong gust of wind unbalanced him and hit a wall.
He was initially evacuated from the crash site by an ambulance of firefighters, the assistance body that usually covers traffic emergencies in France.
"Very serious accident"
«Everything happened in a descending part, at great speed. It has hit a wall, it is an important blow. The ambulance quickly intervened and attended to him until a helicopter arrived to take him to Saint-Eteinne, "Brailsford told French public television.
«It is a very serious accident. It is clear that he will not be able to start the Tour, this injury requires a fairly long healing time, "added the manager of the cycling team.