Cycling news
Movistar incorporates the Internet of Things to its cycling teams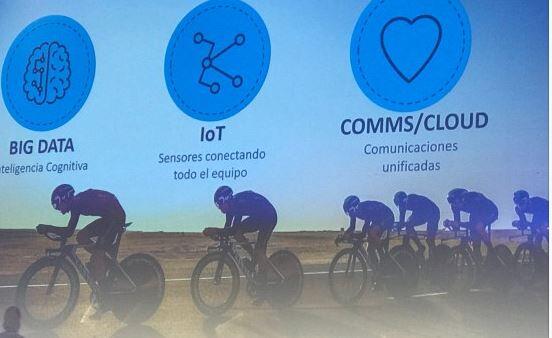 {wbamp-meta name = »image» url = »images / stories / news_07 / movistar-intenetdelascosas-ciclismo.JPG» width = »300 ″ height =» 150 ″}
A small device that will be incorporated into each bicycle, helmet or jersey, will allow the experts of the team to follow up in real time the departures to train their cyclists
According to EFE news agency, Movistar will incorporate from the next season devices of Internet of Things to your cycling teams, both the men's UCI World Tour category and the new women's team, with which it will improve the follow-up of the trainings.
This new innovation will join the work with massive data technologies (Big Data) that the Spanish cycling team began to do through the 'Luca' unit of Telefónica.
A tracker, a small device that will incorporate to each bicycle, helmet or jersey, It will allow the experts of the team to follow up in real time the departures to train their cyclists with the advantages involved in safety.
Sandra Fernandez, head of strategy for Internet of Things at Telefónica, explained during the presentation of the teams this week at the headquarters of Telefónica in Madrid that this new technology starts from "putting sensors to any type of objects" and then using them with different Finnish.
"The uses are focused on sensing the equipment to inventory everything, but also the rest of the team that can interact in real time," confesses Sandra.
The use of the technology is completed with fleet management of the cars that accompany the Movistar team (eight cars, two trucks and two buses) to track the hours of driving, journeys or possible necessary revisions.
All this information will be stored in the servers of the 'cloud' of Telefónica.
The team will also implement unified communications solutions in the 'cloud', which will allow all technical equipment, brokers, suppliers and sponsors to co Work from any device, accessing any data in an immediate and secure way.
Mikel Zabala, physical trainer linked to Movistar R & D, confesses that the data obtained through all these technological innovations "serve a lot" and its usefulness is seen when "results are perceived and behaviors are modified".
"The challenge now is to integrate such a number of variables as physiological or power data. When you integrate them with meteorology, layout or positioning in the race, you have results. We believe that decisions based on data are present and future, "said Zabala.
The Movistar team is the second most-followed cycling team in the world, with nearly a million and a half followers on its different social networks, and will launch a new website on January's next 1.
Photo: movistarTeam
You may also be interested in this