Josef Ajram, María Pujol and Pep Sánchez in the Titan Desert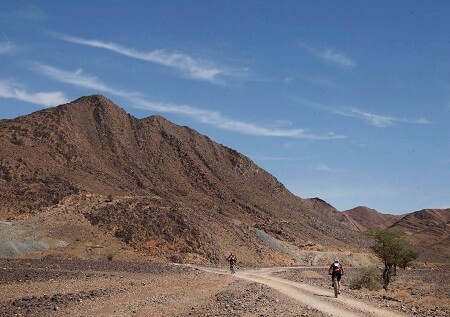 María Pujol and the ultrafondista Pep Sánchez, will undoubtedly be the strongest representation of the Triathlon in this edition of the TITAN DESERT. For Pep Sánchez "The objective is to go for all. I do not know if there will be a lot of competition in this category, I do not know. My friend will also run Josef Ajram, with which I have a very healthy bite. The goal is to be ahead, to enjoy every day. "
Already in the 2013 they bet for this appointment, and this year they will also be representing the CINESA team. In the words of Pep Sánchez "We will represent the team in the Titan in the Mixed Duo category with a great friend that I met last year, María Pujol. A professional triathlete who ventured last year to do it with the team COMPEX with which he had a great experience. He loved the race, he wanted to return and we stayed this year when we would do it together. We really want to compete "
"It's a fantastic race. The organization is spectacular in the treatment of the participant, and the route is very varied: at some point a little technical, with slopes, with fast and flat sites ... the day of the dunes is spectacular. It's a race that has it all, and it has a fantastic atmosphere both in the stage and in the camps"
Pep Sánchez, in the interview made by the organization and as a recognized ultrafondista wanted to make these contributions to the athlete who is facing this competition for the first time "You have to start little by little, with small challenges, and as they are overcome and mentally you see that you are fulfilling them, you must propose more important goals. You cannot start the house with the roof, you have to accumulate kilometers and also a good mentality to finish races like the Titan Desert. It is a race that can be done by any cyclist who proposes it, but there must be exhaustive preparation, it is not easy, I was very surprised with its toughness".
Further information: http://www.titandesert.com/es/home/