Beat the IRONMAN record of Hawaii at the Bilbao parties, at the Alironman
3 Basque triathletes have achieved this to raise funds for the Down Syndrome Foundation of the Basque Country.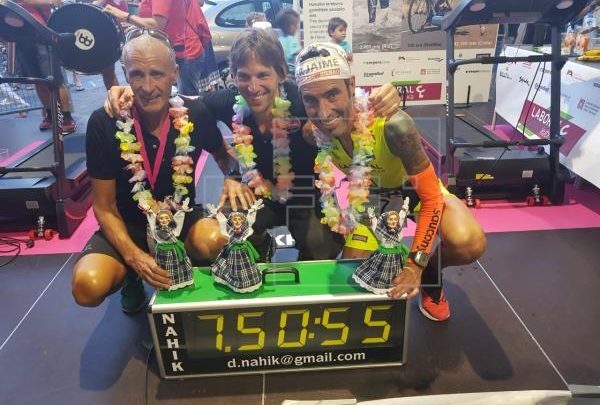 As reported EFE in the Alironman, for an solidary challenge of the Javi Conde Solidarity Marathon Association, has demolished in full celebrations of Aste Nagusia in Bilbao the Hawaii Ironman record for 1 minute and 44 seconds, thus breaking the mark set last year by the German Patrick Lange, located in 7h52: 39.
3 Basque triathletes who beat Patrick Lange's time
The swimmer Fernando Téllez, champion of Spain Long Distance Master, was in charge of opening the challenge in the pool of San Mamés. He swam 3.800 meters in 49: 22.86, with neoprene and an ambient temperature of 30 degrees and the water of 28. The time was a record, since the mark of the Ironman of Hawaii was located in 50 minutes and 37 seconds.
One of the best long-distance Basque triathletes took care of the bike, Kristian Quintans, who already participated in the Ironman of Hawaii in the year 2016 ending in the 75 position.
In Bilbao he used 4: 18: 17, a time higher than the record, set in 4h26.05. Quintans performed the test on a rodillo, exercise bike, on the stage of the Konparta Gogorregi, driving the test, surrounded by an audience that gave great animation.
To finish, Jon Salvador, expert runner, was in charge of the running segment. He ran a marathon (42,195 km) on a tape in 2: 41: 54.
The record times
Swimming, 3.800 meters: 49: 22: 86
Cycling 180 kilometers: 4: 18: 17
Running race, 42,195 km: 2:41:54
The non-approved distances were verified by the international triathlon referee Javier Berasategui using GPS and the equipment counters.
The Alironman
The name that the test bears is a tribute to the mythical word Alirón, which comes from when the English miners moved to the Basque Country to exploit the iron mines and found a whole beta of the metal. They marked it with an 'All Iron' and after repeating it so much, it stayed with the word Aliron.
The benefits obtained in this event will be destined to the Down Syndrome Foundation from the Basque Country.
This challenge represents a new challenge in the career of Jon Salvador, who has completed together with his partner Javi Conde solidarity marathons in places as atypical as the Athletic barge, the Bilbao Bizkaia bridge, the San Juan de Gaztelugatxe hermitage and the interior from the Pozalagua cave.