José Manuel Rodrigues Estrangeiro and Helena Herrero, winners of the Half ICAN Valladolid 2013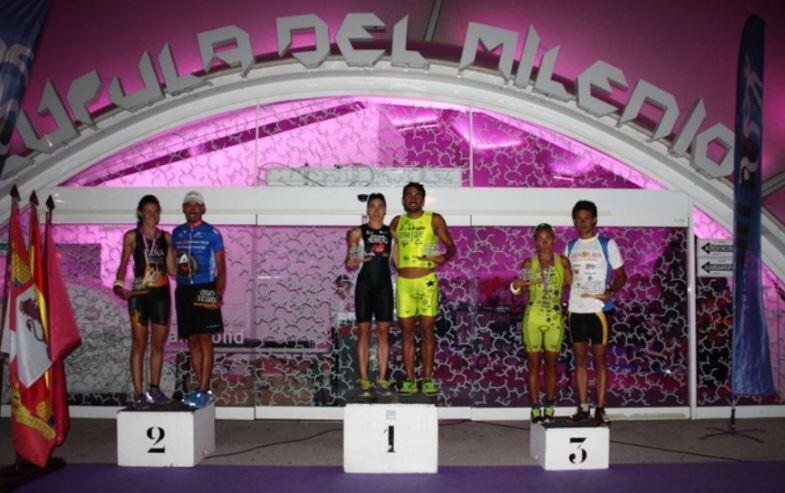 José Manuel Rodrigues Estrangeiro, Portuguese triathlete (3 Style Triathlon) completed the course, consisting of 1,9 Km. of swimming, 90 of bicycle, and 21 of running on foot, with a time of 4 hours, 6 minutes and 58 seconds 3 hours, 56 minutes and 49 seconds .
The champion of the modality Half set a great segment of bike, and better race on foot, that gave the final triumph to him with a comfortable advantage with respect to the second classified one. Alexis Rodríguez Hernández (Wild Wolf Cidade de Lugo Fluvial) stopped the clock with a time of 4 hours, 10 minutes and 51 seconds, while Iván Tejero (Aquaslava-Irontriath) did it in 4 hours, 12 minutes and 15 seconds, under a radiant sun and a suffocating heat that made a dent in the participating triathletes.
In the female category, Helena Herrero (Bicycles Pina-Tritoledo) took the glory in the modality Half, because it crossed the finish line with a time of 4 hours, 37 minutes and 17 seconds. Also, he got it with a big difference, well Natalia Raña (CT Devils of Rivas) completed the tour in 5 hours, 7 minutes and 26 seconds. On the other hand, Arrate Mintegui (3 Style Triathlon), entered the finish line after 5 hours, 11 minutes and 46 seconds of titanic effort.
All of them received their trophies from the mayor of Valladolid, D. Francisco Javier León de la Riva, who did not want to miss the arrival of the winners before the Millennium Dome of the city, epicenter of ICAN Valladolid 2013 during the whole weekend.
Regarding modality ICAN 52, composed of 1,9 Km. of swimming, 40 of bicycle and 10,5 of running, the big winners were Rafael Lao (CT La Dulce Alianza), with a time of 2 hours, 32 minutes and 37 seconds; Y Silvia González (CD Atalanta), who stopped the clock in 3 hours, 2 minutes and 18 seconds. The male podium was completed by Sergio Correa (Lupa Triathlon), who completed the course in 2 hours, 38 minutes and 36 seconds; and Samuel Maquet (Ondara Tri-Esport), who crossed the finish line after 2 hours, 41 minutes and 30 seconds of competition.
As for the ICAN 52 girls, Clara Pastor (3 Style Triatlon) came second, stopping the clock with a time of 3 hours, 11 minutes and 55 seconds, achieving a great advantage over her pursuer. And it is that, Rosa Álvarez was third after 3 hours, 56 minutes and 12 minutes of competition.
The suffocating heat that lasted throughout the test did not prevent hundreds of Valladolid from going out to see the show and to encourage all the triathletes who played the game. ICAN Valladolid 2013.
The organization of ICAN wants to thank the excellent work of Local Police, Civil Protection, Civil Guard and all the volunteers that have made possible the celebration of this ICAN Valladolid 2013.