Javier Lluch Spanish Triathlon Champion 2019
The Valencian of 21 years has achieved the "double" with the absolute title and sub23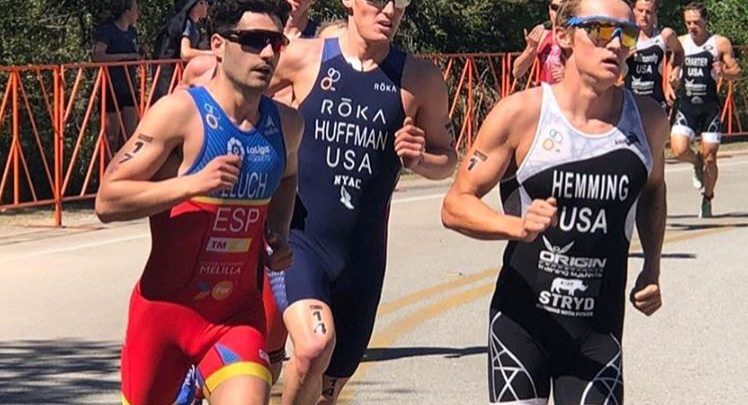 After the victory of Tamara Gómez In the women's event came the boys' turn with the exit to the 18: 30.
In the men's test we found among the favorites to Antonio Serrat, Cesc Godoy, Roberto Sánchez Mantecón, David Castro, Jordi García, Miguel Ángel Fidalgo, Jesús Gomar or Javier Lluch among others.
The test that has been disputed on Olympic distance has been developed in the area of ​​the Marina de Parrote, cycling has been mostly in urban section and the race on foot in a circuit between the Maria Pita square and the Castle of San Anton.
The test began with the 1.900 meters of swimming where a group of 20 trialtetas came out very close together to begin the cycling segment with Antonio Serrat, David Castro, Cesc Godoy or Genis Grau among others. Roberto Sánchez Mantecón was left behind after having suffered a hit on a buoy.
In the sector of 40 km to 7, the lead group was increasing its advantage to finally arrive with 18 units to T2 with more than 2 minutes ahead of the second group where Roberto Sánchez Mantecón was.
As for the foot race in the first round, a group of 5 was formed with Cesc Godoy, Javier Llunch, David Castro, Genis Grau and Antonio Serrat rolling very strong and opening differences with the rest of triathletes.
In the absence of four kilometers of goal, Javier Llunch moved forward with a strong change of pace facing the last lap alone.
Finally Javier Lluch He arrived alone, achieving victory in a time of 1:45:13. The second classified has been Genis Grau (1: 45: 12) and Cesc Godoy (1: 45: 38) third.
Classification
Lluch, runner-up in Europe sub 23, with today's victory he has won the double, with the Spanish Championship in absolute category and sub 23.