Laura Gómez and Fernando Zorrilla Spanish Champions of Duathlon MD 2023.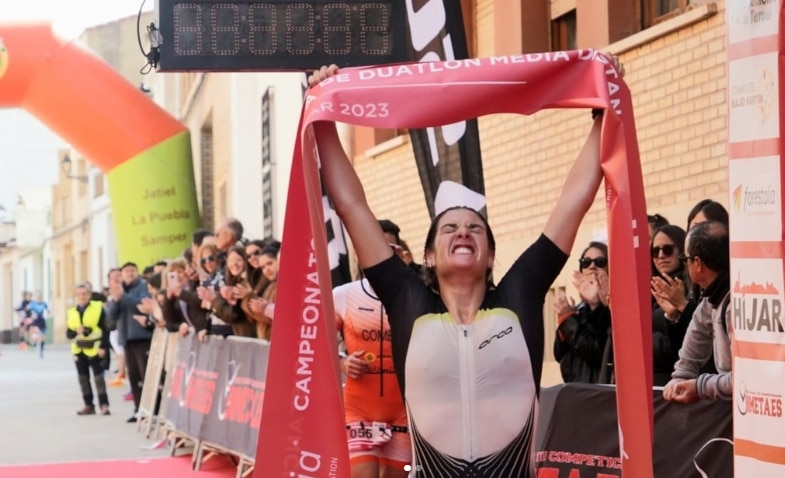 Today in Híjar (Teruel) the Spanish Duathlon MD Championship after the winter triathlon championship in Ansó last week.
The test that has had a large line-up of professionals has been held in the format of 9,3 km of running, 60,9 km of cycling and 9,3 km of running.
In females the victory has been for Laura Gomez , which revalidates the title obtained last year, with a total time of 3 hours, 0 minutes and 50 seconds.
Marta Cabello has been second (3 hours, 6 minutes and 8 seconds) and third Enara Oronoz with a time of 3 hours, 9 28 minutes and seconds.
In the male category, the winner of the test has been James Teagle with a time of 2 hours, 35 42 minutes and seconds.
In second position and new champion of Spain has entered Fernando Zorrilla (2 hours, 36 minutes and 15 seconds) followed in third position by Gonzalo Fuentes Isasi (2 hours, 37 minutes and 40 seconds).
The third Spanish has been Víctor Arroyo
Top 10 female
| | | |
| --- | --- | --- |
| Pos | Name | Time |
| 1 | LAURA GOMEZ-RAMON | 3:00:50 |
| 2 | MARTA CABELLO ARIAS | 3:06:08 |
| 3 | ENARA ORONOZ MATEO | 3:09:28 |
| 4 | MARTA SANCHEZ HERNANDEZ | 3:10:30 |
| 5 | SARA LOEHR MUÑOZ | 3:11:25 |
| 6 | ANA FILIPA PAIS ALVES SANTOS | 3:12:45 |
| 7 | ANNA ROVIRA GARRIDO | 3:16:42 |
| 8 | ALBA REGUILLO MORENO | 3:18:44 |
| 9 | ANDREA IGLESIAS CARBALLIDO | 3:19:22 |
| 10 | IOANA OSA LARRUZEA | 3:22:07 |
Men's 10 Top
| | | |
| --- | --- | --- |
| Job title | Name | Time |
| 1 | James Teagle | 2:35:42 |
| 2 | Fernando Zorrilla Medrano | 2:36:15 |
| 3 | Gonzalo Fuentes Isasi | 2:37:40 |
| 4 | Victor Arroyo Bugallo | 2:37:58 |
| 5 | Osoro Gutierrez | 2:39:53 |
| 6 | Alexander Torres Ferragud | 2:41:40 |
| 7 | Guillem Montiel Moreno | 2:44:16 |
| 8 | Lucas Aurell Badenas | 2:45:35 |
| 9 | Fidel Diaz Prat | 2:46:04 |
| 10 | Alvaro Franco Barragan | 2:46:11 |