Triathlon News
The data of Eneko Llanos in IM South Africa «Record of watts in Ironman»
Eneko Llanos got the fourth final place with a time of 7: 44: 59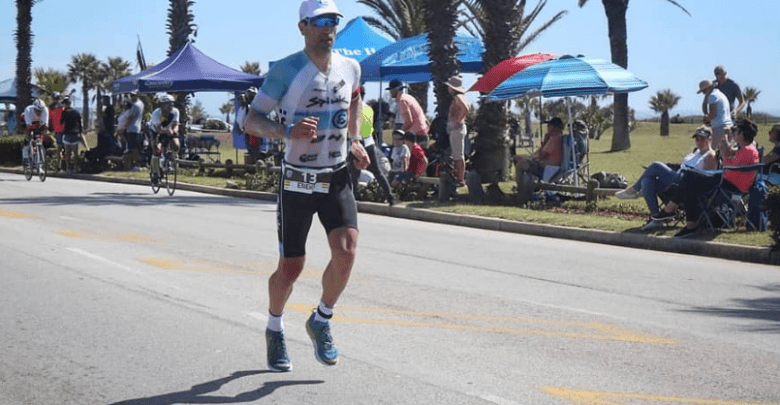 The Alavés triathlete has done it again, has shone in style in the IM South Africa last Sunday where he got the fourth place finish with a time of 7:44:59 getting his best result in this test.
Eneko Llanos You already have the Slot for Kona, obtained last year in the IRONMAN Arizona where the victory took.
Eneko published on social networks "Chocolate medal but very proud and satisfied with today's 4th place. Swimming with very good feelings (shame that it has been cut to 1600m.), Bike trying to keep up with the bestial rhythm that the strongest carried today (record watts for me in Ironman) and managing to do a good marathon after the beating of the bike .
My stomach has started working again and that's what makes me most happy about it all. There are details to be polished, things to learn and fears to overcome. Is not it wonderful? We continue ..."
Eneko, 42 years old (in November he will be 43) and with the view in what will be his thirteenth participation in the Kona Ironman, he is still learning and eager to continue improving, an example for the triathlon world.
As for the race on Sunday, Eneko himself has published on social networks the partial test:
Swimming
This sector was cut to 1.600 meters due to bad weather conditions, where Eneko came out in sixth position, less than 1 minute from Josh Amberger first out of the water.
Eneko did not publish data for this sector.
Biking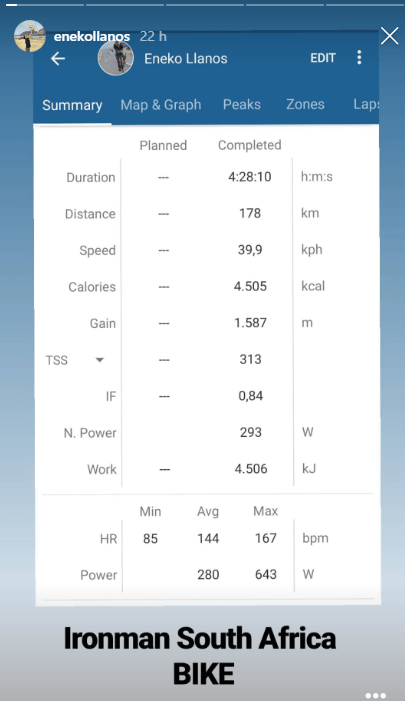 In the cycling sector (178 km according to his data), Eneko himself has confirmed that he has achieved his record of watts in an IRONMAN test, achieving a maximum 643 already a 280 watios average.
As for the pulse that we can see in the image, the maximum it had was 167 while the average was 144 beats per minute.
Its average pace was 39,9 km / hour and the time to complete the distance was 4: 28: 10
Marathon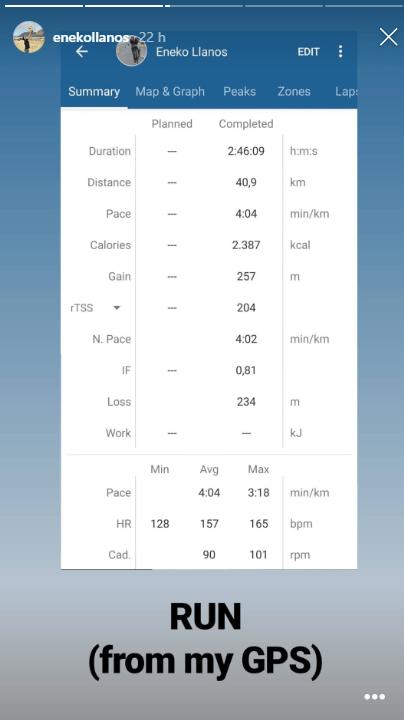 As for the marathon, Eneko was at a great level, and as he comments on networks, he had no stomach discomfort that he was suffering in the last races.
Completed the 42 km route in 2:46:09 with a maximum pulse of 165 already a average of 157 beats per minute.
As for the rhythm, its average was 4: 04 / km which made him fly to the fourth final position.
Official data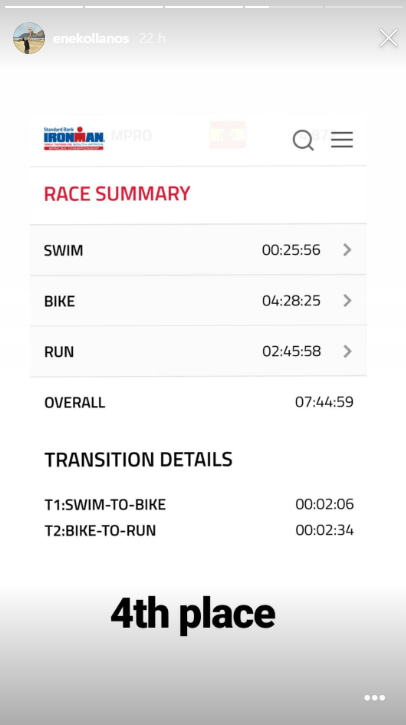 Eneko also posted the official Ironman data capture with a total time of 7:44:59, with 25:56 for swimming, 4:28:25 for cycling and 2:45:58 for the marathon.
Eneko, today has confirmed that he will be at the IRONMAN Vitoria,