Ironman News
Eneko Llanos wins Ironman Arizona and qualifies for Kona 2019
Clemente Alonso is second in the race and also virtually classified.
After the Ironman Cozumel where Ivan Raña it has been third, it has been disputed the Ironman Arizonawhere they were at the starting line Eneko Llanos , Victor del Corral , winners of the test in 2011 and 2013 respectively, in addition to Clemente Alonso and his brother Patrick .
Eneko Plains is your 2018 IRONMAN Arizona champion in a time of 8: 04.24!

Brought to you by @viewsport. pic.twitter.com/WWVGzQ7ouF

- IRONMAN Triathlon (@IRONMANtri) 18 November 2018
Eneko with one comeback in the foot race of more than 5 minutes Eneko LLanos You have won the test and will be able to compete for dthirteenth time I participated in the Hawaii Ironman. Clemente Alonso who has also done a spectacular test finishes second and due to the number of professionals who have competed he would be virtually classified for Kona.
The test that started at 7:40 local time did so with the 3,8 km swim where Nicholas Granet came out on top with a group of 8 triathletes in 13 seconds where Eneko Llanos and Clemente Alonso were. Victor del Corral and Patrick Alonso left together at 5:27 of the head of the race
In the first kilometers of the cycling sector a trio was formed with Eneko Llanos, Andreas Dreitz, Phillip Graves followed 30 seconds later by another group where Clemente Alonso was. Little by little, Dreitz distanced himself, obtaining a 2-minute advantage in passing through the sector's kilometer 90 over Tj Tollakson. Eneko went through that third point at 5:16 of the race head along with Graves, Dekker and Clemente Alonso.
In the final part Tollakson caught up with Dreitz getting off together in T2. Clemente Alonso was third when he got off the bike at 5:05 with Eneko Llanos who arrived a few seconds later with Graves. Patrick Alonso was 9th to 11 minutes while Victor del Corral fell in 14th position 17 minutes from the head of the race
In the 42 kilometers of the marathon we could see an exciting race where in a Tollakson and Dreitz they were leaving and catching up to each other to go through the half marathon together with only 58 seconds of advantage over Eneko Llanos who came very strong from behind going up positions. Clemente passed fourth at 3:15.
Little by little, Eneko kept cutting differences to catch up with Tollakson, who was the leader at km 24, to pass him with force and leave alone.
Finally Eneko Llanos he continued to increase his lead to win with a time of 8:04:24. Behind Clemente Alonso He was cutting time for the American, reaching him at km 35 to finally finish second with a time of 08:08:14. Tj Tollakson entered third in goal.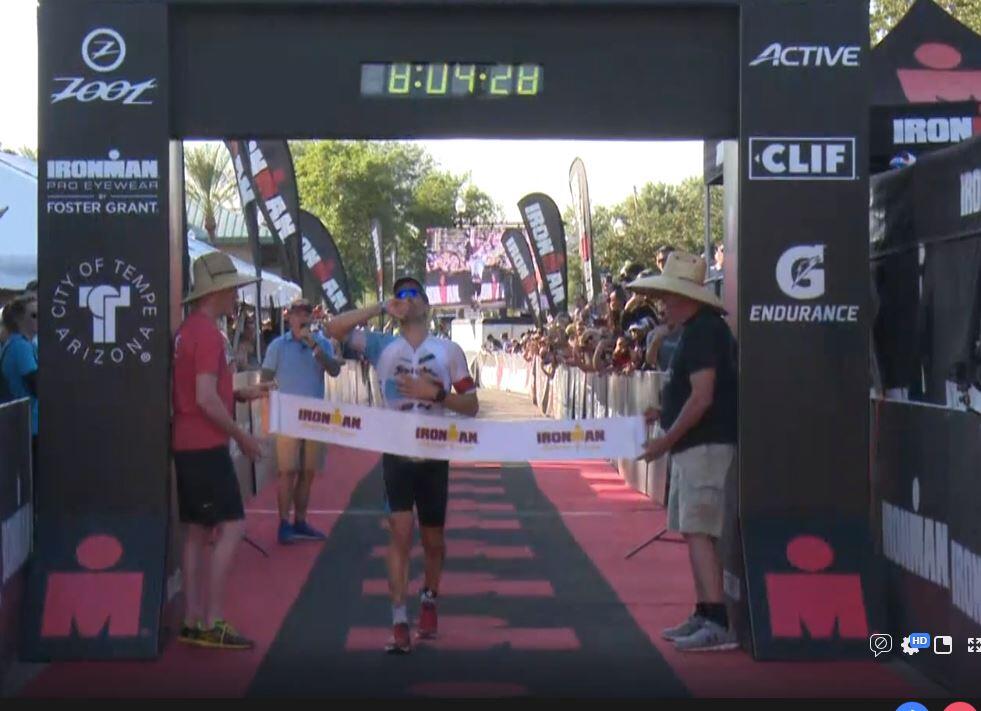 Also highlight the great career of Patrick Alonso who finished in seventh position. Víctor del Corral finally retired in the foot race
With today's victory add up your second victory in Arizona , after those of 2011, where he became the first spanish to lose 8 hours. This victory grants him the direct place to compete in the Hawaii Ironman, which would mean his 13th participation in the test.
Clemente with the second place, gets the place virtually until the official confirmation, since due to the number of participants that have taken the start, there were 2 additional slots.
Photo: Enekollanos.com / @ironmanlive