The Valencia Duathlon By MTRI 2024 is born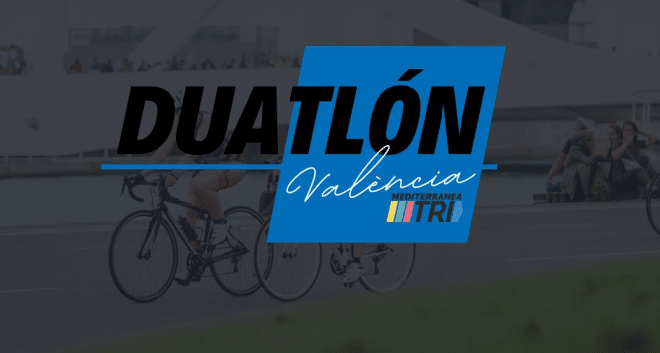 The duathlon is a multi-sport modality that consists of carrying out 3 consecutive segments, in which a running segment, another cycling segment, and another running segment are linked together.
There is no interruption of time at any time between the start and the finish line, and the changes between the first running race and cycling, called T1, and between this and the last running race, T2, take place in a space enabled for for this purpose, which can only be accessed by participants and officials (transition area or box).
On January 21, 2024, the modality will become part of the calendar of sporting events in the city of Valencia, thanks to VALÈNCIA DUATLÓN BY MTRI.
A test that was born supported by the Valencia City Council, the Valencia Municipal Sports Foundation and the Valencian Community Triathlon Federation.
The circuit
The new event is part of the popular triathlon promotion project that the Valencian federation works through its brand Mediterranean Triathlon.
To date, it consists of 3 triathlon events in the 3 provincial capitals, which already have a scheduled date for 2024.
Being MTRI Alicante May 18/19; MTRI Castellon July 6/7; and MTRI Valencia on September 21/22, also the venue for the Triathlon World Cup.
With Valencia Duathlon by MTRI The Valencian federation responds to popular athletes who are interested in triathlon, and who at the moment in the city could only practice it popularly in September with MTRI València.
At the same time, support female participation in the sport of transitions, serving as practice as a natural step to triathlon.
Registrations
Thus, the participants, who will be able to register for the test starting on Thursday, November 21 at 17.00:3 p.m., will have the SUPERSPRINT distance available in XNUMX formats: individual, pairs and double supersprint, for regular triathletes.
The competition will open with rates starting at €15, following the affordable pricing policies of Mediterránea Triatlón, and the participant will have competition material, details from the organizer, post-finish refreshments and a finisher's medal with their registration.
The overall winners will be awarded in the 3 modalities, as well as the categories. In addition, the organization will create a club space with the possibility of placing your personalized tent.
Circuit in the heart of the city
Ground zero of the competition will be the Paseo de la Alameda de València, between the Puente del Real and the Puente de Aragón. La Alameda will be converted into a "velodrome" in which triathletes will perform 3 laps of 2 km, until completing the cycling segment.
The first and third segments of the running race, of 1.5 km and 1 km respectively, will take place in the bed of the Turia River to which participants will descend from the Puente de las Flores. The start and finish line of the competition will be located on this same bridge.