Published the list of professionals for the IRONMAN 70.3 World Championship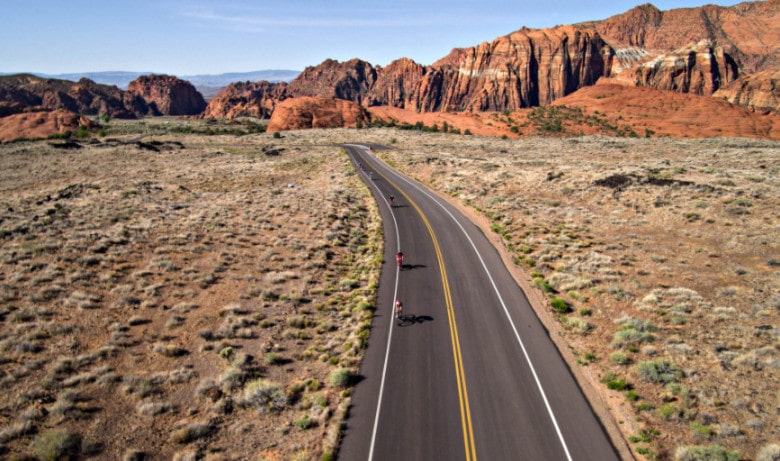 IRONMAN has published the list of professional triathletes who will participate in the IRONMAN World Championship 70.3 in St. George to be played on September 18.
Names like Danyela Ryf, Lucy Charles, Taylor Knibb, Holly Lawrence o Emma Pallant among others.
In the men's category there will be triathletes like Kristian Blummenfelt, Javier Gómez Noya, Lionel Sanders Alistair Brownlee o Ben Kanute among others.
As Spaniards they will only be Javier Gómez Noya e Ivan Raña.
Professional list IRONMAN 70.3 2021 World Championship
Men
| | | | |
| --- | --- | --- | --- |
| BIB | LAST NAME | NAME | COUNTRY |
| | | | |
| 1 | Iden | Gustav | NOR |
| 2 | Brownlee | Alistair | GBR |
| 3 | Von Berg | Rudy | USA |
| 4 | Blummenfelt | Kristian | NOR |
| 5 | Gomez | Javier | ESP |
| 6 | Appleton | Sat | AUS |
| 7 | White | Bradley | ZAF |
| 8 | Kanute | Ben | USA |
| 9 | Sanders | Lionel | CAN |
| 10 | Reed | Tim | AUS |
| 11 | Raelert | Michael | DEU |
| 12 | Long | Sat | USA |
| 14 | Hanson | Matthew | USA |
| 15 | Bækkegård | Daniel | DNK |
| 16 | Leiferman | chris | USA |
| 17 | Goodwin | George | GBR |
| 18 | Ditlev | Magnus | DNK |
| 19 | Neumann | Max | AUS |
| 20 | Dreitz | Andreas | DEU |
| 21 | Funk | Frederic | DEU |
| 22 | Angert | Florian | DEU |
| 23 | Laundry | Jackson | CAN |
| 24 | Smith | Kyle | NZL |
| 26 | Azevedo | Philip | PRT |
| 27 | Stratmann | Jan | DEU |
| 28 | Carnation | Mauritius | DEU |
| 30 | Chartier | Collin | USA |
| 31 | Gambles | "Joe" | AUS |
| 32 | Mignon | Clement | FRA |
| 33 | West | Jason | USA |
| 34 | Costs | Antony | FRA |
| 35 | Ruttmann | Paul | TUE |
| 36 | Mendez Cruz | Mauricio | MEX |
| 37 | Autumn | Marcus | DEU |
| 38 | Taagholt | Miki | DNK |
| 39 | Jarrige | Yvan | FRA |
| 40 | Teagle | James | GBR |
| 41 | Smales | Elliot | GBR |
| 42 | Reid | Taylor | CAN |
| 43 | Frommhold | Nils | DEU |
| 44 | Barnaby | Gregory | ITA |
| 45 | Chase | Nicholas | USA |
| 46 | Deckard | Robbie | USA |
| 47 | Kallin | Robert | SWE |
| 49 | Lagerstrom | Eric | USA |
| 50 | Amorelli | Igor | BRA |
| 51 | Ulloa | Martin | CHL |
| 52 | Toldi | Fernando | BRA |
| 53 | Rana | Ivan | ESP |
| 54 | Sale | Tim | AUS |
| 55 | Noodt | Mika | DEU |
| 56 | Smith | Burn | CAN |
| 57 | Le Berre | Yohan | FRA |
| 58 | Faldum | Gabor | HUN |
| 59 | magnien | Dylan | FRA |
| 61 | Andrie | Marty | USA |
| 62 | Royle | Aaron | AUS |
| 63 | rodriguez hernandez | Tomas | MEX |
| 64 | Metzler | Justin | USA |
| 65 | Butterfield | Tyler | BMU |
Brigade women
| | | | |
| --- | --- | --- | --- |
| BIB | LAST NAME | NAME | COUNTRY |
| 101 | Ryf | Daniela | CHE |
| 102 | Lawrence | Holly | GBR |
| 103 | Simmonds | Imogen | CHE |
| 104 | Sodaro | Chelsea | USA |
| 105 | Charles-Barclay | Lucy | GBR |
| 106 | Pallant-Browne | Emma | GBR |
| 107 | Svensk | Sara | SWE |
| 109 | Matthews | Katrina | GBR |
| 110 | Findlay | Paula | CAN |
| 111 | Ballast | Carrie | AUS |
| 112 | Moench | Skye | USA |
| 113 | Metzler | Jeanni | ZAF |
| 114 | Hering | Jackie | USA |
| 115 | Salthouse | Ellie | AUS |
| 116 | north | Lisa | SWE |
| 117 | Bartlett | Nikki | GBR |
| 119 | Kessler | Meredith | USA |
| 120 | Hall | Lucy | GBR |
| 121 | Smith | Lesley | USA |
| 122 | Piampiano | Sarah | USA |
| 123 | McCauley | Jocelyn | USA |
| 124 | Olive tree | Pamella | BRA |
| 126 | Lee | India | GBR |
| 127 | La K | Grace | AUS |
| 128 | Stage Nielsen | Maja | DNK |
| 129 | becharas | Lisa | USA |
| 130 | Reischmann | Anne | DEU |
| 131 | Jewett | Tamara | CAN |
| 132 | Lane | Chloe | AUS |
| 133 | Mathieux | Justine | FRA |
| 134 | Lewis | Danielle | USA |
| 136 | immolo | Julie | FRA |
| 137 | Knibb | Taylor | USA |
| 138 | Withrow | Kelsey | USA |
| 139 | Best-Pohl | Anna-Lena | DEU |
| 140 | Kruger | Catherine | DEU |
| 141 | Wool | Kinsey | USA |
| 142 | Sheedy-Ryan | Felicity | AUS |
| 143 | Tham's | Line | DNK |
| 144 | Alexander | Grace | USA |
| 145 | Pesch | Maddy | USA |
| 146 | Luethi | Diane | CHE |
| 147 | Man | Rachel | USA |
| 148 | Wendorff | Amanda | USA |
| 149 | Goodell | Kimberly | USA |
| 150 | Fletcher | Jenny | CAN |
You can consult in this link the list with all the Classified