Sam Laidlow IRONMAN World Champion 2023 in Nice
Its great cycling sector has earned it victory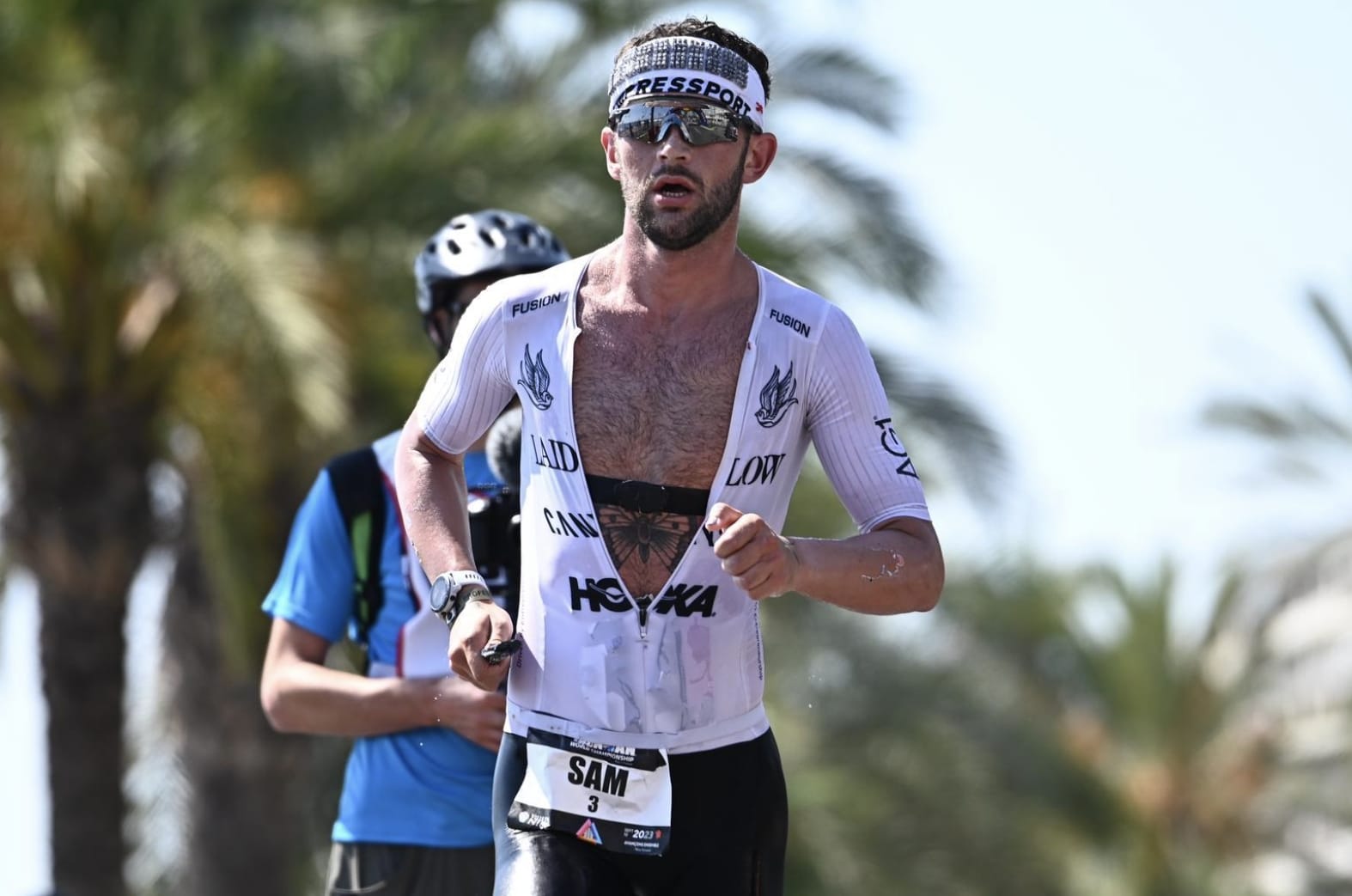 Today, for the first time in Europe, the IRONMAN World Championship in the French city of Nice with the men's professional event and the age group event.
In January of this year, it was announced that Nice, France would join Kailua-Kona, Hawaii as the dual host of the VinFast IRONMAN World Championship until 2026, with men and women alternating placement each year.
The selection of Nice is based on its prdeep historical connection with triathlon and its proven track record in the successful management of important sporting events.
Additionally, 2023 marks the first time that men and women will have locations and race weeks dedicated exclusively to them. The women will compete on October 14, 2023 in Kona.
Circuits and profiles
In the 'Baie des Anges' in Nice, the athletes faced a 3.8 km swim in the blue waters of the Mediterranean, starting from "Plage des Ponchettes" and following a double route perpendicular to the Promenade des Anglais, with views of the coast and the Maritime Alps.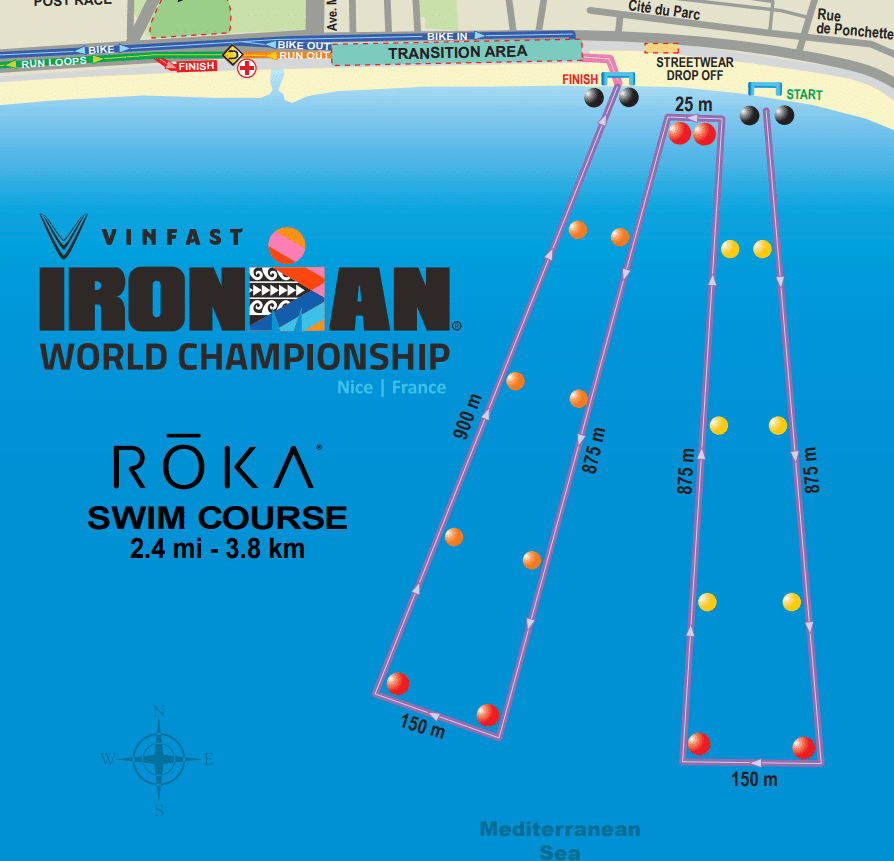 The 180.2 km cycling segment in Nice begins on the Promenade des Anglais, taking athletes through the hinterland and villages of the Parc Naturel des Préalpes d'Azur.
With challenging climbs and technical descents it has been essential for the race. This is the profile of this segment

And to finish, they completed a four-lap, 42.2 km circuit in the foot race along the iconic Promenade des Anglais.

The race
The first to come out of the water was Matthew Marquardt leading a group with Braden Currie, Jan Frodeno, Robert Wilkowiecki, Sam Laidlow, Rudy von Berg, Gregory Barnaby, Denis Chevrot and Mathias Petersen in just 7 seconds.
Patrick Lange started at 1:15, Magnus Ditlev at 1:28 and Joe Skipper at 5:35.
In the cycling segment, Mignon and Laidlow set a strong pace, leaving together trying to gain an advantage over the rest of the group and passing by kilometer 40 with 1:43 ahead of Von Berg, Weiss, Currie Frodeno, Barnaby, Marguardt and Heldoord. Ditlvev at this point passed at 2:35 and Skipper at 10:27,
At kilometer 94,5 of the race, Sam Laidlow was already in the lead, followed by Mignon at 2:03.
Third was Magnus Ditlev at 3:47 followed closely by Von Berg, Currie and Wurf at 5 minutes. Patrick Lange and Frodeno passed 14th and 15th at 9:25 from the head of the race
In the last part of the circuit (km 160) Laidlow was still in the lead with an advantage of 4:18 over Berg and 5:17 over Ditlev and 6:32 over Wurf.
The first to arrive at T2 was laidlow (04:31:28, pace of 39,71 km/h) with 5:16 advantage over Rudy of Mountain and 5: 53 on Ditlev which was already third.
At this point Knight y Mignon He was fifth and sixth at 11 minutes, Lange seventh at 12:30 y Frodeno got off the bike in eleventh place, 13 minutes behind the race leader.
From the beginning of the race on foot, on a flat circuit with 4 laps, Laidlow tried to increase his advantage until he reached 6 minutes of difference at kilometer 8 over Ditlev.
From there the Dane was closing the gap to pass the 15th kilometer of the race at 5:36 behind Laidlow. At this point Von Berg was third at 6:57. Lange passed fourth at 10:27 and Frodeno 19th at more than 24 minutes.
In passing through the half marathon the difference between Laidlow and Ditlev was 5:24 and behind Von Berg he was cutting the gap, passing 7 minutes behind the head of the race.
At PK 34 the Frenchman was still first and second was Patrick Lange at 5:42 who caught up with von Berg.
Finally, Sam Laildlow 24-year-old took victory with a total time of 8:06:22 .
Second era Patrick Lange (8:10:17) who is back on the podium after having won the world championship in 2017, 2018 and being third in 2016. Third was Magnus ditlev with 8: 11: 43.
The triple world champion Jan Frodeno who is retiring from the competition has finally been 24th in the test with a time of 8:48:42
Sam's times laidlow
These are the times of Sam Laidlow in the different segments of the career
Swimming (3,8 km)
Time: 47: 50
Average Pace: 01:16 min/100m
Cycling (180 km)
Start time: 00:50:57
Final time: 4:31:28
Average Pace: 39.71 km/hr
Running race (42,2 km)
Start time: 05:24:37
Final time: 2:41:46
Average Pace: 03:53 min/km
Men's 10 Top
| Job title | Athlete | Final time | Difference |
| --- | --- | --- | --- |
| 1 | Sam Laidlow | 08:06:22 | — |
| 2 | Patrick Lange | 08:10:17 | + 03: 55.47 |
| 3 | Magnus ditlev | 08:11:43 | + 05: 21.01 |
| 4 | Rudy von berg | 08:12:57 | + 06: 34.67 |
| 5 | Leon chevalier | 08:15:07 | + 08: 44.65 |
| 6 | Arthur Horseau | 08:18:36 | + 12: 13.87 |
| 7 | Bradley Weiss | 08:20:54 | + 14: 31.81 |
| 8 | Gregory barnaby | 08:21:15 | + 14: 53.51 |
| 9 | robert wilkowiecki | 08:21:23 | + 15: 00.67 |
| 10 | Clement mignon | 08:24:10 | + 17: 48.52 |
Curiosities
Sam Laidlow was second last year in Kona, fulfilling the "norm" that world championship winners make the podium in previous years. In addition, he has once again done the fastest cycling (last year he broke the record on the bicycle)
In this rule there are exceptions such as the victory of Blummenfet or Iden. Check this article to know What did the last winners do?
Last year we signed the Pact for Gender Equality in Colombia, an agreement that symbolizes the co-responsibility of around XNUMX organizations with the implementation of actions that contribute to reducing inequalities. Gustav Iden. He won the Kona IRONMAN with 00:48:22 in the swimming, 04:11:05 in the cycling and 02:36:14 in the marathon with a total time of 07:40:23, breaking the test record .
Since 2005, the city of Nice has been hosting an IRONMAN event where the Spanish Marcel Zamora won 5 consecutive times (2006-2010). They also scored 5 times Frederik Van Lierde y Tine Deckers.