Alberto Contador will be at La Quebrantahuesos
Contador will debut on June 22 at the Quebrantahuesos, one of the most important cycle tours in the country.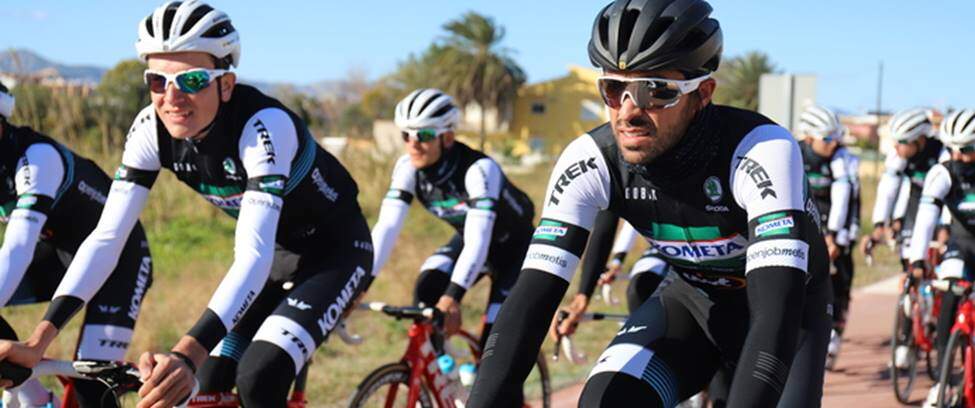 The exciter Alberto counterTwo-time winner of the Tour de France, he will debut on June 22 at the Quebrantahuesos, one of the most important cycling tours in the country.
In an interview published by Quebrantahuesos Alberto commented " It is one of the "most renowned tests among cycling tours and cycling sports"and in which he hopes to spend it"very well and enjoy a great cycling weekend with all those practitioners and fans".
"The first thing that struck me about this whole world of cycle and cyclo-sports tests was the great level of the attendees, who take hours out of their day to day to prepare them and face them with a high level. "
The Pinto cyclist will be honored in the 2019 edition of the Quebranta, and will come out with the number 1
Alberto comes from doing his Km records in a single day
Alberto, made his record of kilometers in a single day in Mallorca 312 cycle tour, where he invested a little more than 9 hours
This is the complete interview:
After so many kilometers and now your first QH arrives. How do you imagine the next June 22?
Since my retirement, either because of my occupation as an ambassador for L'Etape du Tour or for any invitation, I had the opportunity to go to several cyclo-tourist and cyclo-sports events and the first thing that struck me about this whole world was the great level of the assistants, who take hours out of their day to day to prepare them and face them with level.
La Quebrantahuesos is one of the most renowned tests of this universe and also of those that have the most echo within the professionalism for different reasons.
Many professional excorredores are regulars and there is always a moment, a conversation, in which it comes out. But it has also been a topic of conversation with friends, fans and bike riders. They tell you things about the journey, the environment, the organization ... And of course, there always comes that 'Well someday I have to go'.
I imagine that Sabiñánigo, the whole area, is a party, with a tremendous atmosphere. I really want to experience it in the first person.
Have you set a goal for the 22 in June?
One of my last memories for some of those roads is a stage of the Vuelta with final in Formigal in which we put in some other apurillo Chris Froome ... We were full, full gas.
I would like to enjoy the landscape more than that day, hehe. And of course have a great time and enjoy a great weekend of cycling with all those practitioners and amateurs.
After your retirement from the professional circuit, you are focused on helping young cyclists progress with the team that bears your names. How is that experience after so many years focused solely on your sports career?
It is a very rewarding experience. Already in the last years of professional was more than clear that I had to return to cycling how much he had given me and was one of the aspects with which we work every day in my foundation. And I say one because on the other hand we also have the most social and solidary side that has to do with awareness about stroke or the Bikes for Life project, which also bring great satisfaction.
On the sportier side, so to speak, we work at all levels, from the School to the continental team, and we still have some steps to take to become an integral cycling structure, which we would like. In any case, and it is something that we emphasize, and especially among the youngest, we give a major importance to studies: the bike is not as important as the studies and should not park them. Nor should it ever be an obsession at that point.
The tour of the QH evokes great memories with many sections that have been part of the Tour of Spain or the Tour de France. What memories do you have of this area?
As I said before, some pains come to my legs, hehe. The Formigal stage of the Vuelta a España 2016, in which Nairo Quintana won.
I had been in Sabiñánigo before, during the first of the editions of the Vuelta that I won: in 2008 a stage ended here; A large break came, if I remember correctly, and Greg van Avermaet won. I entered the squad, about seven minutes, and Alejandro Valverde rolls. I lost some position in the general but was well cast after the stages of Andorra and Pla de Beret.
What is your favorite port of the four that runs the QH?
Hmmmm ... I would say that the Marie Blanque, although the same the next June 22 change of mind, hahaha.
La Quebrantahuesos brings together thousands of amateur cyclists along with world-class professionals such as you, what is the best thing about this type of event where these two realities coexist?
Above all, the possibility of knowing that other reality. When you are a professional cyclist, and more at certain levels of demand, you live in a kind of bubble born of routine: training to the fullest, taking care of yourself to the fullest, resting to the maximum ... Of course, for you a march is something very far in the sense of that is at the other end of what is your day to day. Even for the beer afterwards.
It's a party, a meeting point, with lots of volunteers with your best smile so you have a great day, and in a landscape of great beauty ... The confluence of all that, without a doubt.