Eduardo Crooke qualifies for the Ironman 70.3 World Championship in Las Vegas, after achieving a second place in Galway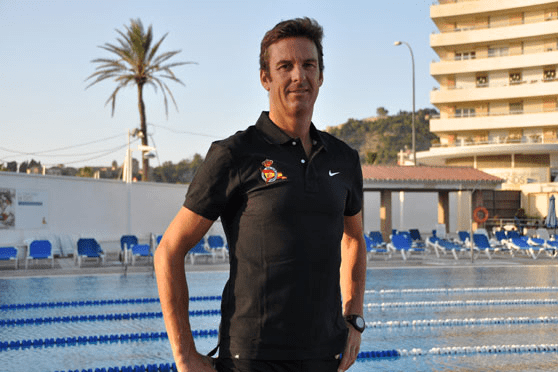 Eduardo Crooke has achieved a second place in the men's category, from 35 to 39 years, in the Ironman 70.3, which was held this Sunday in the Irish town of Galway, and which has meant a direct pass to the 2013 Las Vegas World Championship. The athlete from the Real Club Mediterráneo once again proves this year that he is a true "iron man", having achieved in 2011 a place in the legendary World Cup in Kona, Hawaii, a mecca for any athlete who practices this demanding sport.
"In Galway we have participated almost 2.000 athletes and my category was the most numerous, almost five hundred; so it has been a challenge to finish second in this test, in which I have invested a time of 04: 47: 33 h. It took place on the east coast of Ireland and the two previous days we were quite scared, because there was a storm of wind and it was very cold.
In the end, Sunday improved, although the water was very cold, about 14 degrees, and we had to swim with neoprene and on the edge of shortening the swimming part in half. But the worst was the bicycle tour, due to the poor condition of the asphalt; Besides, I forgot my pedaling shoes and I had to do it with running shoes. Still, I made a very good test. However, qualifying for Las Vegas has been a surprise. "
In the 2005, the WTC 'instituted the Ironman 70.3. This shorter distance, previously known as Ironman, consists of 1.900 meters of swimming, 90 kilometers of cycling and 21 kilometers of track and field. "As last year I qualified in Frankfort for the full Iroman World Cup in Hawaii, in which I participated, this season I wanted to do something more intense, as is the case of this competition, which is half of an Ironman", says Duo Crooke.
To prepare for the Galway event, Crooke competed at the Ican de Marbella this year and did the Houston Ironman in May, "with the idea of ​​taking training volume. The 70.3 Ironman World Cup in Las Vegas will be the 9 September of 2013 and I still do not know what I'm going to find. What I do know is that it is more difficult to qualify for this World Cup, than for the complete Kona event, "he says.
Duo Crooke, of 37 years, has stood out since young in swimming in the background. The triathlete of the Real Club Mediterráneo is not a professional of this sport, but he practices it stealing time from his family and making it compatible with his profession as a recognized dentist from Malaga.