The QH Triathlon about to start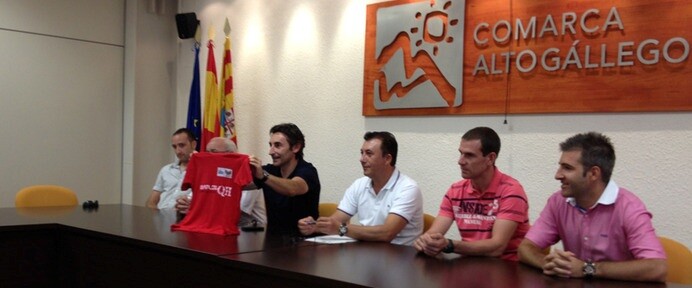 The QH Triathlon is about to start, and today it has been presented in the Comarca del Alto Gállego, an institution that represents the region where the event will be held. The next 5 of August will take the exit this challenge arisen from the cycling tour Quebrantahuesos, and will do with a total of 141 participants from 19 Spanish provinces, between which Barcelona and Zaragoza provide the vast majority of athletes.
Peter Grasa, President of the Comarca of Alto Gállego, attended the presentation; Fernando Escartín, President of the Peña Ciclista Edelweiss; Amancio del Castillo, Sports Director of QH Triathlon and Florencio Lanuza, responsible for the SEAT Autoserrablo dealership; as well as numerous local authorities.
The QH Triathlon, honoring its name, will become part of the toughest triathlons with its more than 3.500 meters of altitude difference in cycling and the 500 meters of the race on foot, climbing some ports of the International March Quebrantahuesos. This hardness coupled with the beauty of the Lanuza reservoir, with the Natural Auditorium where the concerts of the South Pyrenees stage take place, will delight the participants of the first edition of a test that will become legendary over the years .
The action will really start on Saturday 4 of August, with the collection of numbers of 11: 00 to 14: 00 hours and the technical meeting to the 13: 00 hours.
Subsequently, from 17: 00 to 20: 00 will open the transition area so that all participants can place their material for the next day's competition, which will cover a total of 1.900 meters of swimming, 81 kilometers of bike and 18 kilometers of running.
The 5 Sunday in August, from the Lanuza reservoir, will open the transition zone to the 5: 30 hours and, after the call camera, the race will take its exit to the 7: 00 hours.
The final awards ceremony, in which the winners of this first edition will be announced, will take place at the Lanuza Auditorium at 15: 00 hours.