Gran Triathlon Madrid, one of the largest triathlons in Spain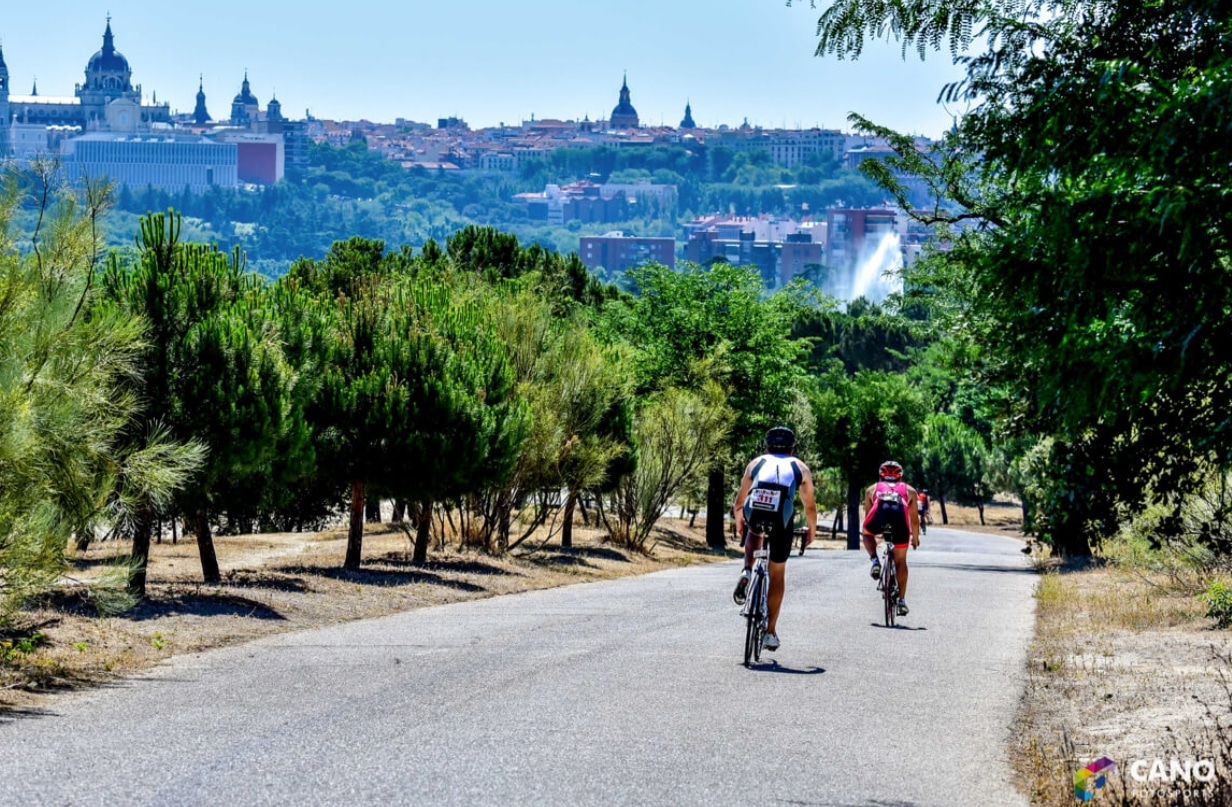 The Casa de Campo in Madrid will once again be the great Triathlon party on the third weekend of June, Saturday 17 and Sunday 18.
The Casa de Campo will be the center of the Great Triathlon Madrid and many triathletes from all over Spain are expected to come to the capital to enjoy this test.
Participants will have the opportunity to compete in various modalities and distances within a extensive sports program, whether federated or non-federated.
All tests will allow drafting, Therefore, the use of "goat" or time trial bicycles will not be authorized.
Our mountain bikes will be allowed in the modalities of Supersprint, Sprint (individual and Relay).
In the SPRINT and STANDARD TRIATHLON tests, the federated will score for the national ranking.
Awards
In Sprint and Olympic Triathlon, Absolute Classification Trophies and teams and medals in all categories.
In super sprint, Medals to the first 3 and first 3.
In relay, medals to the first 3 male, female and mixed teams.
Circuits
The central area of ​​the competition will be located at the Casa de Campo Lake Soccer Field, near the car park and 150 m. of the swimming test.
Here you will find the Transition Area and all the services of the test: Delivery of Numbers, Cloakroom, Medical Services, Expo Zone, Final Provisioning, etc.
200m. away are the Tennis Courts, where there will be showers available for those who wish to use them after the competition.
Swimming
All swimming tests will take place in the Lake, whose water quality is rated EXCELLENT according to official regulations.
The different routes will be marked with highly visible buoys and we will have the support of the Madrid Rescue and Lifeguard Federation.
Cycling
The cycling segment of the SUPER SPRINT distance will take place entirely in the Casa de Campo.
The SPRINT and STANDARD distances will include a route around the Casa de Campo, passing through Pozuelo, Aravaca, Húmera and returning to the Casa de Campo along the Carretera de Castilla to complete the circuit inside it.
The route will be closed to traffic and all crossings will be supervised by the Police, Civil Protection or staff from the organization.
It is important to be careful in the sections that pass through the interior of the Casa de Campo, due to the large influx of people in this forest park, especially cyclists.
Race on foot
The running event will take place entirely in the Casa de Campo, on a practically flat route close to the Central Area, which makes it easier for spectators to follow.
inscriptions
The registration process is still open with the following prices:
| | |
| --- | --- |
| DISTANCE | PRICE |
| super sprint | €30 |
| SINGLE SPRINT | €40 |
| SPRINT RELAYS | €45 |
| STANDARD TRIATHLON | €60 |
| RELAY TRIATHLON | €70 |
| MADRID CTO TIME TRIAL BY TEAMS A | €120 |
More information and registration https://grantriatlonmadrid.com/