Iván Raña: "I am sad; I have done what I could, but today I had no more"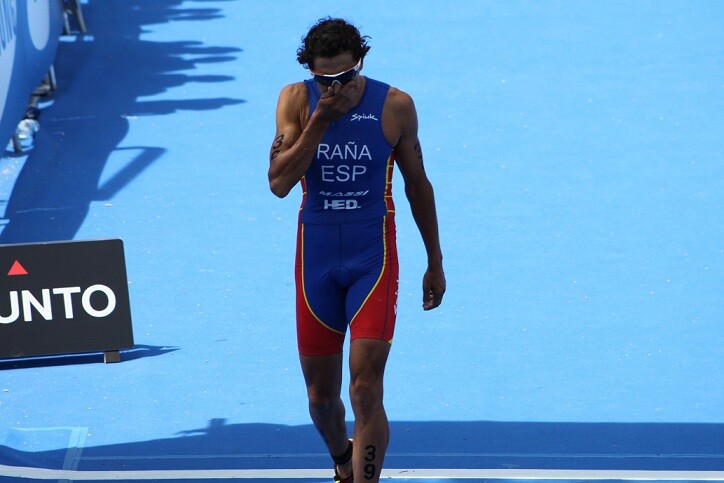 The Galician Iván Raña, triathlon world champion in 2002 -in Cancun (Mexico)- and Europe that year and the following, who lost the opportunity to qualify for the London Games, which would have meant his fourth Olympic appearance, explained to Efe who is "sad" because he did what he could "but today he had no more."
Raña, who suffered a stress fracture of the metatarsal in his left foot a few months ago and despite this practically did not stop competing, in search of points for the Olympic ranking, he finished the World Triathlon event held today, Sunday, in Madrid, in 44th place and lost the internal fight for the third Spanish place for London against Josemi Pérez from Cuenca, who finished twenty-sixth and will be in the Games.
"I made what I could. Today I had no more ", he commented to Efe in the finish area of ​​the Casa de Campo, after the test, the champion of Órdes (Coruña).
"Likewise, if he had sprinted in the last lap, he would have won a position, but Josemi was already ahead and that was the fight he was coming to," added Iván, who was an Olympian at the Sydney 2000 Games (Australia), Athens '04 and Beijing'08, achieving fifth place both in the Australian and Chinese events.
"Today what I had is what has been seen in the race, although I think I am better than what I have exhibited here in Madrid. Last week she had great feelings and she didn't know what to do, whether to continue training or stop. I worked a lot. But today I couldn't," Raña said.
"I trained a lot in winter, then I had a stress fracture of the metatarsal and I kept traveling and competing, with the bad foot. But I had to go to tests to score. It annoys me not to have been able to fight at the top of conditions here", the first Spanish triathlon world champion declared to Efe -the second and only other is his countryman Javi Gómez Noya, double world champion-.
"I am sad, because I was very motivated. Not being able to run, I had raised my level a lot by swimming and cycling. I was exuberant, but I couldn't achieve anything else. I did three or four races with the stress fracture and some people tell me that I have been unlucky. But luck has been good, because I didn't finish breaking my whole foot", Raña concluded. EFE