Results of the Spanish in the IRONMAN 70.3 2023 world championship in Lahti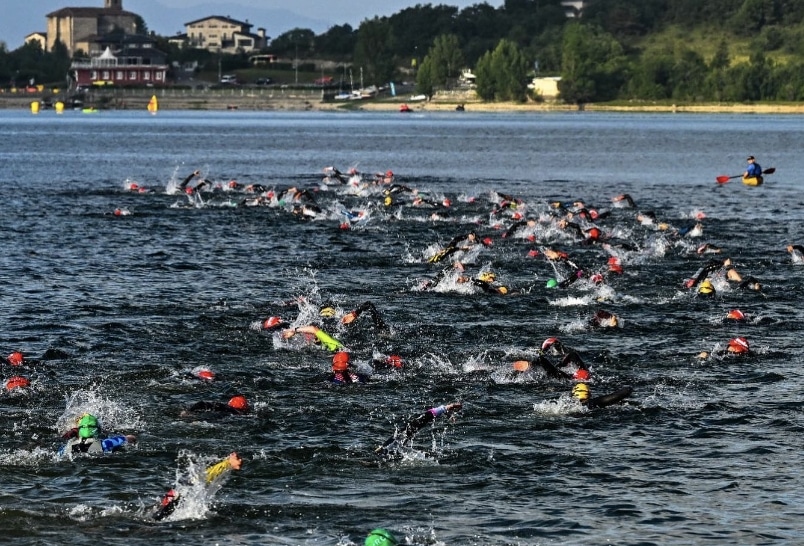 El IRONMAN World Championship 70.3 2023 has taken place in the city of Lahti, Finland, and has seen impressive performances in both the men's and women's categories.
Rich Bogen, the young 22-year-old German triathlete, won the victory in the men's category with a time of 3: 32: 33.
The men's competition was marked by German dominance from the start, with athletes like Frederic Funk y Jan Stratman occupying the podium positions.
As for the Spanish representatives, Gonzalo Fuentes finished in 38th place with a time of 3:55:03, while Jordi Montraveta he finished in 42nd place with a time of 4:12:17.
On the other hand, Taylor Knibb revalidated her title in the female category, crossing the finish line with a time of 3:53:02. This victory further solidifies her position as one of the best triathletes of the moment.
But the age groups have also competed this weekend, with a large representation of Spaniards.
From Triathlon News we wanted to pay tribute to them and we have compiled the list of the Spanish in age groups that have finished the IRONMAN 70.3 2023 World Championship.
We leave you the male and female classification separately in a table with a search engine, filter, etc. so that you can easily find each triathlete, compare times and much more.
Classification Age groups men World IRONMAN 70.3 2023
| Age group | Job title | Athlete | Country | Final time |
| --- | --- | --- | --- | --- |
| M18-24 | 9 | Albert Redolad Canalda | ESP | 04:01:27 |
| M18-24 | 81 | Daniel de la Cruz Married | ESP | 04:41:13 |
| M25-29 | 53 | Jaume Florit Orell | ESP | 04:11:02 |
| M25-29 | 152 | Alejandro Perez Varela | ESP | 04:33:13 |
| M30-34 | 52 | Jose Miguel Vela Pulido | ESP | 04:13:30 |
| M30-34 | 108 | Adrian Avila | ESP | 04:21:57 |
| M30-34 | 143 | Xabier Tijero | ESP | 04:25:56 |
| M30-34 | 162 | Fran Catalan of the Church | ESP | 04:27:51 |
| M30-34 | 188 | Javier Serrano Mayoral | ESP | 04:31:30 |
| M30-34 | 224 | Inigo Bernaldo de Quiros Fernandez | ESP | 04:35:59 |
| M30-34 | 248 | Ruben Malvesi | ESP | 04:39:00 |
| M30-34 | 297 | Carlos Llovera | ESP | 04:49:52 |
| M30-34 | 328 | Javier Sánchez | ESP | 04:55:08 |
| M30-34 | 350 | Izan Banos Marcos | ESP | 04:59:05 |
| M30-34 | 356 | Sergio Rodriguez | ESP | 05:00:24 |
| M30-34 | 366 | Ignacio Delgado Ferreira | ESP | 05:04:59 |
| M30-34 | 372 | javier look | ESP | 05:07:36 |
| M30-34 | 375 | Luciano Cappello | ESP | 05:08:53 |
| M35-39 | 64 | Jorge Garrote Garcia | ESP | 04:19:51 |
| M35-39 | 73 | Pol Senabre | ESP | 04:21:37 |
| M35-39 | 102 | Jose Alvaro Vela | ESP | 04:24:08 |
| M35-39 | 120 | Alejandro Valenciano | ESP | 04:25:40 |
| M35-39 | 136 | Alejandro Diaz Santana | ESP | 04:27:28 |
| M35-39 | 154 | daniel cruz | ESP | 04:29:01 |
| M35-39 | 173 | Gispert Marc | ESP | 04:31:20 |
| M35-39 | 199 | Nestor Carbayo Married | ESP | 04:33:57 |
| M35-39 | 212 | zeus lopez perez | ESP | 04:35:15 |
| M35-39 | 221 | Chris Quintana | ESP | 04:36:37 |
| M35-39 | 245 | Unai Conde San Martin | ESP | 04:38:57 |
| M35-39 | 276 | Paul Rock | ESP | 04:43:19 |
| M35-39 | 340 | David Santamaria Ubierna | ESP | 04:52:09 |
| M35-39 | 394 | Javier Martinez Soriano | ESP | 05:03:48 |
| M35-39 | 425 | Hector Perez Garcia | ESP | 05:15:50 |
| M35-39 | 455 | John Prada | ESP | 05:34:49 |
| M40-44 | 32 | Javier Lopez Valenciano | ESP | 04:19:39 |
| M40-44 | 40 | Marti Quer | ESP | 04:21:30 |
| M40-44 | 45 | anton lavrov | ESP | 04:22:56 |
| M40-44 | 80 | Richard Ledain Santiago | ESP | 04:28:25 |
| M40-44 | 98 | Isaac Henares | ESP | 04:29:44 |
| M40-44 | 142 | Diego Ribao Rodriguez | ESP | 04:32:29 |
| M40-44 | 143 | Galician Serrano Francisco | ESP | 04:32:30 |
| M40-44 | 150 | Jose Angel Gonzalez Concepcion placeholder image | ESP | 04:33:05 |
| M40-44 | 159 | Alejandro Torrecillas | ESP | 04:33:47 |
| M40-44 | 180 | Emilio Moreno Lopez | ESP | 04:36:22 |
| M40-44 | 199 | Rafael Alcayde | ESP | 04:38:39 |
| M40-44 | 217 | Juan Jose del Rio Ortega | ESP | 04:40:33 |
| M40-44 | 323 | Hugo Galeote | ESP | 04:51:55 |
| M40-44 | 420 | Augustine Toribio Cabrera | ESP | 05:07:34 |
| M40-44 | 456 | Ivan Diaz Chacón | ESP | 05:19:23 |
| M45-49 | 11 | Jorge Gonzalez-Alvarez | ESP | 04:23:53 |
| M45-49 | 36 | Juan Monserrat de Leon | ESP | 04:29:39 |
| M45-49 | 90 | Sergio Moreno Aguado | ESP | 04:37:57 |
| M45-49 | 100 | Santiago Abbot de Agueda | ESP | 04:39:06 |
| M45-49 | 104 | ale head | ESP | 04:39:40 |
| M45-49 | 117 | Ruben Ortiz | ESP | 04:41:45 |
| M45-49 | 148 | Juan Carlos Campillo Ruiz | ESP | 04:45:42 |
| M45-49 | 198 | Manuel Mendez Bernal | ESP | 04:51:55 |
| M45-49 | 199 | vincent jimenez | ESP | 04:52:08 |
| M45-49 | 213 | Eduard Sadurni de la Torre | ESP | 04:53:56 |
| M45-49 | 244 | Jorge Camacho-Fernandez | ESP | 04:57:58 |
| M45-49 | 265 | Peio Lopez Arbizu | ESP | 04:59:47 |
| M45-49 | 329 | Parties Garcia Izquierdo Javier | ESP | 05:09:09 |
| M45-49 | 335 | German Garrote Borrull | ESP | 05:09:46 |
| M50-54 | 46 | Xavier Serrano | ESP | 04:39:50 |
| M50-54 | 58 | ruben gandia | ESP | 04:41:16 |
| M50-54 | 68 | Javier Garces Blanco | ESP | 04:42:39 |
| M50-54 | 124 | Oscar Quero de Borja | ESP | 04:50:26 |
| M50-54 | 153 | Juan Manuel Romero Ruiz | ESP | 04:54:03 |
| M50-54 | 169 | David Exposito | ESP | 04:55:52 |
| M50-54 | 182 | Moi Gonzalez Martinez | ESP | 04:57:27 |
| M50-54 | 184 | Sergio Hernandez Benitez | ESP | 04:57:39 |
| M50-54 | 203 | Michael Morales | ESP | 05:00:51 |
| M50-54 | 275 | Fernando German Moreno | ESP | 05:15:51 |
| M50-54 | 304 | alberto lopez saez | ESP | 05:23:29 |
| M50-54 | 322 | Jordi Gonzalez Baro | ESP | 05:29:33 |
| M50-54 | 365 | Antonio Gomez Gonzalez placeholder image | ESP | 05:50:27 |
| M55-59 | 110 | Luis de Arriba Hernando | ESP | 05:06:48 |
| M55-59 | 137 | Manuel Narvaez | ESP | 05:13:05 |
| M55-59 | 141 | Juan Garcia | ESP | 05:13:39 |
| M60-64 | 59 | Francisco Javier de Benito Bustillo | ESP | 05:28:33 |
| M60-64 | 89 | Pablo Cabeza Sanchez | ESP | 05:47:58 |
| M60-64 | 100 | Jose Delgado | ESP | 05:54:58 |
| M70-74 | 23 | Josep Colome-Somoza | ESP | 07:00:04 |
| M70-74 | 30 | Francisco Cabrera Jimenez | ESP | 07:22:54 |
Classification Age groups women World IRONMAN 70.3 2023
| Age group | Job title | Athlete | Country | Final time |
| --- | --- | --- | --- | --- |
| F25-29 | 76 | Eva Rodriguez de Trujillo Campo-Cossio | ESP | 05:04:11 |
| F30-34 | 102 | Maria Gijón | ESP | 05:10:14 |
| F30-34 | 113 | Natalia Prado | ESP | 05:11:31 |
| F30-34 | 116 | Lydia Puyals Boix | ESP | 05:12:16 |
| F30-34 | 145 | Laura Martinez Bucardo | ESP | 05:19:50 |
| F30-34 | 153 | Pujol by Isidiro Alba | ESP | 05:21:28 |
| F30-34 | 172 | Sara Argerich Bergada | ESP | 05:25:28 |
| F30-34 | 206 | Judit Llovera Baiget | ESP | 05:36:39 |
| F35-39 | 57 | Rocio Chaves González | ESP | 05:03:08 |
| F40-44 | 23 | Esther Leal | ESP | 04:58:42 |
| F40-44 | 221 | carolina lance | ESP | 05:55:21 |
| F40-44 | 224 | Alexandra Voskresenskaya | ESP | 05:56:47 |
| F40-44 | 232 | Violet Bonet Rich | ESP | 06:01:04 |
| F45-49 | 45 | Luciana Bermudez | ESP | 05:16:42 |
| F45-49 | 74 | Estela Perís | ESP | 05:22:17 |
| F45-49 | 131 | Silvia Bach | ESP | 05:41:19 |
| F45-49 | 147 | Rachel Henares | ESP | 05:49:33 |
| F50-54 | 87 | Patricia Madrigal | ESP | 05:39:01 |
| F55-59 | 111 | Maria Margarita Tascon Gonzalez | ESP | 6:17:16 |
* If there is any error in the classifications please, contact us to rectify it