BH inaugurates its first Concept Store in Alcobendas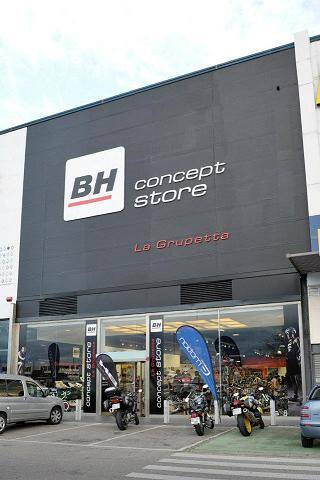 BH Bikes has just inaugurated its first Concept Store so that lovers of this firm have access to practically the entire range of its products. This is the BH Concept Store of La Grupetta, a new establishment located in the Parque Comercial Río Norte de Alcobendas (Madrid) in which fans have at their fingertips road, mountain, electric, triathlon and trekking bicycles, as well as as the most important BH accessories.
"People who come here will be able to find around 95% of the catalog of this brand. You can walk quietly and without stress, and spend all the time you need to enjoy the material. As its name indicates, it is a Concept Store, BH customers can find everything they need", points out Arturo Rubio, the person in charge of this store, who stresses: "Right now, BH is the first brand in Spain in terms of quality- price".
The premises also have a large repair shop where the user can consult their doubts directly with the team of professionals, who are under the command of Arturo himself.
"In addition to maintenance and revisions, we have a washing service. It is more than a workshop, it is an operating room, we have top quality tools and highly experienced staff".
The 450-square-meter store opened its doors last week, in an act attended, among others, by the BH Team triathletes Mario Mola y Fernando Alarza, as well as former professional cyclists and members of the San Sebastián de los Reyes Cycling Association and the Alcobendas Triathlon Club. The establishment was born with the vocation of being a reference center in the world of cycling, since it is located in an area with a large influx of people, especially on weekends. And it is that, as Mario Mola himself affirms on his twitter, "BH Concept Store of La Grupetta is great... in every way!".
"We have some 50 parking spaces in front of the store, and we have easy access from the N-1 through exit 16," Arturo points out, adding: "Whoever is looking for the high-end BH range will find it 100% in this store. If a customer likes a BH model, they can come, try it on, find their size and, if they wish, take it with them immediately".
Similarly, the store will hold various demos. A constant of electric bicycles, another of the new Lynx range in May and, in the future, of the new models that BH presents. And it is that, as Arturo points out, "we want to be the BH paradise for lovers of this brand".