Brief
Catalonia takes the title of the Spanish Triathlon Championship by Autonomies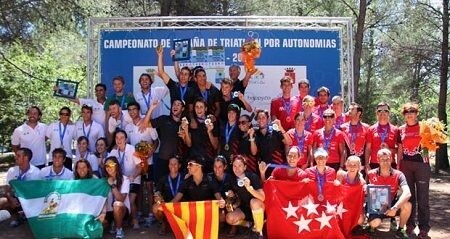 Catalonia has been proclaimed yesterday afternoon new
Spanish champion of Triathlon by Autonomies
. After the 28 June celebration of the individual competitions and during this Sunday of mixed relay competition, the Catalan team has climbed to the top of the podium in the town of Navajas, Castellón.
In the day of Sunday, the mixed relay, in which each contestant has made a swimming sector of 300 m. with exit in the Regajo reservoir, to continue with 7 Km. on the bike and finish with 1, 7 Km of running, in which Andalusia se I was rising with the triumph with a team made up of Ana Ruz, Bruno Raso, Elena Aguilar and Victoriano Raso.
After they entered second position the components of Catalan team, formed by Laura Gómez, Aleix Domenech, Anna Flaquer and Albert Parreño. While the Valencian Community, represented by Eliana Krist Sotelo, Emilio Aguayo, Nuria Morrio and Roberto Sánchez Mantecón, the bronze medal.
At the end of the test, and after making the sum of the points obtained during both days of competitions, Catalonia Has been imposed when getting a total of 58 points. While Andalusia has achieved the runner with a score of 55 and Madrid the medal has been hung bronze after adding 50 points.
FETRI