Interview Marcel Zamora after defeating the Embrunman 2012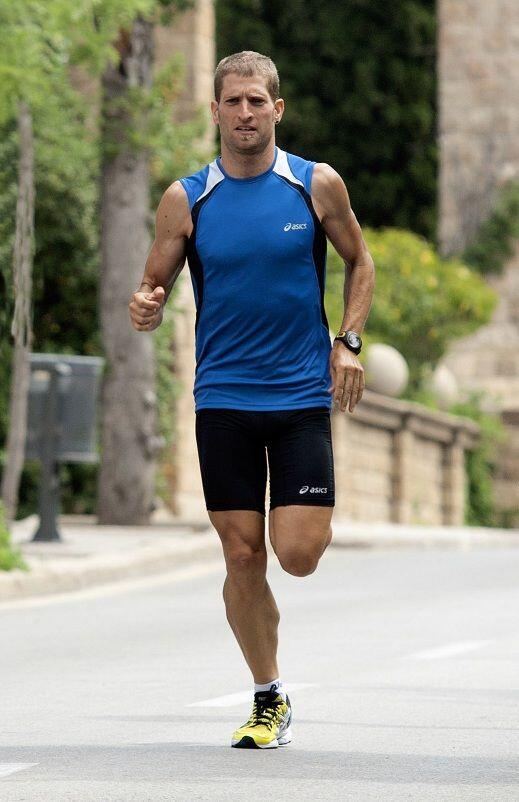 'I won this victory with my head, not with my legs'
The last 15 of August the Barcelonean prevailed in the Embrunman of the Alps, considered the hardest long distance triathlon in the world.
- Marcel, who signed his victory in the foot race by wearing the ASICS Gel-Noosa Tri 7, achieved in this way one of the most important victories of his career by achieving his third title in this mythical test.
- What does the achievement of this Embrunman mean for your sports career?
It is the resurgence of a hard and complicated stage psychologically and physically, because this 2012 has not started in the best way, but in the end with a lot of strength and desire to return to the same as always I returned to get my best victory.
- Considering your refusal to run in Nice, did you feel an added pressure to achieve a great result here?
No pressure, because I am very lucky that I decide my calendar and what I want to do at all times, but I internally pressed myself to show me again that it is not the end of my sports career and that Marcel Zamora remains for a few years more, and that if it is above everything, better than better.
- It's your third victory in the Embrunman. How was it basically different from the other two?
Each race is different, for a thousand things: adversaries, weather, body response, physical and psychological preparation the previous months, etc. But if something differentiated with the others was because of my lack of confidence, since I come from a fatigue injury and did not know if the day of the competition would be capable of reaching the 100% as it was doing in the training or in the previous victories. The truth is that it has been the hardest, but most precious victory, especially for having won with the head and not with the legs.
- How do you assess the level at which your opponents ran?
There are always very strong opponents and this year was not going to be less. Victor del Corral, one of the favorites, came with the confidence of winning the Ironman in Lanzarote and a few more races, and it was his third participation in Embrunman, which I think gave him more confidence. Also the Australian David Dellow, who has had an incredible season and with each passing month progresses and also returns to this race for the second time. No one was a rookie and we all wanted a big win in the Alps. The difference between them and I consider that it was more regular on the bike and competing listening to my body and not letting myself be carried away by the opponents, since this at the end of such a tough race takes its toll on you.
- In what stretch did you feel stronger? Where do you think your victory was cemented?
As always, it was in the race on foot, which is where I differ from the majority, because I have a great facility to run in very extreme conditions of heat, when the others are fatingando and taking bill. I assimilate very well all the food and hydration and this makes me arrive very whole to the final kilometers, which are usually the most decisive. The victory started when I saw the bike 175km that cut a little distance and that made me think that they were a bit touched and I saw myself with great strength and desire to run fast. Once the marathon started, and seeing that each step cut more, I came up and saw that it was the day to return to the glory of my sporting life.
- What kind of preparation did you follow the previous days? What was your routine for the last month?
The routine and preparation of the last days has not been different from the one I have done in my 7 years as a long distance professional, since it has always worked for me and I think that one has to know what is going well and not let yourself be carried away by what others think. In this I am very rigid and it is very difficult that these heights change my system. In the last month I have started with the Novaelite team, who have helped me a lot in my recovery and doing part of the training that I had a little forgotten. They are great professionals and with them I feel super comfortable and confident that the work we are doing is giving me a very big improvement.
- In more than nine hours of competition, give time to think about many things. What were your main thoughts?
I was very hard and stubborn, especially to crown the Izoard and stay alone and know that there were 100km of very hard bike and I would have to go solo. I was just thinking that the important thing was for the two leaders to take me out as little as possible for the beginning of the marathon. I thought that I could not give up, that this was very long and that I am a born winner, that I trained as the most and that I needed this victory. It was a real intern war between being satisfied with being 3º or continuing to suffer, thinking that this would have its reward.

- What kind of supports do you have during the race?
There are the supplies of the organization and above the Coll Izoard personal refreshment. After the fact that more 40 friends and family came, it made everything easier to have references at all times, apart from being an unconditional support and seeing that you are not running alone. I owe a lot to all of them for pushing me with their positive mind.

- For those who do not practice this discipline it seems incredible that you are able to run a marathon after 4 km of swimming and 160 of bicycle.In addition to a great physical preparation, what is it that helps you to make such a feat?
I believe that the passion for this sport is very great and suffering happens to be pleasure. It sounds a bit like masochism, but it's reality. In my case, the more
It's better, because I know what makes me different from the rest. It is difficult to explain, but I invite all athletes with a good and daring base, to face this challenge so great and at the same time so rewarding. You will never forget it.
- What are your next challenges this season?
For September I have the participation in the Extreman de Narbone on 9 day, then the half Sailfish of Berga, which makes me especially excited because it is celebrated at home. And to end the season, I will compete in a new test in France, the Natureman in Verdom on 7 day in October, where I hope to enjoy a particularly beautiful area due to its nature.
Source: Asics, Official Sponsor of Marcel Zamora