A road bike with discs below 6 kgs?
Each chosen component pursued the same goal, to design a light bike below 6 kilos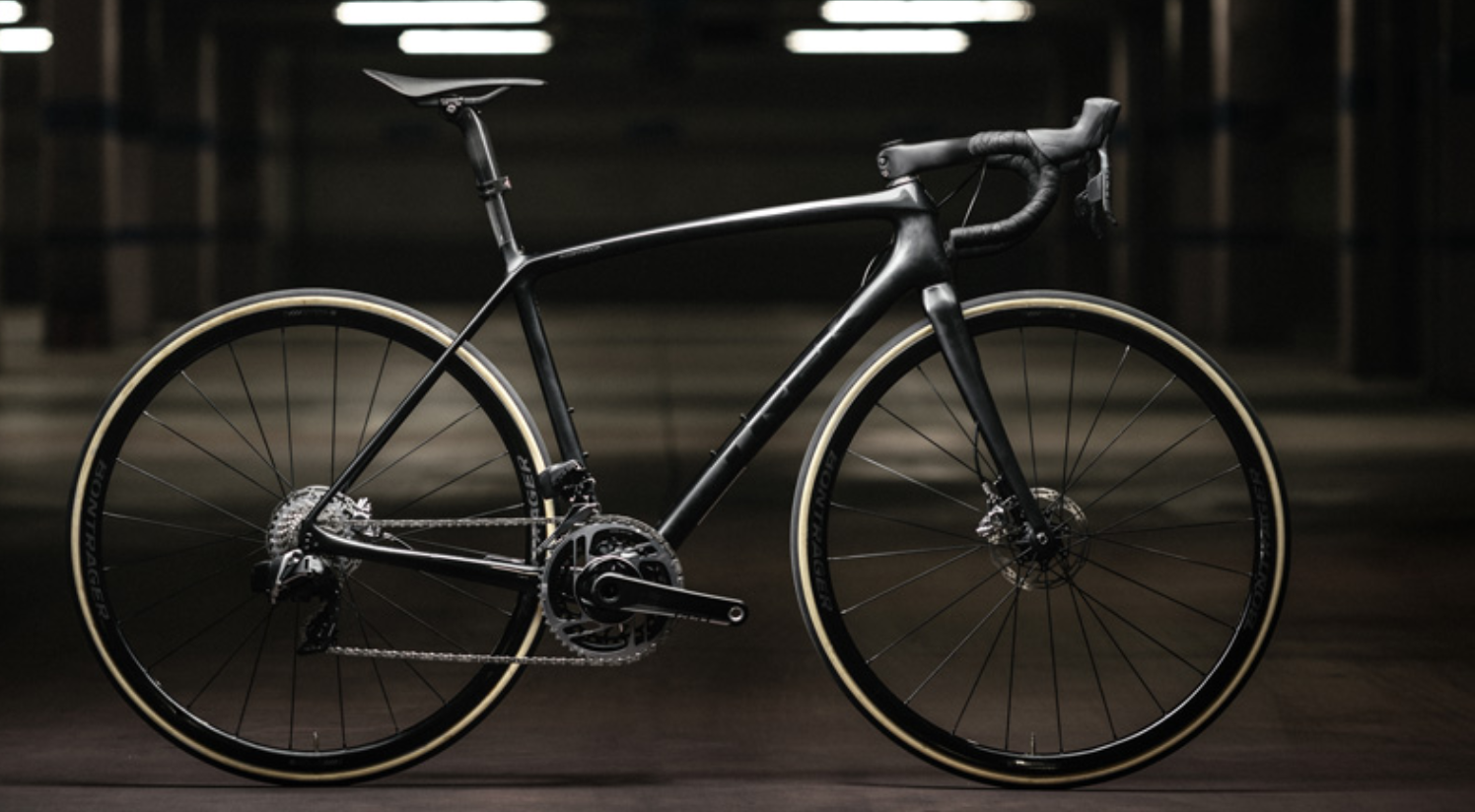 Trek has designed, through its Project One customization program, ato Émonda SLR Disc with disc brakes.
Each chosen component pursued the same objective, to design a light bike under 6 kilos (without pedals)
A spectacular montage with tSRAM RED eTap AXS transmission, saddle Bontrager XXX, Aeolus XXX2 wheels with tubular, Bontrager XXX handlebar, which has resulted in this light and elegant Émonda of 5.980 gr.
The foundation of this Émonda SLR climber is Trek's exclusive 700 Series OCLV Carbon Frame, the lightest and strongest carbon you can find. It incorporates Flat Mount disc brakes that are lighter, smaller and more discreet than conventional disc brakes.
The assembly did not skimp on achieving the lowest possible weight, opting for the top-of-the-range components of the Bontrager XXX series for the saddle, the handlebar / stem assembly and the Aeolus XXX 2 Disc wheels, with 28 mm profile and 1.150 grams of weight in tubular version.
Assembly is completed by the new SRAM Red eTap AXS.
But the fundamental thing is that with the program Project One, the barrier of 6 kg has been lowered. with standard parts and without compromising safety at critical points on the bike.
From € 5.599
The range of the Émonda SLR family of bicycles starts in the range of € 5.990 to € 10.599

The top of the range has the following specifications
Émonda SLR 9 Disc eTap Specifications: 1
€ 0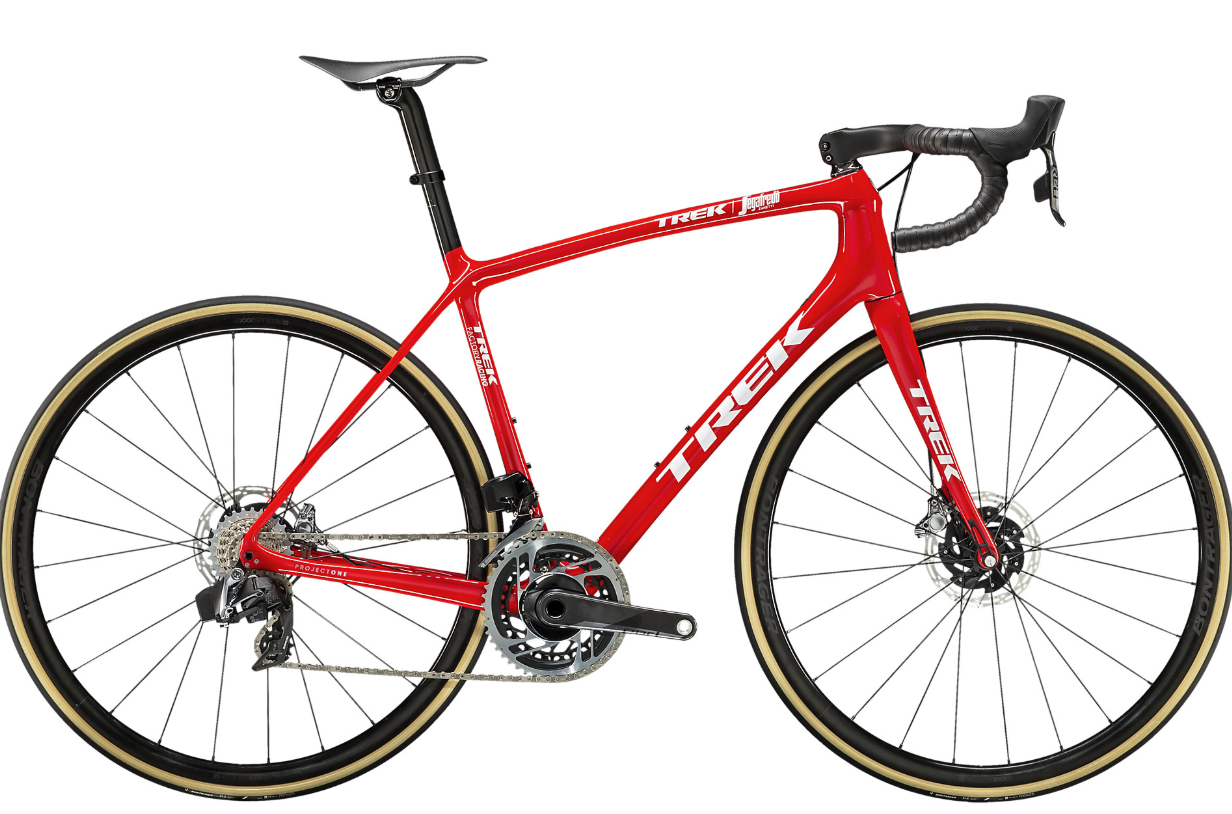 * specifications are for all sizes, unless otherwise noted
Picture set
| | |
| --- | --- |
| Box | OCLV 700 Series carbon ultralight, Ride Tuned tube performance optimization, profiled head tube, Control Freak internal routing, Ride Tuned seatpost, DuoTrap S compatible, flat mount disc, 142 x 12mm thru-axle |
| Forks | Émonda SLR full carbon, profiled carbon fork tube, internal brake routing, flat mount disc, 12 x 100mm thru-axle |
Wheel
| | |
| --- | --- |
| Front wheel | Bontrager Aeolus XXX 2, OCLV carbon, Tubeless Ready, rim width 21mm, rim profile 28mm, 100x12mm thru-axle |
| Rear wheel | Bontrager Aeolus XXX 2, OCLV carbon, Tubeless Ready, 21mm rim width, 28mm rim profile, 11-speed Shimano hub, 142 x 12mm thru-axle |
| Cover | Bontrager R4 320 Handmade Deck, Hard-Case Lite, 320 tpi, 700 x 25c |
Transfer
Shift lever
SRAM RED eTap AXS, 12-speed
Diverter
SRAM RED eTap AXS, solder type
Gears
SRAM RED eTap AXS, Orbit chain management, sprocket max 33T
* Bottom bracket
Sizes: 47, 50, 52
SRAM RED D1, 48/35, 24mm axle, 170mm length
Sizes: 54, 56
SRAM RED D1, 48/35, 24mm axle, 172,5mm length
Sizes: 58, 60, 62
SRAM RED D1, 48/35, 24mm axle, 175mm length
Cassette
SRAM RED XG-1290, 10-28, 12 speed
Chain
SRAM RED D1, 12 speed
Components
Saddle
Bontrager XXX, OCLV carbon housing and rails, width 154 mm
* Seatpost
Sizes: 47, 50, 52, 54, 56
Bontrager Ride Tuned Carbon Seatpost Mast, 20mm offset, 135mm Length (Short Seatpost)
Sizes: 58, 60, 62
Bontrager Ride Tuned Carbon Seatpost Mast, 20mm offset, 175mm Length (Long Seatpost)
*Handlebar
Sizes: 47, 50, 52
Bontrager XXX stem / handlebar system, OCLV carbon, Blendr compatible, 93mm drop, 123mm drop, 40cm width, 90mm stem length
Size: 54
Bontrager XXX stem / handlebar system, OCLV carbon, Blendr compatible, 93mm drop, 123mm drop, 42cm width, 90mm stem length
Size: 56
Bontrager XXX stem / handlebar system, OCLV carbon, Blendr compatible, 93mm drop, 123mm drop, 42cm width, 100mm stem length
Size: 58
Bontrager XXX stem / handlebar system, OCLV carbon, Blendr compatible, 93mm drop, 123mm drop, 44cm width, 100mm stem length
Sizes: 60, 62
Bontrager XXX stem / handlebar system, OCLV carbon, Blendr compatible, 93mm drop, 123mm drop, 44cm width, 110mm stem length
Handlebar tape
Bontrager Supertack Perf Handlebar Tape
Game of direction
Integrated FSA, sealed cartridge bearing, 1-1 / 8 "on top and 1,5" on bottom
Brake
SRAM Red eTap AXS hydraulic disc
| | |
| --- | --- |
| Weight : | 56 - 6.68 kg / 14.72 lbs |
| Weight Limit | This bike has a maximum weight limit (combined weight of bike, rider, and load) of 125 kg (275 lbs). |