Triathlon Helmets: Updated Buying Guide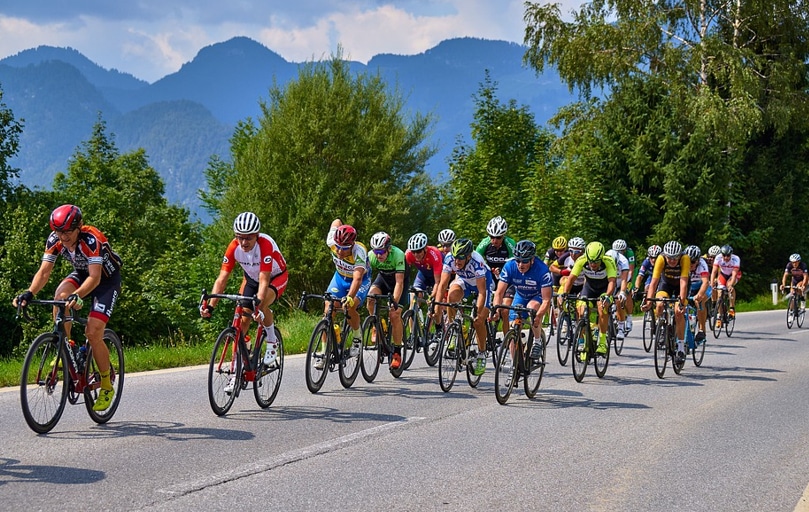 It's not just about safety during training. In competitions, triathlon helmets are even mandatory and is usually checked before entering the transition zone.
We have put together a selection of the most popular triathlon helmets, whether for daily triathlon training or competition.
Triathlon helmet models
Apart from head size being a decisive selection criterion, the competition format also plays an important role prior to purchase.
Are you a triathlon beginner and want a complete road bike helmet that is both safe and aerodynamically optimized? One that you can use both in training and in competition.
All triathlon helmets have in common the streamlined, relatively closed shape and the streamlined surface finish. Triathlons are generally run without a slipstream.
This means reducing drag, and hull construction plays a big part in that. There are usually fewer ventilation openings for this purpose.
There are helmets that meet in the shape of a point or teardrop at the back and often there is also a visor, so that the glasses and the helmet form a unit.
Ultimately, however, you can only exploit aero advantage if you can adopt an aero head and body position on the bike.
TOP Best triathlon helmets
¿What is the best triathlon helmet? To answer that question, we've spent many hours figuring out what makes best triathlon helmets. Do not worry!
At the online triathlon helmet offer, you are guaranteed to find the product that exactly fits your needs.
Shinmax bike helmet
Shinmax Helmet
1 New From 42,99 €
free shipping
As of December 3, 2023 02:31
Features
【Superior Design, Save Your Life】: Durable hard shell bike helmet, soft pad can absorb pressure caused by external impact. The adult bicycle helmet will feel safer and more comfortable.
【Cool Magnetic Visor】: The magnetic closure visor provides wrap-around eye protection that can keep your eyes out from wind and sun. Magnetic goggles can be attached to the helmet and easily removed.
【SUPER COMFORTABLE, 7 HOLE VENTILATION】:Aerodynamic Design,Adopting bicycle helmet specialized aerodynamic design and ventilation allows air to pass through the bike helmet which helps increase speed and keep you cool and comfortable.
【Adjust Sizes】: The road bike helmet goes with a standard size. The adjustment strap works perfectly and is well made. With chin pad, one touch buckle adjustment system, side straps will increase/decrease the size to your liking 57-61 cm.
【Half-Year Warranty】All our customers can get the warranty immediately if there is any quality problem or dissatisfaction for any reason. You have no risk to try.
The unique aerodynamic wide-body design of the Shinmax helmet reduces drag and turbulence around the shoulders. A potentially decisive 10 watts can be saved for the 50 km/h race.
The triathlon helmet shinmax was specially developed for maximum aerodynamics.cascaos
Its structure keeps the visor securely in place in any situation. Due to the coating, a clear view is guaranteed in all circumstances.
Giro cycling helmet
Giro Helmet
4 New From 257,14 €
free shipping
As of December 3, 2023 02:31
Features
Polycarbonate hull.
Super fit engineering.
El Giro helmet It's for triathletes and time trialists who demand a good balance between aerodynamics and cooling. It features an aerodynamically efficient design, with a lightweight polycarbonate outer shell.
La Wind Tunnel ventilation and internal channeling keep you cool when the going gets tough. It features a visor that offers an unrestricted field of vision and unmatched clarity.
It is equipped with the MIPS system to redirect impact energy and provide more protection in certain situations.
FUNWICT bicycle helmet
Spiuk Aero Helmet
4 New From 94,99 €
free shipping
As of December 3, 2023 02:31
Features
Aerodynamic professional cycling helmet; ideal for scratching seconds in competition, time trial or triathlon
Quick and precise adjustment thanks to the fidlock magnetic closure and the boa fit system
Very compact geometry with reduced frontal area
Internal airflow architecture and antibacterial fabrics to ensure freshness on the head
It is a high performance triathlon helmet.
The science of aerodynamics and how you handle it determines the silhouette of the helmet. The result of months of testing in the lab and on the race track is a aerodynamic triathlon helmet.
This helmet is packed with features designed to enhance your ride, offering the best in aerodynamic efficiency, exceptional ventilation and innovative head protection solutions.
Whether you're riding to the front of the pack or pushing your max power to the finish line, the FUNWICT bicycle helmet will shape the wind in your favor.
Spiuk Aero Helmet
Sportline Spiuk Helmet
As of December 3, 2023 02:31
Features
aerodynamic cycling helmet
Ideal for scratching seconds on the road or triathlon
Very compact geometry with reduced frontal area
Internal airflow architecture that cools and improves aerodynamic performance
Spiuk x1 rear retention and spiuk arrow head side splitters for a very precise fit
The fit is secure and comfortable thanks to the fidlock magnetic closure and boa fit system, which allows easy adjustment.
The hard outer shell continues into the interior of the helmet and is made of strong polycarbonate, which is firmly bonded to the EPS foam inner shell for increased durability and ventilation.
Sportline Spiuk Helmet
The helmet raises the bar for performance cycling to the highest level. So light you'll forget you're wearing it!
Equipped with an adjustable head basket that offers an easy and perfect fit every time. Fully ventilated for maximum cooling.
The large visor is not only eye-catching, but also practical. You are completely isolated from outside conditions, you do not feel any external influence even on windy days and in the rain.
¿What distinguishes the best triathlon helmet? As we discovered, the mbest triathlon helmets differ significantly from other triathlon helmet models in terms of features, workmanship and quality.
Advantages of using triathlon helmets
The biggest triathlon helmet fortress lies in its ability to reduce resistance.
Un triathlon helmet guides the wind which approaches from all sides around the helmet in the best possible way and reduces braking air vortices thanks to the spoiler lip at the rear.
Professional athletes can achieve an average time saving of 40 seconds over a distance of 40 kilometers with a constant ideal position of the head.
Aerodynamically optimized and very light compared to normal helmets.
A little cheaper than other classic helmets.
Versatile for commuting, training and competition.
Why buy triathlon helmets?
Not long ago, the helmets for cyclists or triathletes they were just a thin helmet that cyclists wore Mainly as a decorative accessory. That has changed with the latest generation of aero and time trial helmets.
The helmet is now part of the standard equipment of every cyclist. Here you can find out what models of triathlon helmets are available and what you should pay attention to when making your selection.
In comparison with the normal cycling helmetsplatforms, triathlon helmet not only protects, but also makes it faster when driving only into the wind by reducing drag.