Garmin Forerunner® 955 Solar: solar charging and the most advanced technology for runners and triathletes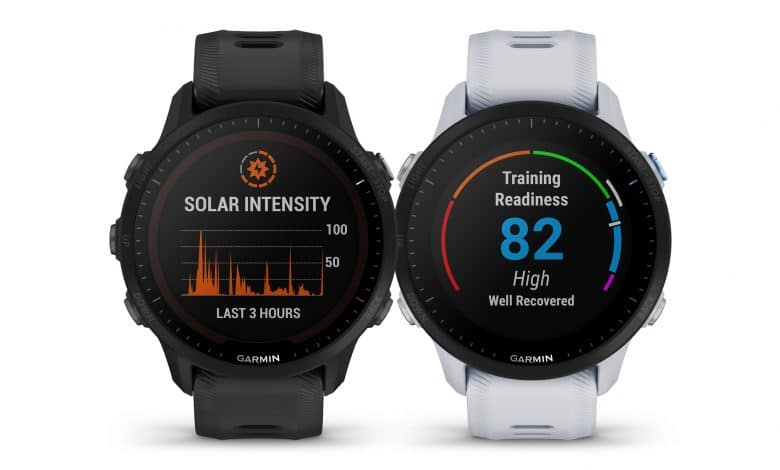 Garmin launches its most complete sports watch for runners and triathletes: Forerunner® 955 Solar.
A smart watch that stands out for having new features that give it greater autonomy and highly advanced activity control.
Designed for the runner and triathlete, it features a transflective touch screen in full color that stays on all the time and is easy to read, even in direct sunlight. In addition to being tactile, its operation can also be carried out through its five side buttons.
More autonomy through the sun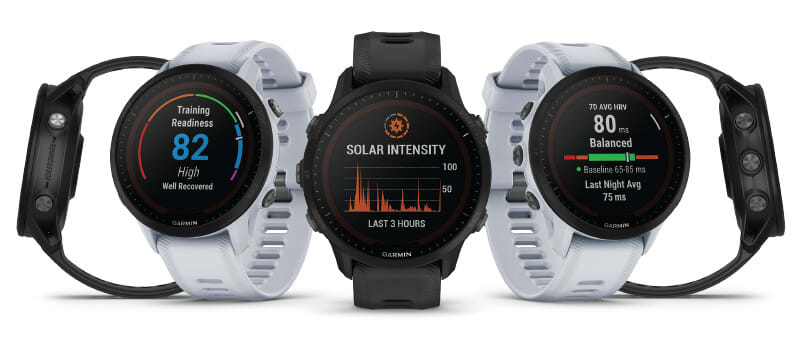 Also, the new Forerunner Garmin stands out for offering state-of-the-art features such as solar charging through Power Glass lensTM, which provides up to 20 days of battery life in smartwatch mode1 and up to 49 hours of battery life in GPS mode2.
With a touch screen interface, you can quickly scroll through maps, stats, and more.
It also allows you to manage it separately through its five side buttons or combine both options at the same time.
It also features multi-band GPS with GPS, GLONASS and Galileo satellites, allowing for superior accuracy in knowing how far and how fast you're running, even in challenging environments.
prepare for training
With this watch, it is also possible to prepare for training, since it offers the possibility of knowing the state of the body every day and, in this way, getting the most out of training taking into account sleep, recovery time, state of HRV and other additional metrics.
Specifically, HRV status enables monitoring of heart rate variability during sleep to better monitor recovery and general well-being.
Added to this is a new widget, the morning report, a report that appears on the watch each morning and when paired with a compatible smartphone, provides weather conditions and a daily workout suggestion, as well as information about last night's sleep and HRV status3 (heart rate variability)
The report can even be customized so athletes can see only the details that matter most to them.
The new Running power integrated allows you to have a continuous measurement on your wrist of how much power you are applying to the road while running when using a Running Dynamics Pod or HRM-Pro™ monitor. Running Power is here to provide running power metrics similar to those offered for other sports, such as cycling and cross-country skiing.
Forerunner® 955 Solar features a race widget for race prep information, including race day specific performance prediction, upcoming weather conditions and even a race day countdown.
Once the race is scheduled, the suggested daily workouts will be tailored based on the individual runner's race plans.
Similarly, it provides Stamina insights, a new feature that reports stamina in real time, so it's possible to monitor and track effort levels in real time during a run or ride.
designed to win
With the goal of helping athletes pursue their next challenge, Forerunner 955 Solar includes key performance and coaching tools Firstbeat AnalyticsTM such as V02 Max, training load, training status, performance condition and much more.
Additionally, new indicators such as HRV status, recent exercise history, and performance give runners a greater understanding of their overall training status, letting them know if they're training productively, maxed out, or overachieved.
Meanwhile, the daily training suggestions will provide you with a full week of daily training guidance based on your fitness level and general well-being, and will even adapt based on the running plans that are set up with the new career widget.
When using a Running Dynamics Pod or a monitor HRM-Pro (sold separately), the athlete can track running dynamics such as cadence, stride length, ground contact time and more.
On the bike and in the water
An advanced watch for running and also for the triathlete. And it is that, thanks to it, the athlete will be able to track their cycling dynamics, both in a sitting and standing position, in addition to obtaining power and displacement data when using a compatible Garmin power meter (sold separately). separately).
And, already, in the water, this watch will track distance, stroke, pace, personal bests and much more.
Runners and triathletes can take their training to the next level by automatically synchronizing indoor and outdoor workouts from Garmin ConnectTM, the training application tacx and other third party platforms.
In addition, it is compatible with Garmin Coach, from where it is possible to have free 5K, 10K and half marathon training sessions, which are adapted according to the runner's goals and performance.
As far as the athlete wants to go
Whether you're running through city streets or biking through densely covered trails, Forerunner® 955 Solar provides the athlete with integrated full color topographic maps to stay on track and go the distance.
Follow a route or track with turn-by-turn directions and know ahead of time when the next intersection is coming up, as well as plan and download routes with the online track builder. Garmin Connect, which uses popular routes TrendlineTM to offer the best local tours or create others on platforms like Strava and Komoot that are perfectly synchronized with the clock.
Also, thanks to it, it is possible to be prepared for what will come, since it offers selected points of interest along the route. In addition, it is possible to view performance metrics, split times, distance and elevation data, and a summary of upcoming milestones on the course.
To all this, add Pace ProTM, a tool that provides race pace guidance based on the user's time goal and ClimbPro, which allows real-time information on current and future climbs, including slope, distance and elevation gain on downloaded routes, and corrects the pace accordingly.
Similarly, you can enter a running or cycling distance directly into the watch and instantly receive suggested routes back to where you started.
Smart features
Designed to always be worn, Forerunner 955 Solar includes advanced health and wellness features. Thus, integrate Press OX44, which is based on monitoring blood oxygen saturation levels and provides a clearer picture of sleep and altitude acclimatization.
Meanwhile, energy tracking BodyBatteryTM displays current energy levels that can help the athlete find the best time for activity and rest.
In addition, women's health features, including pregnancy and menstrual cycle tracking, allow women to record symptoms and receive advice and information on exercise and nutrition.
Also offers integrated music, with the ability to download up to 2000 songs from Spotify®, Amazon Music, and Deezer playlists (Premium subscription may be required). It even enables contactless payment through Garmin PayTM5 and receive notifications of calls, text messages, social network updates and alerts, received on a compatible smartphone.
To all this, add its functions of security and tracking, which provide peace of mind while training outdoors by being able to send real-time location to previously selected contacts or send a message automatically if the watch detects an incident6.
When training indoors, a Tacx® Smart trainer can be linked via ANT+® technology directly from the watch for course simulation, automatic resistance changes and training prompts when using specific courses or workouts.
Finally, Forerunner 955 Solar can be customized via clock faces, data fields, and apps, plus widgets via the store Connect iqTM.
Designed from the inside out for life outside, Garmin products have revolutionized the lives of runners, cyclists, swimmers and athletes of all levels and abilities. Committed to developing technology that helps people stay active and improve their performance.
Garmin believes that every day is an opportunity to innovate and surpass yesterday. Other Garmin fitness brands include Tacx® and Firstbeat Analytics™.
Prices and where to buy
RRP Forerunner® 955 Solar: 649,99 euros (VAT included)