Javier Gómez Noya's new bike, Specialized Tarmac SL7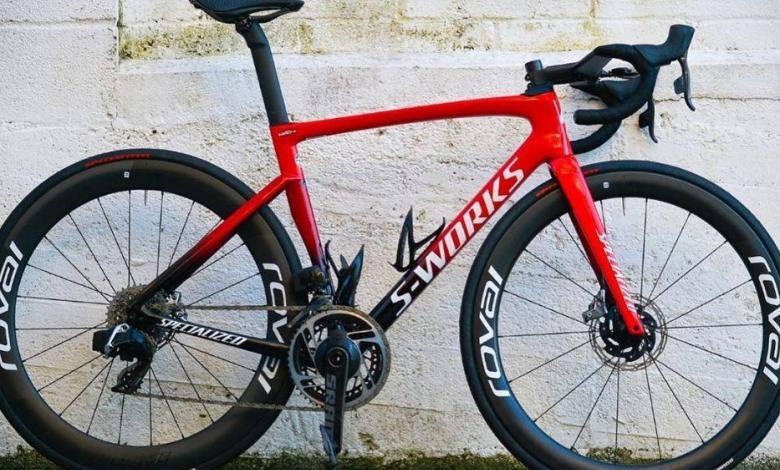 The Galician triathlete Javier Gómez Noya the road bike has a new "toy" Tarmac SL7 de Specialized
Noya, yesterday published on their social networks «A bicycle to rule them all! The new Tarmacsl7 Aero, rigid and light.
After some walks, super comfortable, responsive and its handling is incredible. The best road bike I've ever had«
Characteristics
With this bike, cyclists will no longer be forced to choose between the aerodynamics of the Venge or the driving and lightness of the Tarmac.
Before, having a bicycle that embodied all these characteristics was considered an impossible dream of our riders.
The data shows that the races are getting longer, faster and more uneven than ever. Now, with the Tarmac SL7, the only choice cyclists will have to make is when to attack.
Aerodynamics, rigidity and lightness. Choose all three.
Until now, only two of these three options could be chosen. An aerodynamic bike was not light enough for climbing and a climbing bike normally had to sacrifice aerodynamics. With the Tarmac SL7, that commitment is a thing of the past.
800 gram box
With 6,7 kg and an 800 g frame fresh out of the box, this machine is ready to compete at the UCI legal limit. Just add your favorite pedals and get on the starting line.
45 seconds faster than the Tarmac SL6 over 40 kilometers
No problem. The new Tarmac SL7 is 45 seconds faster than the Tarmac SL6 over 40 kilometers. It is the fastest on any terrain.
The Tarmac SL6 continues to outperform almost all bikes on the market, the only fastest bike is the SL7. The SL6 will remain available on Base, Comp and Sport models.
Prices
The new range of the Specialized Tarmarc SLT ranges from:
Top Range:
S-Works Tarmac SL7 - SRAM Red eTap AXS
PVPR 11.499 €
Low range:
Tarmac SL7 Expert RRP
4.990 €