Edge 130 plus and 1030 plus: state-of-the-art cycle computers for all types of cyclists
Designed by and for cyclists, Garmin's new GPS devices now include next-generation navigation, detailed performance information, and security and tracking features.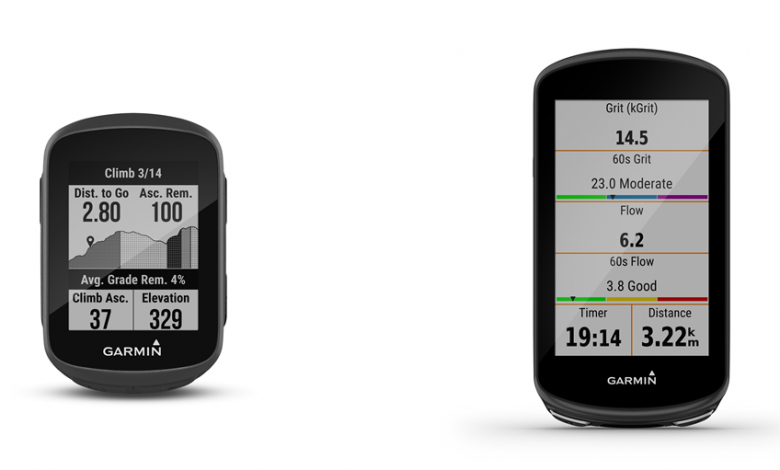 Garmin presents its new cycling computers: Edge® 130 plus y Edge® 1030 plus.
Devices born with the purpose of providing very complete and useful information to the cyclist, whatever your level.
Have in common various benefits with the aim of offering a intuitive navigation, as well as metrics of great importance and key information for cyclists.
Edge® 130 Plus features a compact design with buttons and a 1,8 inch monochrome screen, sharp and easy to read.
This new version combines navigation, cycling and performance features specifically developed to make it the perfect companion for day-to-day competition and training.
For its part, Edge® 1030 Plus offers a 3,5 inch capacitive touch color screen It responds very quickly and is sensitive to use with gloves and also when wet.
Its capacity and design represent a new breakthrough in terms of monitoring, specific navigation for cycling, fullfilment of security requirements and connectivity functions.
Both cycle computers display essential data such as distance, speed, height and where you roll.
They allow synchronization with previously designed workouts, record physiological data and provide information during the tour to improve performance.
Garmin Edge® 1030 Plus
For those cyclists who want to test their limits, this is definitely their device.
It has the latest navigation tools and multiple features focused on improving each journey and performing at its best.
Traveling through the most complicated routes or carrying out training adapted to each cyclist are two of the strengths of this device.
With the widest map coverage to date (Europe, North Africa and North America), it has pre-installed maps Garmin CycleMap and offers the possibility to download for free any other Garmin Cycle Maps of other regions, offering information on terrain elevation, points of interest, turn-by-turn navigation, and also navigation alerts that warn when sharp turns are approaching, to provide the rider with precise navigation anywhere.
Cyclists can choose to create their own routes or take advantage of the popular route service Trendline™, which employs millions of kilometers of bike paths (uploaded by users to Garmin Connect) to show the best and most frequented road and mountain routes.
And those who use platforms like Strava and Komoot, They can create tours and sync them seamlessly with your device.
On the other hand, if the cyclist decides to take a break, get off the road and explore the environment, he can pause the navigation and, when he is ready to return to the road, the cycle computer will guide him back offering him three different ways: by the route that left when deviated, linking to a nearby point, or linking later to make a shortcut.
Thanks to the pre-installed application Trailforks, it is possible to know the details and the difficulty of many tracks, in more than 80 countries, directly from the device.
When the user stops in the middle of it, the mode Forksight Automatically displays nearby forks and the exact point where you are within the road network.
Those who have an Edge®1030 Plus can easily track their workouts, thanks to the data provided by the VO2 max, recovery time, focus and training load, and see how the body responds to effort (always paired with compatible sensors that are purchased separately).
They will even have recommended workouts based on the current training load and their VO2 max, and they will be able to know how your body reacts in different environments, as well as your acclimatization as a function of heat and altitude.
The device will also send alerts along the way when it is time to recharge or rehydrate, as long as the cycle computer is connected to a compatible smartphone.
Setting up the Edge® 1030 plus parameters for the first time is very easy, as the user will get custom and preset profiles based on the settings of their previous Edge device.
Those riders using an Edge® for the first time will automatically receive the most popular settings from other users, based on their sensors and type of ride.
Garmin Edge® 1030 Plus can be paired with two-way inReach communication (upon subscription), for activate SOS alerts and send messages via Iridium satellite.
At the same time, it provides the fGrouptrack tracking anointing, that allows contact with the platoon in case of separation from it. Finally, it provides one toup to 24 hour utonomys expandable up to 48 hours thanks to Garmin Charge ™ power pack (optional).
Edge® 130 Plus
With a compact, strong and lightweight design, Edge® 130 Plus differs from its companion in be very small and compact, ideal for urban use or for high performance competitions.
It is provided with abarometric altimeter, in addition to being compatible with GPS, GLONASS and Galileo, and has been designed to improve the monitoring of the cyclist, even in areas of valleys and trees.
Among other parameters, it provides information about heart rate, Zones heart rate, VO2 max y Calories burned (if combined with a compatible sensor). Also, it provides the speed, distance y altitude.
And as a novelty, they are compatible with multiple training plans, specific to MetricCentury, Century, Big backyard, Breed, Time Trial y MTB. Any one of them can be automatically synchronized with the cycle computer.
Before leaving, cyclists can plan and create popular routes using Trendline ™, which uses millions of miles of bike tours (uploaded by users to Garmin Connect) to showcase the best and most popular road and mountain routes.
Another novelty lies in the possibility of creating personalized routes directly on the device, through the Garmin Connect application, or planning them on platforms such as Strava and Komoot then automatically sync them to the Edge.
During the journey, it provides maps with turn-by-turn navigation and navigation alerts that warn when the next curves are approaching. At the end of the tour, it will direct users back to their starting location.
Edge® 130 Plus offers simple set-up in seconds, as it allows the sautomatic encryption data from another Edge, or adapt the most popular settings from other Garmin users.
Finally, it automatically transfers the tours to Garmin Connect, if connected to a compatible smartphone, as well as allowing customization with configurable data fields (via Garmin Connect IQ ™). Finally, it offers up to 12 hours of autonomy when using the GPS.
Routes and connectivity
Among the elements shared by Edge® 130 plus and Edge® 1030 plus, highlights the ClimbPro function, Thanks to which it is possible to know the ascent and the remaining slope in each of the climbs on the routes, which translates into a better and greater dosage of effort and energy.
For lovers of adventure and mountain biking, both devices allow knowing MTB dynamics, such as jump count, distance and suspension time.
To this are added other metrics, such as Grit, which measures the difficulty of a tour using GPS, elevation and accelerometer data; and Flow, which provides metrics to observe the level of fluidity with which the cyclist moves through the route.
In turn, they can be easily linked to a Tacx® training roller to track workouts indoors and outdoors using Garmin Connect or automatically sync it through other apps such as TrainingPeaks® and TrainerRoad® * (these services will be available for Edge® 1030 Plus and will be available soon for Edge® 130 Plus).
Another highlight on both devices is the ability to display smart notifications (calls and SMS) on your screen, in addition to accessing live information services, such as weather forecasting (functions activated by a compatible smartphone).
A plus in confidence
Likewise, have LiveTrack, which enables family and friends to follow both progress and location in real time, also sharing route planning to see where it has happened and where it will happen.
In case of any unforeseen during the tour, the user can quickly send current location to chosen contacts, so they know where you are.
The above is completed with the Incident detection and assistance service, which is in charge of sending the location in real time to the emergency contacts previously selected by the user.
In the same way, both can communicate with any of the devices of the Varia ™ family, be it speed radars or smart lights, which helps users to see and be seen facing the vehicles that are in road or when traveling through places with less light.
Garmin provides the perfect solution for every cyclist, choose yours.