Polar presents the new Vantage V3
Powered by revolutionary biotracking technologies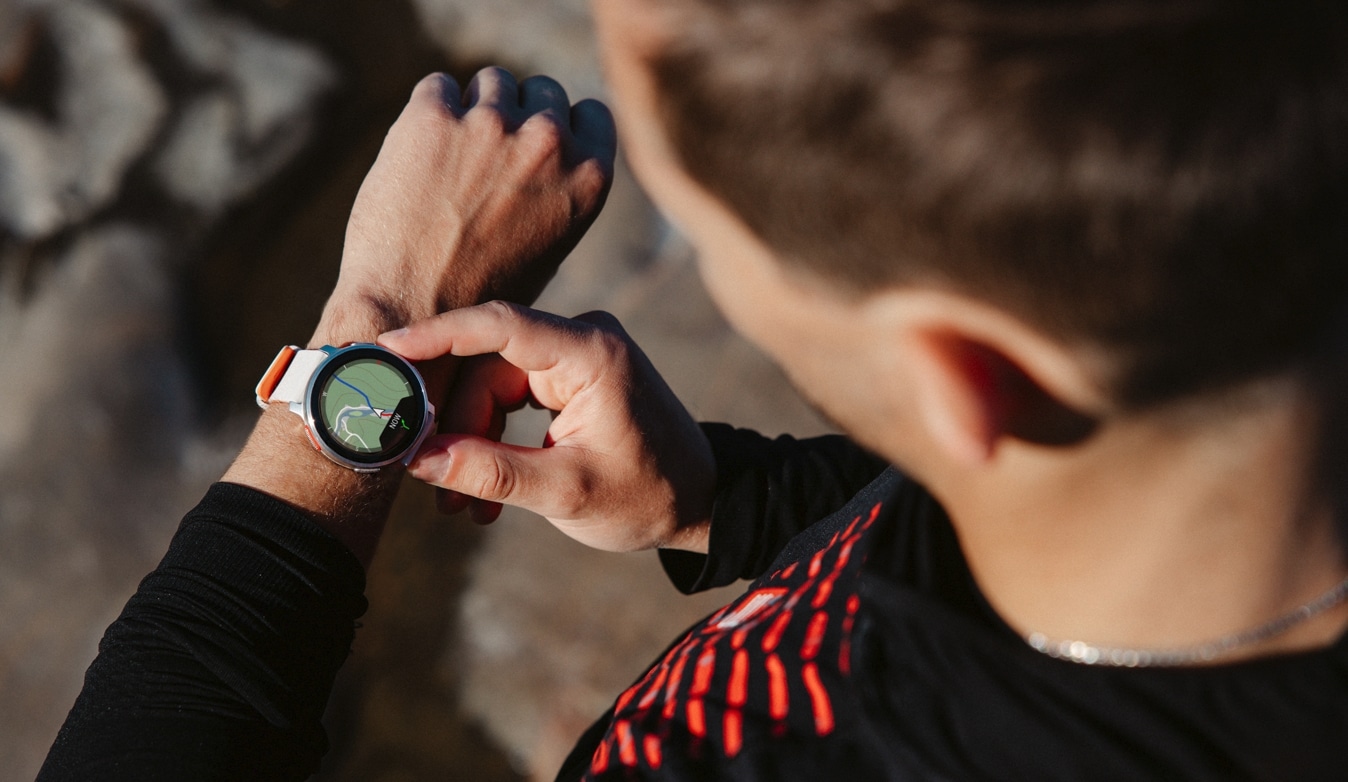 olar, a world leader in sports technology for training, health and well-being for almost 50 years, presents Polar Vantage V3.
The new Premium Multisport Watch incorporates Polar Elixir™, the latest generation of biotracking technologies, and a spectacular Nordic design for all those who feel and act like athletes.
Polar Elixir™ equips the new Polar Vantage V3 with the ability to measure a variety of body functions, such as cardiovascular activity, nervous system monitoring and body temperature.
Translate all this information into data such as blood oxygen saturation, skin temperature and electrical signals from the heart with ECG measurement on the wrist. It also features the rmost advanced optical pulse recording on the wrist and accurate Polar (Gen-4 OHR) to date.
The latest addition to the popular Polar Vantage V series continues to offer indispensable tools to help athletes perform at their best.
Polar Vantage V3 has a AMOLED touch screen high-resolution and legible curve, dual-frequency GPS, offline maps and a faster processor that optimizes clock performance, offering a more fluid user experience.
"The athlete's progress is defined by goals; establish them, work towards them, overcome them and establish the next ones. This requires a great deal of personal insight only achievable by measuring and analyzing highly accurate performance data.
This knowledge, combined with personalized guidance, is the ultimate key to progress."explains Sander Werring, CEO of Polar. "Vantage V3 is Polar's most ambitious watch to date, powered by our most advanced biotracking technology, Polar Elixir™.".
Key features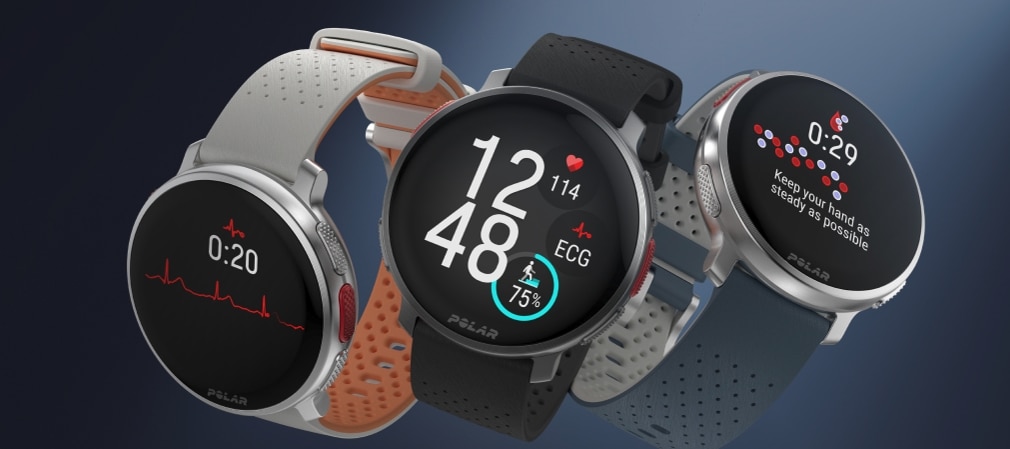 This device is not just a watch, it is a real personal trainer on your wrist.
Equipped with patented Powered by Polar Elixir™ technology, this sports watch offers an unprecedented range of features designed to optimize your performance, monitor your health and improve your quality of life.
From unmatched heart rate accuracy to advanced navigation features and record-breaking battery life, this watch has it all.
| Category | Details |
| --- | --- |
| Biosensor Technology | Powered by Polar Elixir™ |
| Wrist Heart Rate (OHR) | Gen 4: 3 green LEDs and 2 red LEDs |
| ECG on the Wrist | Recording of electrical activity of the heart |
| Oxygen Saturation (SpO2) | Measurement in 45 seconds |
| Temperature | Skin temperature variation every 5 minutes |
| | |
| Full Color Navigation | |
| Dual GPS | L1/L5 frequency bands |
| Maps | Detailed, with two preloaded regions |
| Routes and Directions | komoot technology |
| | |
| Performance and Autonomy | |
| CPU speed | 275MH Processor |
| Battery duration | Up to 140 hours in saving mode, 53 hours with GPS and OHR, 8 days in watch mode |
| Bonded warehouse | 32 GB |
| charging cable | USB-C |
| | |
| Training Functions | Performance and recovery tests, more than 150 sport profiles, FitSpark™, ​​FuelWise™, etc. |
| | |
| Other Functions | Smartwatch functions, flashlight, 24/7 activity recording, Polar Flow, interchangeable straps |
| | |
| Physical characteristics | Size: 47x47x14,5mm, Weight: 57g with strap, 39g without strap, WR50M |
Measures more biomarkers than any previous device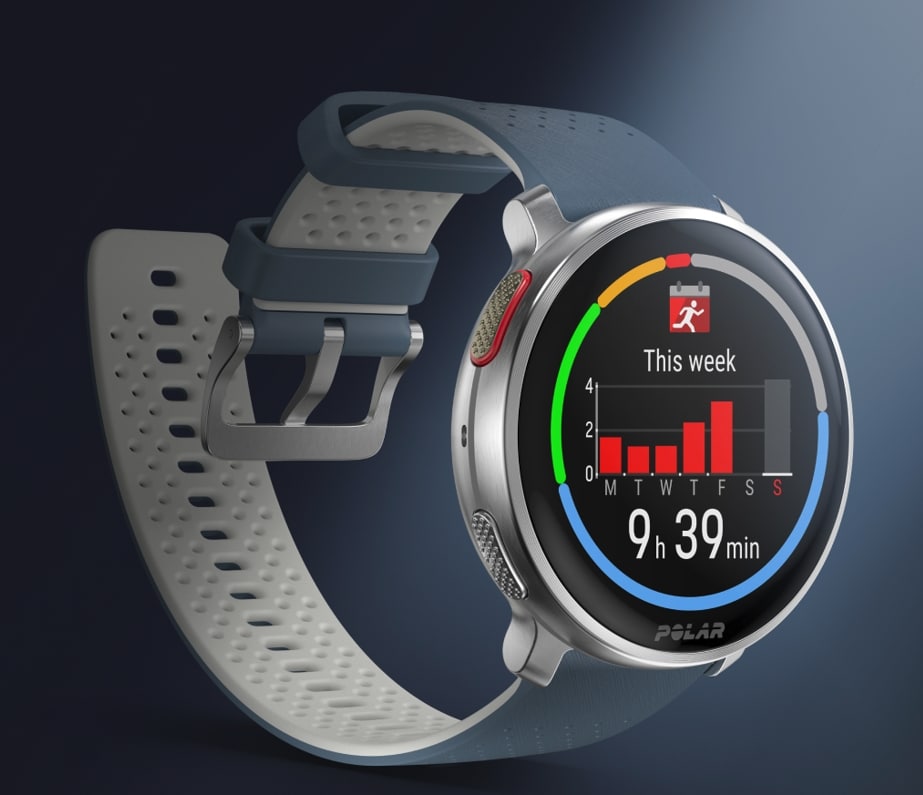 Polar Elixir™ biotracking technologies are the result of years of dedication to sports science, research and innovation.
This new sensor fusion platform measures more information from the human body than ever before, to provide a large amount of physiological and mechanical data with high precision.
This, in turn, reinforces the capabilities of Polar's Smart Coaching algorithms, empowering users to get even more out of the most advanced set of training and recovery features on the market.
Polar Elixir™ is the last generation technology which will lay the foundation for all future Polar products. This first version already brings notable improvements, such as Polar's even more precise optical pulse recording.
Along with some adjustments to the algorithms, the sensor structure has been redesigned to minimize light leaks, Drastically reduce interference caused by arm movement and improve energy efficiency to provide 25% more precision in many of the most popular sports, such as running and cycling.
In addition to the improved optical pulse sensor, Polar Elixir™ also incorporates pulse oximetry technology to measure oxygen saturation in the blood, a crucial indicator for those who train at altitude and to know the general state of health.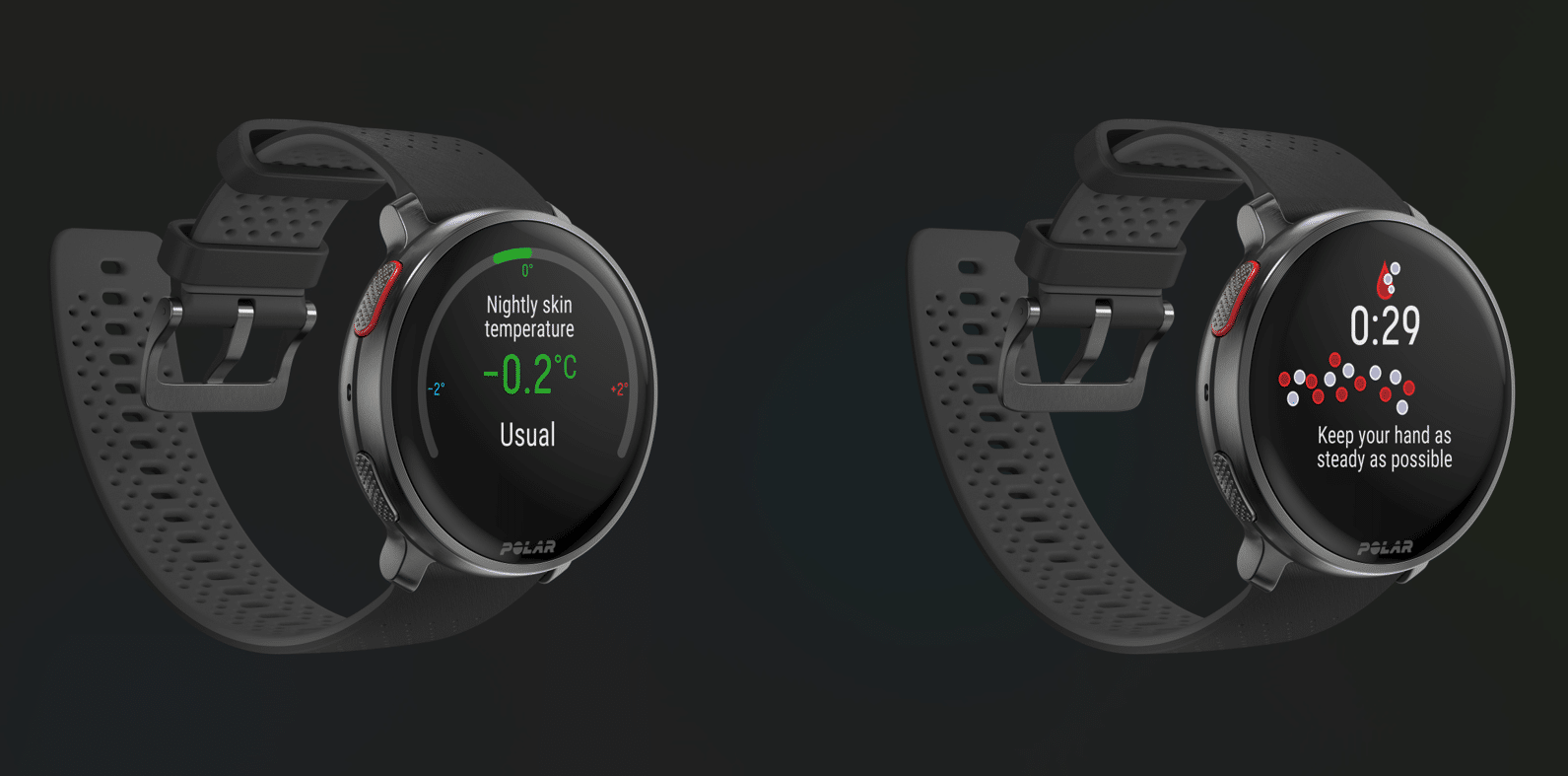 In a study in collaboration with the sporting products testing group of the Canadian Sports Institute in Calgary, Alberta, Canada, the Polar SpO2 sensor, powered by Polar Elixir™, was validated using the ISO protocols normally used in development of medical devices.
The results showed that the Polar SpO2 sensor generated values ​​with a root mean square error of less than 3.5% compared to arterial blood oxygenation measurements. The level of accuracy provided by the sensor is similar to that of fingertip pulse oximeters that are currently marketed.
Thanks to Polar Elixir™ and the integrated ECG sensor, the Polar Vantage V3 user can perform an electrocardiogram in 30 seconds directly on their wrist.
Measuring the heart's electrical signals gives you a deep understanding of overall well-being and enables professional-grade recovery features, such as Orthostatic Test or HR variability, to maximize the potential of Polar Recovery Pro™. This way the athlete can evaluate his preparation for training every day and optimize your recovery.
On the other hand, with Polar Elixir™ temperature measurement, Polar Vantage V3 automatically detects the user's skin temperature at night, providing valuable information about your general well-being. Women can also use this data to better understand the specific stage within their menstrual cycle.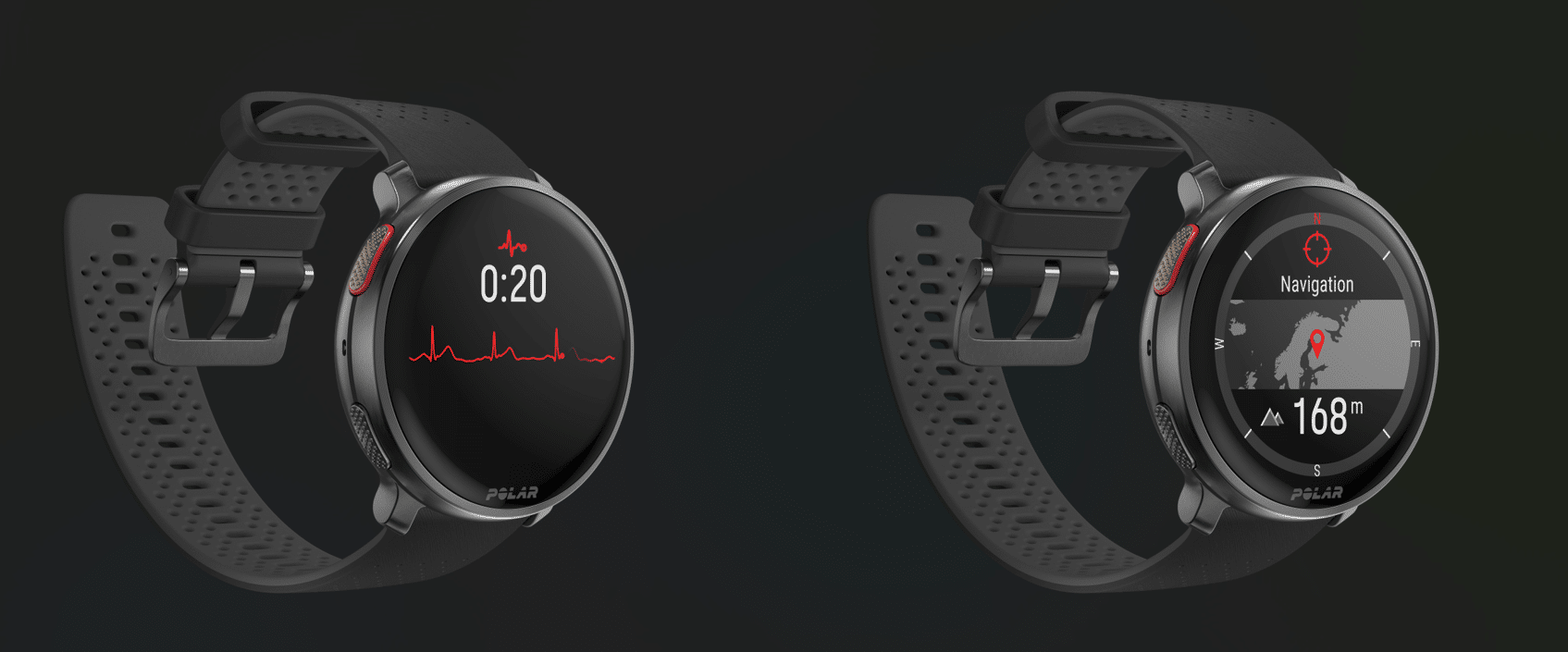 " 'Polar Elixir™ is the result of years of research and development, backed by a solid scientific foundation to offer a personal guidance tool unparalleled on the market."Werring continues.
"The level of insight and precision offered by Polar Elixir™ highlights how Polar's commitment to innovation impacts not only its products, but the wearable industry as a whole.''.
Functional design, powerful performance
The impressive design achieves a perfect balance between functionality and elegance. Inspired by Polar's Nordic heritage, Vantage V3 features a new design ideal for both sports performance and everyday use.
It has a 1.39 inch high resolution curved AMOLED touch screen, much more used in terms of the visual area of ​​the content.
Is the Largest screen on a Polar watch to date. With a pixel density of 462 ppi, content looks impressively sharp and bright.
The aluminum bezel gives the watch great lightness and elegance at all times. Its five rugged touch buttons are durable and make the watch easy to use during high-intensity workouts, swimming and endurance sports, offering quick access to the most important functions.
For the first time in the Vantage V series, the new Polar Vantage V3 is compatible with standard 22mm straps, meaning there is no need for adapters.
Polar Vantage V3 offers incredible performance, with 32 GB internal storage and 129% faster processor speed compared to Vantage V2. Additionally, dual-frequency GPS measures distances accurately and minimizes interference caused by buildings and bad weather.
Despite the large screen and high brightness, Vantage V3 has a battery life of up to 8 days in watch mode. The user can enjoy up to 140 hours of training on a single charge in power saving mode.
For the most adventurous and explorers, the Vantage V3's offline maps will allow you to plan your training with confidence and security.
Features like Back To Start, altimetry profiles, turn-by-turn directions with Komoot, and automatic hill, downhill, and flat detection (Hill Splitter™) empower the user to turn any terrain into their own. training ground.
The high-resolution AMOLED screen makes the offline map experience simple and functional, even in the most adverse conditions.
For any athlete who feels like one
With the possibility of choosing between more than 150 sports profiles, Polar Vantage V3 is a fantastic tool for athletes in very diverse disciplines and activities.
Its activity, training, recovery and sleep functions are especially valued by Polar users as it helps them better understand their body and analyze the progress that will lead them to achieve their goals.
Our fitness tests (Running Test, Cycling Test...), allow the user to estimate their VO2max and their power and heart rate zones with the aim of always training at the appropriate intensity.
Before embarking on their next training session, the user can evaluate their current physical condition with a series of advanced recovery functions.
This way you can adapt your training plan at any time to find the perfect balance with the state of your body. This will mitigate the risk of overtraining and optimize your performance.
While the user sleeps, Polar Vantage V3 continues to record information. Thanks to the sleep and night recovery functions (SleepWise™, Nightly Recharge™ and Sleep Plus Stages™), the watch offers detailed data on the quality and hours of sleep, how the body has recovered during the night, body temperature and interruptions, among other variables.
Seeing progress is just as easy. The user can view all the data that Polar Vantage V3 downloads in the app and website PolarFlow.
From Polar Flow, you can analyze different aspects of your physical activity, fitness and health, set your goals and track your progress. By taking into account the knowledge of training, sleep and recovery, the athlete can turn their sports journey into a well-researched, balanced and successful adventure.
Polar Vantage V3's biotracking technology combined with Polar's improved, science-backed algorithms offer the best personalized guidance to the athlete.
Polar's commitment to innovation not only impacts its products, but has a huge impact on the wearables industry as a whole.
Availability and prices
Polar Vantage V3 is now available for pre-sale today at www.polar.com. Shipments will be made starting October 25.
It can be found at the point of sale from October 25.
RRP: €599,90. Colors: Night Black, Sky Blue and Sunrise Apricot
RRP: €649,90. Version that includes the Polar H10 heart rate sensor