SIGMA launches the new EOX® VIEW 1300 e-bike display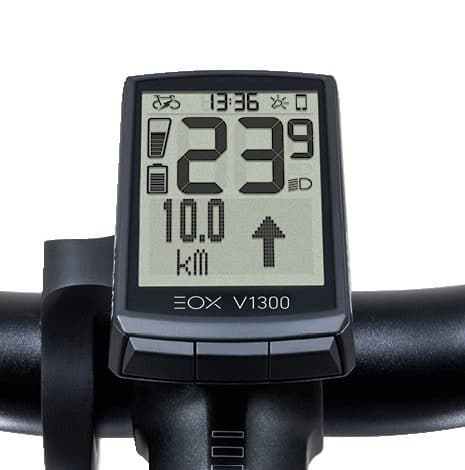 El wireless cycling computer, the newest member of the EOX® series, is specifically designed to serve the needs of e-bike users.
Its extremely flat design allows it to fit discreetly on any electric bike, keeping the familiar look of a SIGMA cycle computer on a neat handlebar.
The nifty display shows current ride data and e-bike-specific values.
All this powered by a long-lasting integrated button battery that allows the cycle computer to be wireless, and that allows it to be removed from the holder as if it were a normal one. The secure connection of data is established via ANT + and high-performance Bluetooth.
For a SMART e-bike experience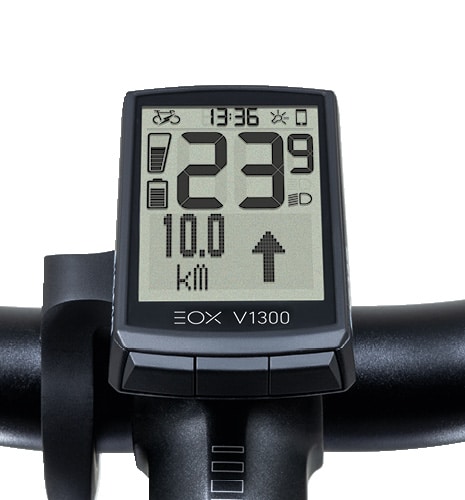 The three buttons on the bottom make it easy to use the e-bike computer.
Its transflective FSTN screen improves visibility in bright environments and ensures optimal readability even in direct sunlight.
The built-in sensor automatically turns the display backlight on and off.
The EOX® VIEW 1300 is complemented by the SIGMA EOX® app, which offers a series of options to configure and evaluate data in a personalized way, and also allows you to connect with the komoot app for navigation with turn-by-turn directions on the screen.
Optimal location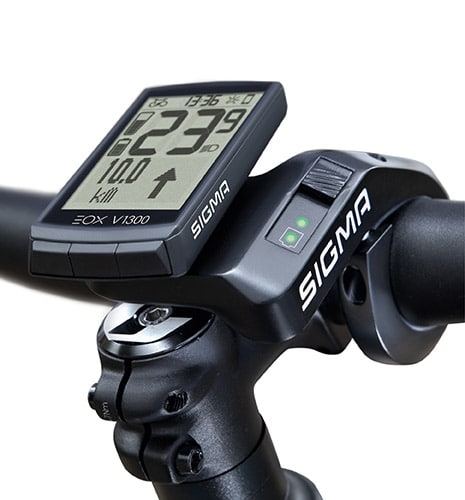 The three types of bracket available allow the EOX® VIEW 1300 to be ideally placed on any type of e-bike. The OVER CLAMP BUTLER is perfect for positioning it on the stem of an e-MTB handlebar. The classic handlebar or stem mount, SIGMA STS, can also be used for the EOX® VIEW 1300.
The third option is the most innovative: RIBBON BUTLER, developed exclusively for the Shimano Steps system, offers an integrating concept without cables for all e-bike models, from city bikes to road e-bikes, with two positions to choose from.
Lars Lukas Tremper, Senior Product Manager for Electric Mobility at SIGMA, prides himself on the latest innovations: «The development of the wireless EOX® VIEW 1300 continues with our innovations in high-end electric mobility components.
I am very satisfied with the integration of the respective E-Systems, carried out together with our development partners. The result will undoubtedly be very satisfactory for our joint clients ».
EOX ® VIEW 1300, which had already begun to be integrated as standard in e-bikes of different brands, will also be available in November separately in stores with a RRP of € 99,95 (including the Overclamp Butler bracket).