Garmin Forerunner® 255: maximum control of performance and recovery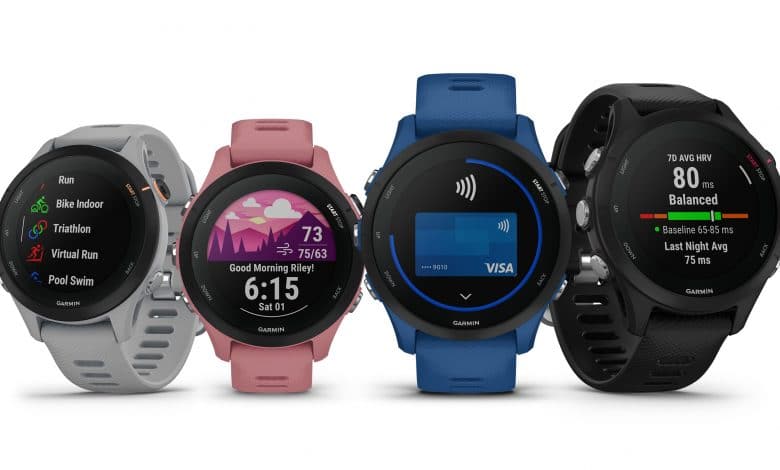 Garmin introduces the series Forerunner® 255, a new feature-packed GPS smartwatch that offers full support not only for running but also for triathlon, with new workouts, metrics and enhanced smartwatch features (when paired with a compatible smartphone).
Available in 41mm and 46mm cases, Forerunner 255 provides the perfect fit for every wrist for use (and wellness monitoring) day or night.
Daily planning
The new series Forerunner® 255 offers personalized information on training and recovery, including performance monitoring tools that help athletes push their limits.
In this way, the daily training suggestions provide a complete week of daily training guidance, offering the most effective training for general well-being and adaptation based on the race plans that are configured with the new race widget.
Similarly, a new widget is added morning report, a report that appears on the watch each morning and, when paired with a compatible smartphone, provides weather conditions and a daily workout suggestion, as well as information about last night's sleep and HRV status1 (heart rate variability).
This report can even be customized so that the athlete can see only the data they want. Specifically, HRV status enables monitoring of heart rate variability during sleep to better monitor recovery and general well-being.
Ultimately, with the integration of new indicators such as HRV status, recent exercise history, and performance, athletes will gain a better understanding of their overall training status and whether they are training productively, maxed out, or overtrained.
Career preparation and planning
Similarly, they integrate a new race widget, which translates into being able to visualize the information of the preparation for the race, including a specific performance prediction of the day of the race, the weather of the day that it will be during the race and to establish a Countdown to race day.
In addition, once scheduled, the suggested daily workouts will be adapted according to the career plans of the athlete in question.
On the other hand, it is possible to train for a 5K, 10K or half marathon race with Garmin Coach through free training plans that are tailored according to the runner's goals and performance.
It also offers the ability to switch workouts between dozens of built-in activity profiles, including: triathlon, cycling, pool and open water swimming, track running and more.
And to better prepare for a race or training cycle, athletes have performance metrics from Garmin Firstbeat AnalyticsTM like VO2 max, max load, training status, performance condition and more.
Meanwhile, to keep up to date, they have Pace ProTM, a tool that provides guidance as athletes take the course.
Thanks to the new Forerunner® 255, runners can even plan and download routes through Garmin ConnectTM, with popular routes from TrendlineTM to get the best local tours, and create tours on platforms like Strava and Komoot, which will be perfectly synchronized with the clock.
Another novelty lies in the new running power, which allows continuous measurement on your wrist to know how much power you are applying to the road while running when using a Running Dynamics Pod or HRM-Pro™ monitor.
Running Power is here to provide running power metrics similar to those provided for other sports, such as cycling and cross-country skiing.
Also for triathlon
new Forerunner® 255 They also offer full compatibility for those doing triathlons, being able to change the exercise routine with triathlon and multisport activity profiles.
In fact, during races and training, you can easily switch between sports with the push of a button.
Running Dynamics with Running Dynamics Pod or HRM-ProTM
Added to all of the above is active running power measurement when using a Running Dynamics Pod or HRM-Pro deviceTM (they are sold separately).
Thanks to this, it is possible to receive real-time metrics on the power exerted in each race, without requiring any application, and to monitor the running dynamics, such as cadence, stride length, ground contact and more.
Location in the most challenging terrain
In addition, this series is equipped with multi-band and multi-satellite GPS with GPS, GLONASS and Galileo satellites, which translates into superior accuracy to know how far and how fast you run, even in challenging environments.
Health & Wellness
The series Forerunner® 255 is designed to track overall wellness 24/7.
Press OX3 It relies on wrist pulses to monitor blood oxygen saturation levels and thus provide a clearer view of sleep.
Meanwhile, BodyBatteryTM displays current energy levels to help athletes find the best times for activity and rest.
Every morning, the athletes will receive a personalized score based on the quality of sleep and will also see the different stages through which they have passed, as well as data on heart rate, stress, pulse and breathing.
To all this is added, with regard to the female public, the option of carrying out the monitoring of the pregnancy and the menstrual cycle, adjusting the training based on it.
Security and tracking
Whether you train alone or with friends, built-in safety and tracking features include incident detection, assistance, and live track, so that family members can follow the athlete's journey4.
After each training, the series Forerunner® 255 will automatically upload activities to Garmin Connect, a free, subscription-free platform where athletes can view all their health and fitness data, connect and compete with friends, sign up for challenges, and more.
Smart features
Packed with functionality, the user can get the most out of their smart watch. Thus, directly on the wrist, you will be able to receive text messages and see updates from social networks, emails and will have the possibility of making contactless payments.2 through Garmin PayTM.
In the case of models Forerunner® 255 Music and Forerunner® 255S Music they'll be able to store up to 500 songs directly on them, including playlists from Spotify®, Amazon Music and Deezer (Premium subscription may be required) and can connect to wireless headphones.
Lastly, the model Forerunner® 255 It offers an autonomy of up to 14 days in smart watch mode and up to 30 hours in GPS mode. While, Forerunner® 255S It has a battery life of 12 days in smartwatch mode and up to 26 with GPS.
They are available in new and fun colors such as tide blue and light pink, in the case of models Forerunner® 255 and Forerunner® 255S, and in black and white stone for the Forerunner® 255 Music and Forerunner® 255S Music.
Designed from the inside out for life outside, Garmin products have revolutionized the lives of runners, cyclists, swimmers and athletes of all levels and abilities.
Committed to developing technology that helps people stay active and improve their performance. Garmin believes that every day is an opportunity to innovate and surpass yesterday. Other Garmin fitness brands include Tacx® and Firstbeat Analytics™.
Prices
PVR Forerunner® 255: 349,99 euros (VAT included)
Forerunner® 255 Music RRP: €399,99 (VAT included)
Forerunner® 255S RRP: €349,99 (VAT included)
RRP Forerunner® 255S Music: 399,99 euros (VAT included)