Articles Sports equipment
Garmin Swim 2: nothing anywhere, train anywhere
Garmin presents the new and expected smartwatch specifically developed for swimming enthusiasts: Swim ™ 2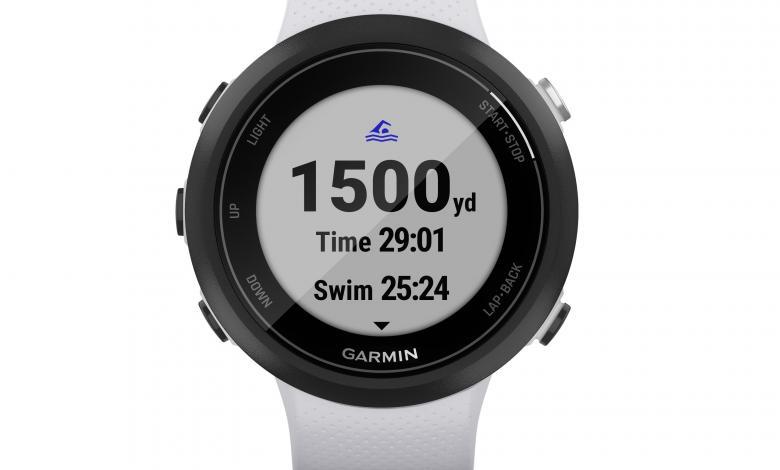 In swimming pools or open waters, it does not matter where you train, because with this new device you will have total control of the activity.
A new version of its famous Swim device that combines a functional design with state-of-the-art features that allow both amateurs and swimming professionals to carry out advanced control of activity in the water.
So, with just 36 grams and a sphere of 42 mm, the new device has a full color display 26 mm and 201 dpi in which to see the data of your widgets clearly, even in environments with high light intensity.
Description
With your garmin swim 2 smart watch you can swim and train anywhere. use it in the pool or in open water to monitor your heart rate from the wrist, track distance, pace, stroke count, stroke type, and distance per stroke; the garmin swim ...
Underwater heart rate at the wrist
Specifically, thanks to its submersible capacity of up to 5 ATM, this new device allows you to carry out an advanced control of the activity, both in the pool and in open water.
In this way, it monitors the heart rate underwater directly from the wrist, without the need for a chest strap.
Advanced stroke control
To provide the most accurate data, Swim ™ 2 is equipped with an accelerometer that detects arm movements and is responsible for measuring three basic data: number of strokes, number of lengths and type of stroke.
In turn, an algorithm based on turn detection determines when each length ends and the distance is calculated based on the size of the pool and the number of lengths made.
All of the above is complemented to provide the swimmer with the most important and valuable information, preventing him from being forced to count his lengths or strokes.
Registration of exercises and personalized training
Swim ™ 2 is capable of recording distance traveled, pace used, speed, number of strokes, type of stroke, and even swolf score.
A parameter that performs a calculation based on the strokes performed plus the time spent on each length. In this way, the athlete will know its effectiveness and can establish new goals to reduce it as much as possible.
To all this is added its capacity to store technique exercises and timed series, and carry out personalized workouts.
Likewise, it includes a new Auto Rest function and pace alerts, making it the perfect companion for all levels of swimming.
Swimming in open water
Oceans, seas, lakes and rivers. Now, with this new version it is also possible to record the activity in open water.
To do this, Swim ™ 2 uses GPS, GLONASS and GALILEO simultaneously, which make it possible to have the location with complete accuracy via satellite, in addition to knowing the distance and speed of the stroke stroke.
Garmin Connect ™
Through Garmin Connect ™, the swimmer will be able to store, analyze and share their records, activities and brands with many other athletes.
At the same time, you will participate in a community where it is possible to have access to more than 20 million activities spread around the world.
Similarly, it is an ideal tool to create training goals and send them directly to the device.
Once the activities are completed, the goals will be recorded both on the computer and on Garmin Connect ™ and, if the user wishes, they can share content on their social networks. Garmin Connect is free and available for computers and smartphones (iOS and Android).
Much more than swimming
With Swim ™ 2, Garmin has gone much further. So much so, that it is perfect for leading a healthy life, by including many of the features offered by the latest smartwatches from the firm.
In addition to controlling steps, calories, and intensity minutes, it performs advanced sleep monitoring and is able to measure stress, breathing, and even energy continuously through Body Battery ™.
To do this, it uses a combination of stress data, heart rate variability, sleep and activity to calculate energy reserves at any time.
To all the above, it adds its advanced connectivity and its capabilities as a smart watch, since Swim ™ 2 receives smart notifications, calls and incoming messages from a compatible phone for it to be connected in real time.
On the other hand, when he trains out of the water, he also becomes the ideal companion to carry out other sports disciplines such as running, cycling and cardio activities.
Customization and compatibility
Available in black and white, it can be personalized by changing the dials and through easily interchangeable straps.
In addition, it is compatible with the Garmin HRM Swim water chest strap, allowing even more precise pulsation control.
Finally, it offers an autonomy of 72 hours in pool mode plus pulsation control (OHR), 13 hours when the GPS plus OHR is activated and 7 days when it is only used as a smartwatch.
Description
With your garmin swim 2 smart watch you can swim and train anywhere. use it in the pool or in open water to monitor your heart rate from the wrist, track distance, pace, stroke count, stroke type, and distance per stroke; the garmin swim ...