Wheels with graphene to make them lighter, but at a price of almost 1.600 euros
The wheel weight is only 1,3 kg, but the tire only weighs 345gr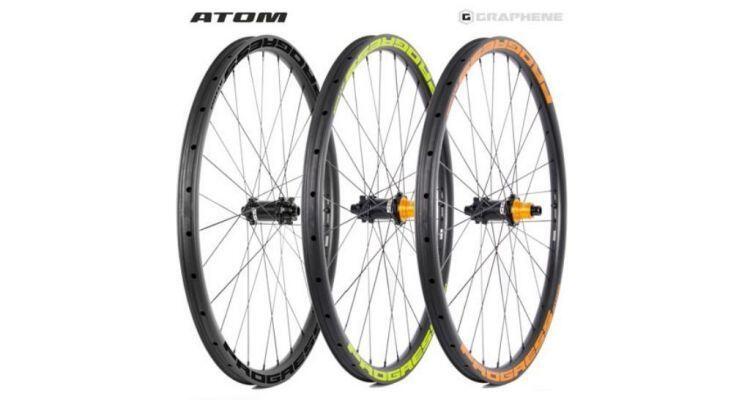 Known as "material of the future," the graphene, is beginning to break into the market. Its new application has been on bicycle wheels by the hand of the Progress specialized manufacturer, which takes a technological leap by incorporating graphene in its new Atom wheels
The wheel weight is only 1,3 kg, but The tire only weighs 345gr, with its internal width of 27 mm. That is the magic of graphene: more resistance with less weight.
They have managed to reduce 20% weight regarding some carbon tires although they have agreed that they have achieved another 20% improvement in the impact tests and start of radios made by the brand.
All these improvements in addition to an aluminum core and other finishes of the highest quality have put these wheels with a price of 1.590 €.
In the design of this rim Progress adapts its width measurement to the most modern standards using 33 mm, which not only provides a more impressive aesthetic, but also an increase in the resistance of the whole.
Specifications of Progress Atom wheels with graphene
Tires:
Made of Graphene with multilayer carbon fiber.
Outside width: 33mm
Inner width: 27mm
Hookles rim flanges extra reinforced against impacts.
Tubeless Ready design.
Graphics with ultra-resistant decor transfer on lacquered.
Progress Nitro Ceramic hubs
Oversized bushing body made of 7075 T6 Aluminum.
Straight Pull type radio anchor.
Sealed ceramic bearings with maximum precision and minimum friction to increase durability.
Exchangeable aluminum core between Shimano or Sram XD.
Finished with a latest generation 5-axis milling machine applying the latest PAL-TECH technology.
Regular System: 15x100mm / 12x142mm
Boost System: 15 × 110 / 12x148mm
Radios
Sapim Aero CX-Ray with aluminum heads and thread clamp.
Available in 3 colors (black, orange and yellow), the Progress Atom wheels with graphene are now available to book on the brand's website at a price of 1.590 euros.
Further information: https://www.progresscycles.com/ruedas/mtb/atom