Daniela Ryf sweeps the IRONMAN 70.3 Oceanside
The Swiss appears strongly this 2019 getting a comfortable victory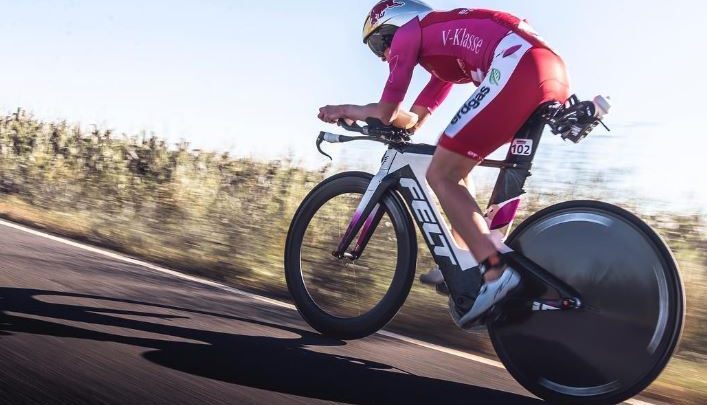 Today has been held in California (USA) a new edition of the IRONMAN 70.3 Oceanside, where they have achieved victory Ben Kanute y Daniela Ryf. In the test we had a Spanish triathlete Anna Noguera, was seventh getting a great result in a race of such a level.
The women's event, with a World Championship sign, started at 6: 40 (15: 30) Spanish time, it was with Holly Lawrence at the head, completing the 1,9 km of the swimming sector in 23: 54 followed by 24 seconds by a group with Elie Salthouse, Daniela Ryf and Sara True. Anna Noguera came seventh of the water to 57 seconds from the head of the race.
In the cycling sector Daniela Ryf quickly climbed positions reaching the head of the race with Holly Lawrence and leaving to pass through the 20 kilometer point with 58 seconds ahead of Paula Findlay and Elie Salthouse. Anna Noguera, lost time but traced a position passing sixth to 3:57.
Ryf, was imposing its law to go increasing its difference with respect to Lawrence happening through the kilometer 62 with 4: 45 of advantage and 5: 35 on Findlay. Anna Noguera passed at this point in eighth position.
Finally Daniela Ryf arrived at the T2 with 6: 36 minutes ahead of Lawrence and 8 over Findlay, Ryf completed the 90 kilometers of route in 2: 17: 06 to an average of 39,39km / H. Anna Noguera got off the bike in seventh position.
The half marathon was a walk for Daniela Ryf that got a comfortable victory only by maintaining the advantage to win the test with a time of 4: 09: 19. The second classified has been Holly Lawrence (4:! 4: 06) and third Ellie Salthouse (4: 16: 41).
Anna Noguera, has been seventh achieving a great result in a race of such a level
#IM703Oceanside @danielaryf is your 2019 IRONMAN 70.3 Oceanside champion clocking to 4: 09: 19 winning time! Congrats!
Photo: @TalbotCox pic.twitter.com/cR66hABX1o

- IRONMANLive (@IRONMANLive) April 6, 2019


The predictions are met, Ben Kanute takes the victory

As for the male test, after the resignation to participate in the test both of Jan Frodeno and Lionel Sanders due to injury, the test was in favor of Ben Kanute, who did not disappoint and took the victory. In this category there were no Spaniards.

In swimming, the first to leave the water was the American Eric Lagerstrom with 14 seconds ahead of Dylan McNeice, Ben Kanute and Adam Bowden.

IN the first kilometers of the cycling sector, Kanute imposed a strong pace to go solo, passing through the first checkpoint (20km) with 1: 07 advantage over a group of 5 formed by Rodolphe Von Berg, Lagerstrom, Miki Taagholt, Bowden and Ruedi Wild.

In the rest of the sector the American Rodolphe Von Berg little by little was cutting time on Kanute to reach him and get together to the T2 to see an exciting start of the running sector. The pursuing group with Wild, Bowden and Taahholt arrived at 4: 31.

Kanute, did not give option to his compatriot since the beginning of the sector imposed a strong rhythm to go little by little increasing his distance to go through the middle of the course with more than 40 seconds ahead, in the final part we saw how they were going cutting out differences to finally see how Ben Kanute the victory was won with a time of 3: 49: 25 followed by Rodolphe Von Berg (3: 49: 37) and by the British Adam Bowden (3: 53: 53) occupying the third final position.

#IM703Oceanside Your 2019 IRONMAN 70.3 Oceanside champion, @benkanute #Congrats Photo: @TalbotCox pic.twitter.com/g8jvNNtOqe

- IRONMANLive (@IRONMANLive) April 6th 2019