Ironman News
Javier Gómez Noya European Runner-up IRONMAN 70.3 and Pablo Dapena third
The Galician triathlete with an exhibition in the race on foot has been second remaining just 11 seconds of the victory. Pablo Dapena has been third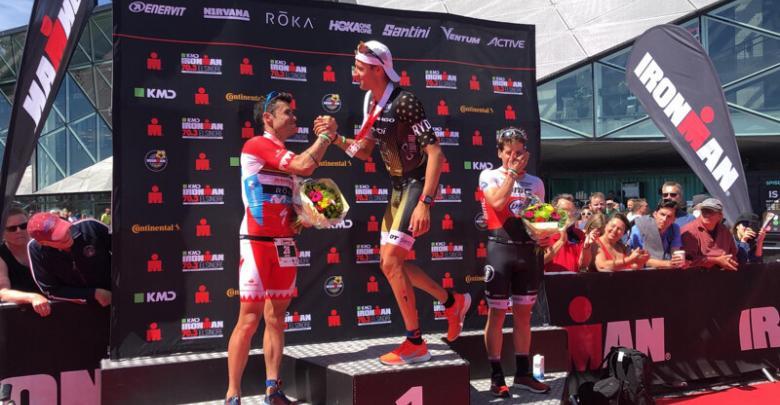 Today it was held in Einshore (Denmark) on IRONMAN 70.3 European Championship where we could see an epic performance of Galician Javier Gómez Noya climbing more than 3 minutes in the race on foot to get the European subchampionship.
In the test we counted on the presence of Eneko Llanos, Pablo Dapena, Anna Noguera and Vicenç Castella.
The test started at 8: 30 in the morning with the 1.900 meters of swimming, where Javier Gómez Noya was the fastest coming out with Pablo Dapena at the head of the race. At 7 seconds Daniel Bækkegård and 26 left the Brit Thomas Davis. Eneko Llanos left the 15º to 1: 28.
In the cycling sector quickly with a strong rhythm, Dani took the lead Miki Taagholt to go through the 18 with 1: 05 advantage over a group of 7 where the North American Rodolophe Von Berg, the Belgian Pieter Heemeryck, Javier Gómez Noya and Pablo Dapena or Ruedi Wild among others.
In the final part of the course, Rodolophe Von Berg climbed up positions to get to the T2 first, followed by Florian Angert and by Miki Taagholt to 1: 29. At this point Javier Gómez Noya got off the seventh bike to 3: 34 and Pablo Dapena ninth to 3: 37 from the head of the race. Here Eneko Llanos was one of 6: 12.
From here, the Noya recital began, cutting differences to each kilometer that passed, I was advancing posts to be third at 1: 58 in the passage through the 6,3 km.
The Galician continued to cut time with respect to Rodolophe Von Berg to be in the absence of 3 kilometers to just 22 seconds, putting exciting the final part of the competition.
For his part, Pablo Dapena, with a large career sector did the same as Noya cutting time and climbing to third place in the race and 1: 11 in the 18 kilometer and outstripping in 1: 35 to Patrick Nilson, securing the bronze medal .
Finally Rodolophe Von Berg took the victory in the test with a time of 3: 39: 31 with 11 seconds ahead of Galician Javier Gómez Noya (3: 39: 42). Pablo Dapena (3: 40: 59) has been third and Patrick Nilson fourth third with a time of 3: 42: 52. Eneko Llanos has been eleventh with a 3 time: 47: 20,
Rodolophe Von Berg has Italian nationality for his mother and Belgian for his father and currently lives in the United States. We are confirming this point.
Goal of Rodolophe Von Berg
Here is your 2019 KMD #KMDIM703EUChamps winner: @Rudyvonberg takes it in 3: 39: 35, silver for @Jgomeznoya in 3: 39: 46 pic.twitter.com/Oq7aZNVGwt

- IRONMANLive (@IRONMANLive) June 23 2019
Top 5 men: @Rudyvonberg 3: 39: 35, @Jgomeznoya 3: 39: 46, @patriktriathlon 3:42:56, Angert 3:43:09, @teamGoodwinTri 3: 43: 58 #KMDIM703EUChamps as pic.twitter.com/JY32hUXjLY

- IRONMANLive (@IRONMANLive) June 23 2019
Noya's times have been
21: 02 in completing the 1.900 meters of swimming
2: 05: 32 in completing the 90 kilometers of cycling
1: 07: 45 in completing the 21 kilometers of foot race
Men's 10 Top
1 Rodolophe Von Berg 3: 39: 35
2 Javier Gomez 3: 39: 46 + 12
3 Pablo Dapena 3: 40: 59 + 1: 11
4 Patrik Nilsson 3: 42: 56 + 3: 22
5 Florian Angert 3: 43: 09 + 3: 35
6 George Goodwin 3: 43: 58 + 4: 23
7 Ruedi Wild 3: 44: 29 + 4: 55
8 Thomas Davis 3: 46: 10 + 6: 36
9 Filipe Azevedo 3: 46: 37 + 7: 03
10 Felix Hentschel 3: 47: 17 + 7: 43
11 Eneko Plains 3: 47: 24 + 7: 50
Holly Lawrence takes the victory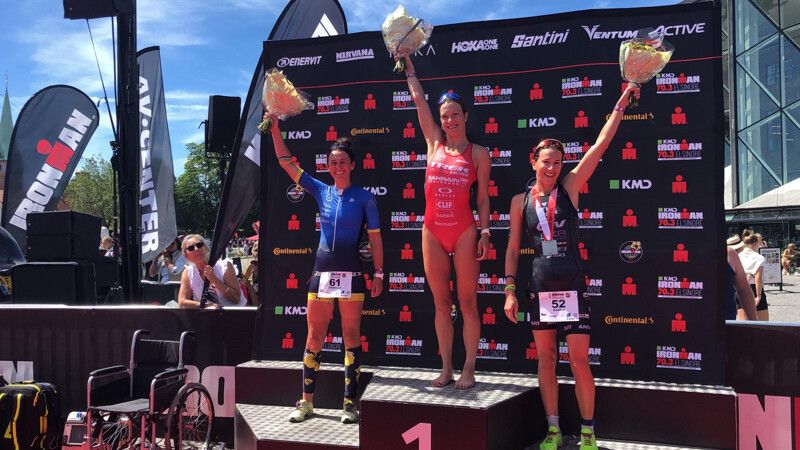 In the women's test the victory was for Holly Lawrence with a time of 4: 06: 24 followed by Fenella Langridge (4: 09: 22) and for Radka Kahlefeldt (4: 10: 36) in third position
Female classification
1 Holly Lawrence GBR FPRO 4: 06: 24
2 Fenella Langridge GBR FPRO 4: 09: 22 + 2: 58
3 Radka Kahlefeldt CZE FPRO 4: 10: 36 + 4: 13
4 Helle Frederiksen DEN FPRO 4: 11: 10 + 4: 46
5 Sara Svensk SWE FPRO 4: 12: 34 + 6: 10
6 Leonie Konczalla GER FPRO 4: 16: 03 + 9: 39
7 Maja Stage Nielsen DEN FPRO 4: 17: 42 + 11: 18
8 Katrien Verstuyft BEL FPRO 4: 19: 45 + 13: 21
9 Chantal Cummings GBR FPRO 4: 19: 49 + 13: 25
10 Claire Hann GBR FPRO 4: 20: 35 + 14: 11
Anna Noguera has not finished the race