Frederick Funk and Emma Pallant win the IRONMAN 70.3 Lanzarote. Saleta Castro seventh
The test has had to be cut to Cycling and running due to bad weather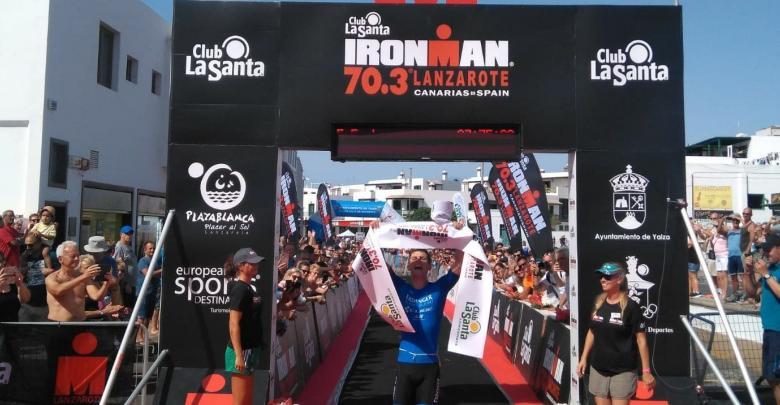 Today, a new edition of the Lanzarote Island has been held IRONMAN 70.3 Lanzarote, where this year the organization has been forced to cancel the swimming segment due to the bad weather conditions expected on the day of the test.
The test that this year has beaten registered records He had several professionals at the starting line where the Spanish stood out Emilio Aguayo, Saleta Castro o Anna Noguera.
The test began at 8: 00 in the morning with the transition to the bicycle to face the 90 kilometers of cycling.
In passing through the 21 kilometer of the sector, 7 athletes passed in just 8 seconds. In the group were Vandendriessche, Heemeryck, Azevedo, Goodwin or Funk among others. Emilio Aguayo retired in this first part of the race due to digestive discomfort.
The leading group was losing units to go through kilometer 48 with Vandendriessche in the lead followed by Heemeryck, Funk. Maurel passed to 16 seconds and already to 1: 33 Adrian Haller.
In the final part of the Frederick Funk segment with a strong rhythm he put himself first and worked alone to reach the T2 with 2: 03 of advantage over the trio formed by Pieter Heemeryck, Vandendriessche and Maurel.
In the running race Frederick Funk He knew how to maintain his advantage to reach the finish line in the first position and achieve victory with a time of 3: 35: 00. The second classified has been Pieter Heemeryck (3: 36: 40) and Kenneth Vandendriessche (3: 41: 10) third.
Frederick Funk @triff97 IRONMAN 70.3 Lanzarote wins @IMLanzarote#IM703Lanzarote https://t.co/sGuqg0kPVm pic.twitter.com/dn7077nzY6

- Triathlon News (@triatlonnoticia) October 5, 2019


Male classification

1 Funk, Frederic (GER) 03: 35: 00
2 Heemeryck, Pieter (BEL) + 01: 40
3 Vandendriessche, Kenneth (BEL) + 06: 10
4 Maurel, Kévin (FRA) + 08: 48
5 Azevedo, Filipe (POR) + 09: 06
6 Haller, Adrian (SUI) + 09: 35
7 Balty, Pierre (BEL) + 11: 56
8 Stratmann, Jan (GER) + 14: 04
9 Dutli, Fabian (SUI) + 16: 13
10 van Vlerken, Per (GER) + 16: 41

Emma Pallant takes the victory

Triaton News / Emma Pallant wins the IRONMAN 70.3 Lanzarote

In the women's event, in the passage through the kilometer 21 Lucy Hall was the first leading a group with Emma Pallant, Alexandra Tondeur and Jeanne Collonge. Anna Noguera was sixth to 1: 57 and Saleta Castro eighth to more than 8 minutes.

In the cycling segment Emma Pallant and Lucy Hall marched ahead to go through the 48 kilometer of the test with 26 seconds on Tondeur and 50 on Collogne.

They finally arrived together at T2 Pallant, Hall and Tondeur with 1: 17 of advantage over Kortekaas. Saleta Castro was seventh at 17 minutes. Anna Noguera retired from the test in the cycling segment.

In the running race Emma Pallant had no rival and left alone from the beginning to go with 1: 49 of advantage over Tondeur and Hall at kilometer 8.

FinallyEmma Pallant He gradually increased his advantage to win the test with a time of 4: 08: 14. The second classified has been Alexandra Tondeur (4: 10: 36) and third Jeanne Collogne (4: 11: 23).

The Galician Saleta Castro finally it was seventh

Frederick Funck and Emma Pallant win the IRONMAN 70.3 Lanzarote https://t.co/sGuqg0kPVm pic.twitter.com/Lv8fXfa4Nj

- Triathlon News (@triatlonnoticia) October 5, 2019


This is Pallant's second consecutive victory in just 15 days since last weekend he got the victory at the IM 70.3 Cascais.

The test is still underway, soon more information