Frederick Van Lierde seeks to make history in the IRONMAN Nice
If he wins, it will be his sixth title of the race, becoming the triathlete with the most victories in the race.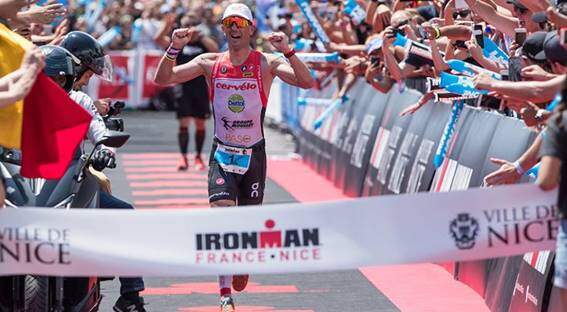 This weekend, the IRONMAN Nice, where Frederick Van Lierde will seek to be the triathlete with the most victories of the race. Currently shares with Marcel Zamora 5 wins and hopes to get back on top this Sunday.
Due to the heat wave, the test has been forced to cut your route, leaving it with 3,8 km of swimming, 152 km of cycling and 30 km of running.
Van Lierde He is the big favorite since last May he won the IRONMAN Lanzarote. Other triathletes to consider are Domenico Passuello, James Cunnama o Cameron Wurf among others.
«I have the Slot for Hawaii, but that does not mean I'm going to be there»
After the victory in IM Lanzarote, Van Lierde got his Slot for him IRONMAN World Championship. After his last participations, he already commented that he did not want to compete again although now he opens the door to return to Kona.
"Even if I have the Slot does not mean that I will be in the test. I will not decide until the beginning of July. Let's face it: I will not be able to participate more to win. "
"Is it worth leaving everything aside for another six months to finish in the top ten? At this moment I am more inclined to focus on winning again Nice "He commented in an interview

Two Spaniards in the test
As for the Spaniards, the presence of Víctor del Corral, winner of this test in 2016, but finally will not participate. Albert Moreno y Carlos Aznar they will be our representatives in the elite category.
Victor was going to debut in IM this season in the past IM Irlerland, where he got the victory Alistair Brownlee, but after being sick the week of the race decided not to participate, to be in full conditions for the race in Nice. Now in social networks he has published that finally will not compete in the test.
You can check the following link departure list IRONMAN Nice 2019
The race will start on 29 Sunday in June at 6: 30 in the morning, where high temperatures are expected, especially in the race sector. The arrival of the first triathlete is expected on the 15: 00