Ironman News
Frederick Van Lierde seeks to make history in the IRONMAN Nice
Si consigue la victoria será su sexto título de la prueba, convirtiéndose en el triatleta con más victorias de la prueba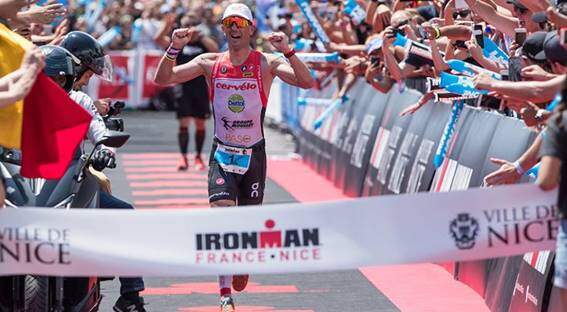 This weekend, the IRONMAN Nice, where Frederick Van Lierde buscará ser el triatleta con más victorias de la prueba . Actualmente comparte con Marcel Zamora 5 victories and hopes to return to the top this coming Sunday.
Due to the heat wave, the test has been forced to cut your route, dejándola con 3,8 km de natación, 152 km de ciclismo y 30 km de carrera a pie.
Van Lierde es el gran favorito ya que en el pasado mes de mayo consiguió la victoria en el IRONMAN Lanzarote. Otros triatletas a tener en cuenta son Domenico Passuello, James Cunnama o Cameron Wurf among others.
«Tengo el Slot para Hawai, pero eso no significa que voy a estar allí»
After the victory in the IM Lanzarote, Van Lierde consiguió su Slot para el Campeonato del Mundo IRONMAN. Después de sus últimas participaciones, ya comentó que no tenía ganas de volver a competir aunque ahora abre la puerta a volver a Kona,.
"Aunque tenga el Slot no significa que estaré en la prueba. No lo voy a decidir hasta principios de julio. Seamos realistas: no voy a poder participar más para ganar."
"¿Vale la pena dejar todo a un lado por otros seis meses para acabar entre los diez primeros? En este momento estoy más inclinado a fijarme en volver a ganar Niza " Comentaba en una entrevista

Dos españoles en la prueba
En cuanto a los españoles se esperaba la presencia de Víctor del Corral, ganador de esta prueba en 2016, pero finalmente no participará. Albert Moreno y Carlos Aznar serán nuestros representantes en la categoría élite.
Víctor iba a debutar en IM esta temporada en el pasado IM Irlerland, donde consiguió la victoria Alistair Brownlee, pero después de haber estado enfermo la semana de carrera decidió no participar, para estar en plenas condiciones para la carrera en Niza. Ahora en redes sociales ha publicado que finalmente no competirá en la prueba.
You can check the following link departure list IRONMAN Nice 2019
La prueba comenzará el domingo 29 de Junio a las 6:30 de la mañana, donde se esperan altas temperaturas, especialmente en el sector de carrera. La llegada del primer triatleta se espera sobre las 15:00