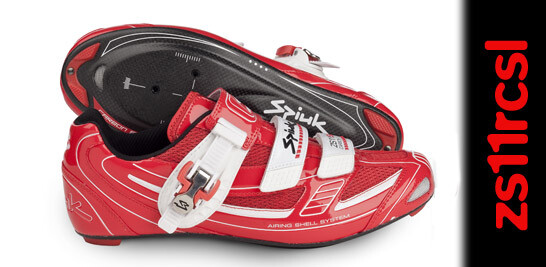 THE ZS11RCSL RESPONDS TO THE MOST COMPETITIVE REQUIREMENTS
Evolution in the animal world does not only refer to biological changes. It also has relation with the improvement, with the adaptation to the environment. With being more effective and being better prepared. In Spiuk they fully agree that if any accessory should evolve, this evolution must mean a notable improvement over its predecessor. With this spirit was born the new ZS11RCSL from Spiuk, an evolved version of the already legendary ZS11RC with carbon sole. The bar was high in terms of comfort, performance and rigidity of his sole.
The product development team has worked very hard to advance the creation of the ideal footwear; The ZS11RCSL are the natural evolution of Spiuk's footwear range. The initials SL in its name mean "Superlight" because that is where the most work has been done. The new Spiuk range is with its 560gr. 7 pair (size 42) without a doubt the lightest in the history of the brand, and this without neglecting the great virtues of its predecessor. To achieve this true tool of champions, a new glossy microfiber cover has been applied, which is lighter, and makes them unmistakable.
The lightness of the ZS11RCSL is the most remarkable aspect of the new creation of Spiuk, but the new shoes of Spiuk also stands out for the multiple finishes and details that make them perfect to perform at the highest level. In addition to the super-light microfiber cover, the ZS11RCSL incorporates a large ventilated surface in High-Flow 1 fabric, and the distinctive Spiuk Airing Shell System cover design, which optimizes ventilation and air circulation inside the shoe.
A road shoe that meets all the demands for competition and intensive training. The ZS11RCSL is your new weapon on the road.
Features:
- Super-light microfiber cover
-Mix precision micrometer
-Great ventilated surface in High-Flow fabric 1
-Design of the Airing Shell System cover
-Ventilation in the forefoot
-Internal reinforcement in heel
-Ultra-light and very light carbon sole
Available in Red and White versions
Weight: 560gr the pair (size 42)
Sizes: 37-47
Source: www.spiuk.com