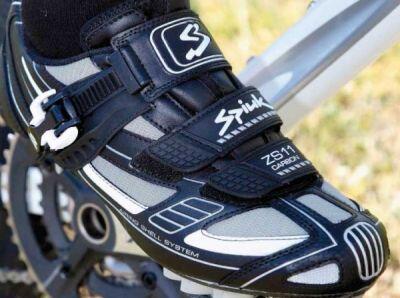 The new ZS11MC responds to one of the biggest requests that users of the SPIUK brand demanded: a high-end model for mountain biking. Undoubtedly they are one of the greatest creations of the brand in the field of footwear. His carbon sole was the argument that the successful ZS11M needed to become the perfect mountain shoe for high competition, and for the most demanding users.
The known qualities of the ZS11M are reflected in this model, such as solidity, comfort and excellent ventilation. Now, the rigidity and lightness of his sole bring confidence to the most meticulous competitors. This sole achieves that all the force exerted on the pedals is transmitted to the bicycle; pedaling is also optimized thanks to a smaller distance between the foot and the pedal axis.
The ZS11MC are perfectly ventilated shoes; Two front windows protected by an extra-thin metal mesh have been included to maximize ventilation in the toe. The toe is also very protected, as well as in the heel, by PVC reinforcements that prevent further wear of the footwear. The inside of the heel pad also carries a reinforcement.
Undoubtedly, the harshest and most difficult conditions are its natural habitat, and competition, its place of recreation. Currently they are used by athletes such as Javier Ruiz de Larrinaga, Spain Cyclocross Champion the last 3, the MTB Champion of Spain Anna Villar, as well as the components of the best MTB team in France, the BH-Suntour (where the young Julie Bresset, winner of the UCI Ranking Sub23 in 2010).
FEATURES:
-Solid and elegant design
-Great ventilated surface in HIGH-FLOW 1 fabric
-Deck design AIRING SHELL SYSTEM
-Ventilation in the forefoot
-Internal reinforcement in heel
-Ultra-light and very light carbon sole
-External PVC reinforcements on the toe cap and heel
WEIGHT (size 42): 760gr.
SIZES: 37-47
USE: High Level