Triconsejos by Judith Corachán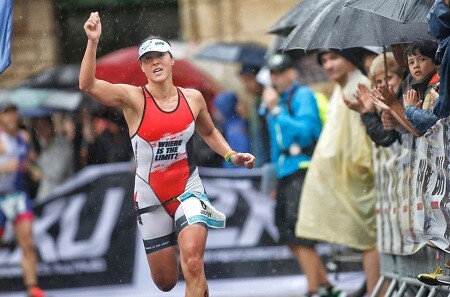 The Champion of Spain LD in 2015 gives us her best advice for the practice of Triathlon
Name: JUDITH CORACHAN VAQUERA
Home: SANT BOI DE LLOBREGAT (BARCELONA)
Club: WHERE IS THE LIMIT?
Coach: ALVARO RANCE
Sponsors: RECUPERAT-ION, LAICA / PORTUBIENESTAR.COM, ALIMMENTA, BRIKO, SPEEDSIX, ODECLAS AND AFIT
Best 2015 competition: CHAMPIONSHIP SPAIN LONG DISTANCE, IBIZA
Tell us some curious anecdote that happened to you this year: Several, hehe! But the most curious, in Budapest. Because of my lack of understanding with English. I arrived at the start line with the neoprene put on when for Pros athletes it was forbidden. So I provoked the laughter of many and luckily I took it off and it was kept by the organizers at that moment.
A friend in triathlon: Richard Calle For an example to follow as a person and as a triathlete. Since I started, he lent me his bike because I did not have it and from the beginning it was a support for me and the person who gave me confidence to ask for advice, to face a test ... In addition we have shared many trips and careers together and we have lived very good times.
Preferred Rival: (Who do you most like to compete with?) Phew! I dont know! I have never thought this! With someone who does not win! hehehe
Objectives for the 2016 season: Consolidate in the Average Distance. Continue to improve as an athlete, especially in the race. To be able to do good paper at international level.
Tips to improve swimming: Swim more! There are not many secrets! Train and influence the technique if it is a weak point.
Tips to improve cycling: Train taking into account both the loads, as the intensity, power ... You have to take care of all the details.
Tips to improve the race on foot: Combine quality training with shooting training. Adapting it to the objectives of the season.
Triathlon that you have not been able to run yet and would like to participate sometime: Elche for example. From what they have told me it is a different triathlon and that it is worth doing.
Twitter: KORAXAN
Facebook: Judith Corachán Vaquera
Photo: Fotorunners.es