Triconsejos by Pablo Dapena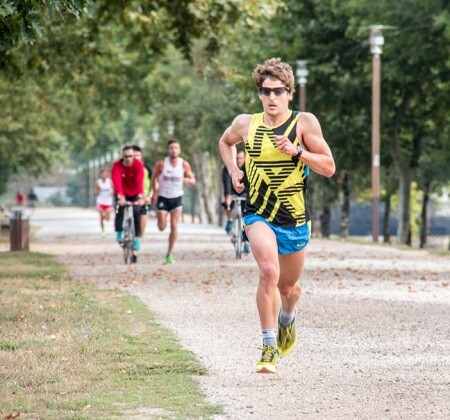 The international triathlete tells us his best tips for the practice of triathlon
Name: Pablo Dapena González
Home: Pontevedra
Club: Cidade de Lugo Fluvial
Coach: Carlos David Prieto
Sponsors: Specialized, Salming, Viator, 226ers, XTerra, Coreevo
Best 2015 competition: For sensations would be the World Cup in New Plymouth (New Zealand) that I finished 15º, as a result would be the European Cup of Constanta in Romania that I finished 2º.
Tell us some curious anecdote that has happened to you this 2015: It was the month of January last season and we were in Fuerteventura. It was a day where changes of rhythm played and more or less Crisanto Grajales, Vicente Hernandez and Javier Gómez Noya went to a similar rhythm and Uxío and I to another rhythm.
While we were making the changes there was a couple with their dog, a colored man with long dreadlocks and a street dress, with jeans shorts. After a while observing how we ran he decided to accompany us and not Uxio and me, but he left with the greyhounds, with Javi, Crisanto and Chente. We are talking about that they were going at a rhythm close to 3' running on the ground and a person dressed in street who every now and then put his pants up and put on those long dreadlocks while running ... I was a mere spectator amazed at such a situation.
A friend in triathlon: The truth is that I could say many, but if I have to stay with just one, I shoot for affinity and it would be "El Dragón", Diego Paz, a training partner.
Preferred Rival (With whom you most like to compete): Complicated answer, say the Brownlees, Mario Mola and Javi Gómez Noya could not be considered rivals since he could only see their back and only at the beginning of the test, then he would be a mere figure in the distance. I think I would stay with 2: Ricardo Hernández and Antonio Benito, for the pre, during and after race.
Objectives for the 2016 season: In function of the economic support, I continue to spend my time in World Cups and get rid of the thorn of the 2015 season and make my debut in Media Distancia.
Tips to improve swimming:
Swimming first is a very technical sport in which our whole body intervenes and therefore we have to have the 5 senses to automate all movements.
Importance of technical work especially in the first months of the season, there is no rush, to improve and automate technical gestures.
Fundamental and totally forgotten in the triathlon, the work of feet, which perform the stabilizing role of the body, in addition to giving us that plus of propulsion that the arms give us. And not only that, in terms of coordination, arms and a normal leg shake, we would get a better exponential.
Tips to improve cycling:
Avoid pedaling by force for a more economic, change the bar for the economy.
Do not go crazy for Watios, pulsations and other electronic gadgets, let your sensations flow. They are meters to evaluate your performance, not judges dictating judgment.
Tips to improve the race on foot:
Avoid injuries ... and how do we do that? Strengthening from fascia through ankles to buttocks
The same as swimming, important technical work, we will gain coordination, economy in movement, we will correct vices and avoid injuries. Everything is related friends.
As it happens in cycling. The GPS does not need to use it every day, you do not have to look at it every 5'' to see if I'm going faster than doing 3 meters.
Triathlon that you have not been able to run yet and would like to participate sometime: Zarautz and Fuente Álamo
Website www.pablodapena.net
Twitter: @pablitopiny
Facebook: Pablo Dapen González

Photo: Difusion