Siesta time by Felipe Gutiérrez "Zarautz 30, a whole story to remember"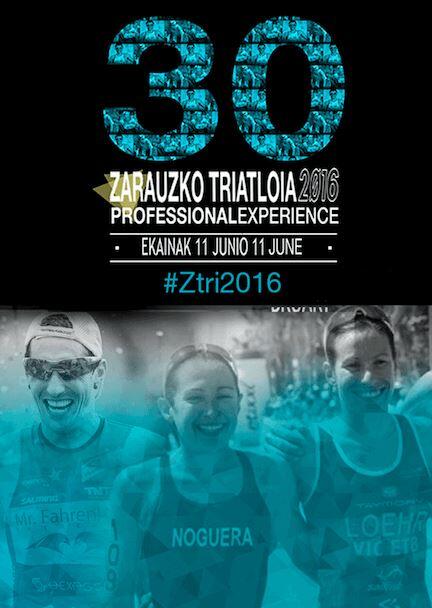 This weekend the XXX edition of the Zarautz Triathlon was held and Felipe tells us a little about his history.
It is clear that when a test reaches its XXX edition something has and if there are also "cybernetic cakes" to register, it is easy to guess what the triathletes think of the appointment.
For some years it was not coming back to Zarautz, although in "other times" I traveled with triathletes from my club to this race and I always had the feeling that everyone finished very happy.
Zarautz I like it, although returning to the Cantabrian always produces a rush and this time has not been different.
Being able to be in Zarautz and meet mythical people from the Spanish triathlon and test has been a pleasure.
In memories of that past the power to greet people with whom I have had some kind of relationship in previous editions like that organizer Jon Treku with whom I could talk for a while and who fought for the test during 21 years, it is a pleasure.
And to meet again with Javier Berasategui, a friend for many years and who in Zarautz once played the role of speaker and now in the work of Technical Delegate of the Federation and who supervised everything so that the test would continue to take all his effort, is also your test.
For many years the test received support in the organization of the Tourism Office of Zarautz, but in the 2005 the local club had to take the direction of the race and the people of Zarauzko Triatloi Elkartea (ZTE), they have taken it forward with good grade.
Zarautz as a test I like it. The crossing from Getaria to Zarautz is something that nobody can miss. Exit on a beach, arrival at another beach and 2.900 meters ahead makes many people sleep before and I "know a person who practically did not sleep months before thinking about the journey". But it is like this and no less "dreamy" than the feared and exciting "wall" of Aia with important slopes close to the 18% and on a "cement" that no one will forget until the next edition in which he will meet again the challenge.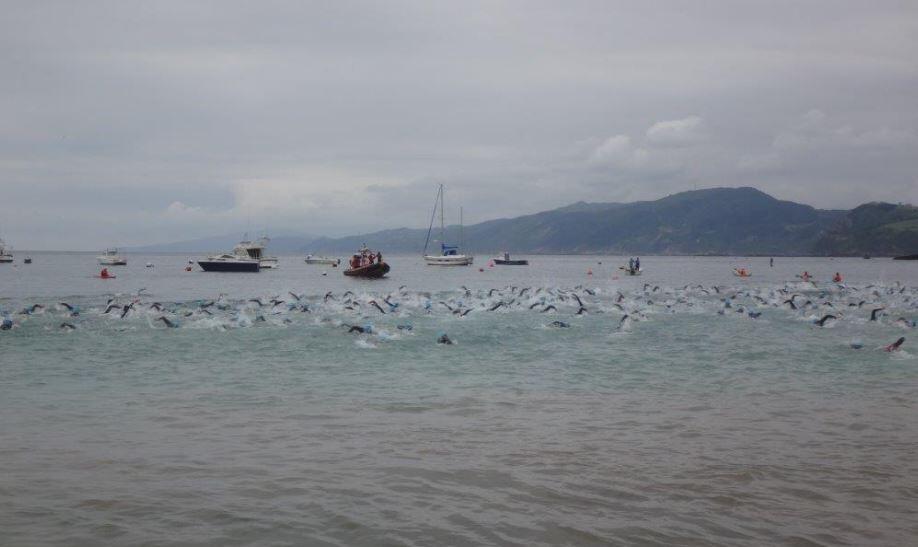 And the impressive stage of the race on foot, where the public is "on top" of each triathlete, animating metro by meter the excited triathletes. I do not think there is another place so incredible where that human warmth is intensely felt.
Everything is planned with love, the organizing club does a job touching the perfect, nobody should not miss this test.
And we must not forget that three years ago the test could not be held or rather it could not celebrate the journey through the plague of jellyfish typical of the Cantabrian and disputed a duathlon. As you can see there was everything.
Many people, many people come to my mind when I arrive in Zarautz. I remember the victories of Iñaki Arenal, curiously this week I talked to him about the triathlon of Zarautz and I can not forget a triathlete who, despite the time that has passed, is still in my head and that of many. Dina Bilbao did everything but Triathlon did it very well.
We left in 1997 in a maritime accident in Caribbean waters that day of San Juan.
From the club Tolosaldeako Triatloi Taldea and see if I try to sign her for my club, but nothing. That always if I went to the Spanish team gave me clothes for the girls of my club that started. She in Tolosa had more trouble using those colors.
I saw her run and win and I even saw her "fly" in one of Zarautz's triathlons. A dog crossed him when he arrived with the bike and went ahead flying a few meters.
It will always be in my memory, wherever it is.
In Zarautz I met people who have been all in the triathlon and winner of this triathlon. There was Paco Godoy watching his son Cesc who led the race for a long time, going ahead in the water and occupying a third place in the finish line. Paco enjoyed the test the same as I enjoyed watching him win and compete in his time. Keep it up Dr. Godoy.
Before finishing I want to wish Aida Valiño that she was there in the Alto Meagas, a happy birth of the girl who waits with Gustavo who was competing for a place on the podium. Surely soon we can enjoy all three. Cheer up Aida, you know that I will also be lucky to have touched your belly.
The participation in this edition has been spectacular and that the day before a Spanish Championship of the modality. Two triathletes who will go to the next Olympics on the starting line, Ainhoa ​​Murua running at home and already winning for his fourth Olympic Games. Fernando Alarza He will also be in Rio, he crossed the finish line in second position behind the "long distance boss" who best sets the "tempo" in these tests, Eneko Llanos that he wanted the txapela and he got it.
Many high level triathletes, many triathletes debutantes with nerves to the surface, many emotions in a day in which Zarautz opens its doors for triathlon.
Sleeping a nap after being in Zarautz could be difficult but after the more than 1.300 km that I did last weekend to see this triathlon and on Sunday in Valencia the Spanish Triathlon Half Distance Championship, lets me hit that I nodded and got up startled thinking about the Valencia test.
Sincerely can not be compared, Zarautz let me rest peacefully and this Middle Distance Championship makes me startle, for me it was not "well dressed" the test and being a Spanish Championship ..., but well that's something else